Addressing a press conference in Chandigarh on Thursday, Manohar Lal said these companies had together accumulated a debt of Rs 30,000 crore in 2013-14, which had been completely wiped out, leaving all the four utilities in profits for the first time since their inception. This despite the fact that implementation of the recommendations of the 7th pay commission in the state and extending other benefits had put an additional salaries burden of nearly 80% - from Rs 1400-Rs 1500 crore in 2013-14 to Rs 2600 crore. Power tariffs had also been reduced substantially for all categories of less power intensive domestic and MSME sector consumers, on account of which the government's subsidy component was nearly Rs 100 crore.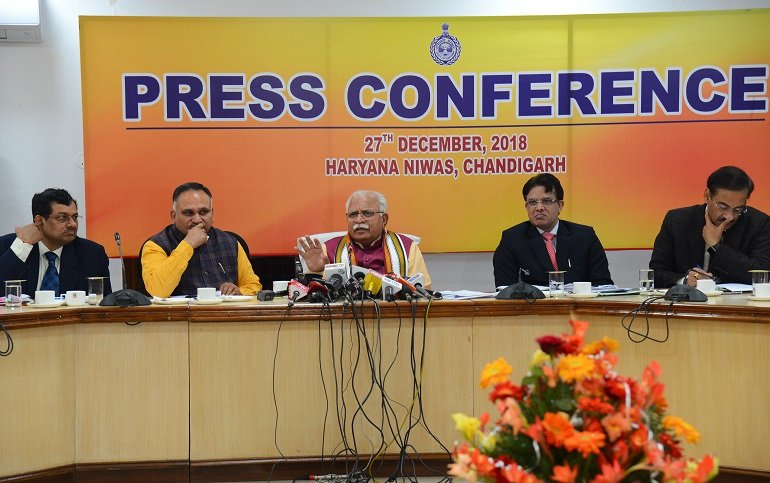 Photo By : Life In Chandigarh
With massive upgrade of the transmission and distribution network, and stringent measures to check theft of power, line losses had also been drastically reduced from as high as 30.02% in 2014 to 20.20%. By next year, these are sought to be brought down further to 15%, he asserted.
Adopting a pragmatic approach, power bill arrears of all domestic consumers up to June 2005 had been waived off completely. Additionally, for BPL families, penalties levied on power bill arrears since 2005 had also been waived off, allowing them the liberty to pay their arrears in easy monthly instalments. In doing so the state government has incurred an expenditure of nearly Rs 2,000 crore, he added.
In Annual Integrated Rankings, recently released by the Union Power Ministry, Uttar Haryana Bijli Vitran Nigam Limited (UHBVNL) and Dakshin Haryana Bijli Vitran Nigam Limited (DHBVNL) have jumped from 22nd and 24th positions respectively in 2015-16 to 10th and 13th positions respectively in 2016-17. The chief minister expressed confidence that "the way the two discoms are performing, it won't be a surprise to find them in the top 2-3 rankings in the next one or two years."
New Power Substations
Regarding strengthening of the power distribution network, Manohar Lal said during the last four years 140 new 33KV power substations had been added to the existing 538 (as in 2014) and the capacity of 382 existing sub stations had been enhanced. In the same period 86,485 new distribution transformers had been added to the existing 4.70 lakh-plus, and 23,615 kms of new transmission lines laid to strength the existing network of more than 2.38 lakh kms.
44,000 Tubewell Connections
As new year gift to farmers, the chief minister announced that all 44,000 applications for tube well connections pending since January 1, 2014, will be disposed of by March 31, 2019 and demand notices issued to the applicants. All these tube wells, with option to install solar powered pumps, will be given connections within the next six months of issuance of demand notice.
50,000 Solar Energy Connections
The chief minister informed that a target had been fixed to issue 50,000 new solar power connections for tube wells, which when installed are expected to reduce power consumption by 30%. Tenders had already been floated for 15,000 connections, he added.
To encourage use of solar energy in agricultural tube wells, 468 of these falling under Vayama feeder of Karnal block and Saspur feeder of Yamunanagar block would be converted to use of solar power at no cost to the farmers. The state will incur Rs 25 crore on this scheme.
Farmers are also being encouraged to adopt micro irrigation to recharge the groundwater in red zones and cut down on consumption of power.
Following detection of wrongful charging of inter-state transmission fee by Power Grid Corporation of India (PGCI) from Haryana for supplying power from the NTPC plant at Jhajjar in the state, the power utilities had saved Rs 300 crore @ Rs 30 crore monthly. Demand for refund of another Rs 1120 crore towards earlier such payments made to PGCI had also been raised.
Smart Meters
Process for installing 10 lakh smart meters by the power discoms across the state had already commenced in Panipat and Karnal and Gurugram districts will also be covered under the first phase of the programme.
Among those present at the press conference were Additional Chief Secretary (Power) TC Gupta, Additional Chief Secretary (New & Renewal Energy) PK Mahapatra and Power Discoms Chairman & MD Shatrujeet Singh Kapoor.