After a full house at the inauguration, where Punjab Governor VP Singh Badnore declared the festival open, the sessions on various topics, which commenced simultaneously at four different venues, attracted audiences well below the expectation of organisers. At least one session also saw three of the five expert panellists missing, forcing the other two to proceed after a long wait for their co-panellists and greater audiences. Perhaps the organisers got their format wrong and spread themselves too thin for a first time event.
Photos By: Life in Chandigarh
The only three living Param Vir Chakra (PVC) recipients, Capt. Bana Singh, Naib Subedar Sanjay Kumar and Subedar Yogender Yadav being honoured at the inauguration.
The discussions during the session on 'Strategic Perspective – China' centred around the Dragon's rising ambitions to become the unchallenged powerhouse in Asia and a world superpower equivalent to the USA, and the need for India to engage with it diplomatically while strengthening ourselves militarily to be able to fend off any aggressive posturing by the neighbouring country.
In the discussions, moderated by former Eastern Army Commander Lt. Gen. Parveen Bakshi (retd.), Former diplomat G. Parthasarathy strongly advised that China needed to be tackled with patience. He advocated thorough revamping of the Defence Ministry, which was proving to be a big obstacle in the way of speed procurement of critical armaments by the defence forces.
Session on 'Strategic Perspective – China'
Maj. Gen. BK Sharma (retd.) and Lt. Gen. JS Bajwa (retd.) emphasised that India needed to proactively rework its strategies to counter balance China's growing influence in Asia.
Gen. Bakshi however sounded a positive note saying India's firm response during the Doklam standoff had sent a strong message to China that it could not play around with India.
Moderating another discussion, on 'IPKF in Sri Lanka', Lt. Gen. Depinder Singh (retd.), who led the Indian Peace Keeping Force to the island country, wondered what political aim the Rajiv Gandhi led Indian Government was wanting to achieve by sending the Indian forces there – was it to defend the LTTE or to protect the political integrity of Sri Lanka ? He said the war proved a big blooding exercise for the Army which had not seen battle since the 1971 Indo-Pak war but at a very heavy cost to the country in terms of men lost, injured or disabled in action (1500 men lost their lives and 3,000 others were wounded). The individual training of soldiers was found wanting during the entire three years of operations, he observed.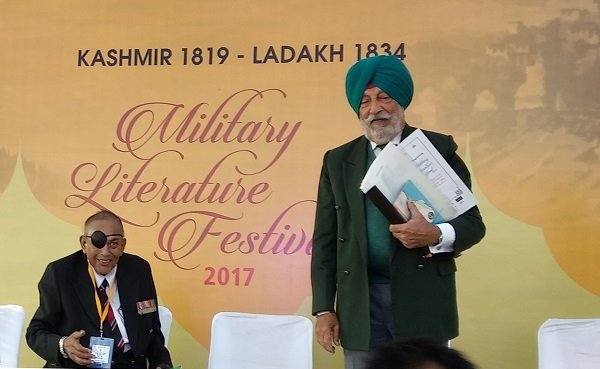 'IPKF in Sri Lanka'
Vir Chakra awardee Col. Anil Kaul (retd.) shared his memories of a grim battle when his tank sub-unit was tasked with bailing out para commandos from a difficult situation against the LTTE cadres. He himself was seriously injured in the gun battle and remained medically unattended for 18 hours in his tank. The operation was a success, but it was a horrifying experience as bodies of 35 our men who lost their lives in battle were burnt by the LTTE cadres using engine oil.
Participating in a session on 'Role of Indian Armed Forces in World War II', Lt. Gen. PK Singh (retd.), British writer Alan Jeffreys, Indian military writer Pushpinder Singh Chopra, Panjab University professor Rakesh Dutta and journalist Rahul Bedi while acknowledging the fact that the Indian armed forces, especially the Army, gave a very good account of themselves during the second World War, felt that their achievements were only now being officially recognised the way they should be. It was pointed out that the Burma campaign, which resulted in the biggest land defeat of the Imperial Japanese Army till then, was in fact largely spearheaded by Indian soldiers.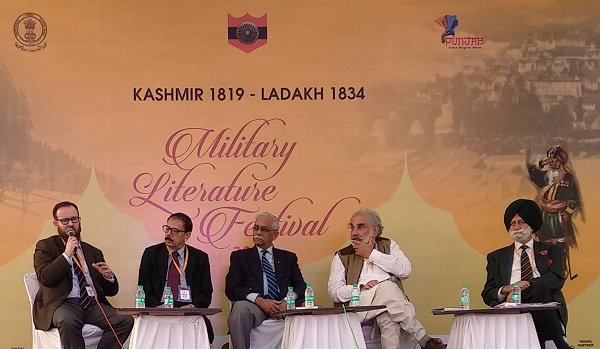 'Role of Indian Armed Forces in WW II'
The session on 'Counter Insurgency Operations in Jammu & Kashmir', moderated by former Northern Army Commander Lt. Gen. BS Jamwal (retd.), threw up an interesting hypothesis. Speaking on the subject, Maj. Gen. Dilawar Singh (retd.) asserted that though the Indian forces were conducting counter insurgency operations in the state "they were not countering insurgency."
Giving a couple of personal examples, when he was posted to Kashmir, he claimed that in one case he engaged the religious leaders in 63 villages under his command in a discussion on 'Jihad' following which not a single youth from these villages left his home to join the so called 'jihad'. In another case he was able to persuade local population to engineer the return of two boys who had left their homes to join the 'jihadis'. When he returned to the area 12 years hence he felt satisfied that the commitment of the villagers was holding and the two boys were happily settled in their lives, Maj. Gen. Dilawar maintained.
While Lt. Gen. Jaswal asserted that there was a vast improvement in the Kashmir situation since 1990, when every house in the valley had a Pakistani flag atop its roof and youths in the thousands had crossed over to the other side of the border, Lt. Gen. JS Cheema, who recently retired as Deputy Chief of Army Staff, felt that while the armed forces were reasonably successful in keeping control over the security situation in the valley, ultimately a political solution had to be found to the Kashmir problem.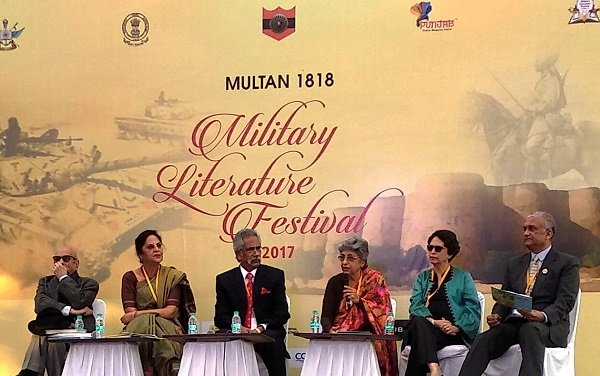 'The Joys & Dilemmas of Being a Military Family'
Lt. Gen. AC Suneja (retd.) stressed the need to keep up the pressure on the insurgents in the Valley while advising security forces to be extremely respectable towards elders when they conduct cordon and search operations in the hinterland.
In the session 'Joys and Dilemmas of Being a Military Family', moderated by Maj. Gen. AK Sengar (retd.), Army wives Mrs. Daulat Oberoi and Mrs. Rita JP Singh and Army daughter Mrs. Ashali Verma, while asserting that there could not be a more fulfilling life than in the Indian armed forces, felt that with the aspirations of the Indian women, including wives of military officers, rising there had arisen a big challenge to balance their responsibilities as military wives and their personal careers. Mrs. Rita JP Singh, particularly, felt that the new age women were competent enough to strike a balance between both roles.