The indoor exhibition, put up by Bangalore-based 'I Ads & Events' in an area of 1300 sq mts, has exhibitors participating from across the country. Though some of the exhibitors were still in the process of unpacking and displaying their wares when Lifeinchandigarh.com visited the expo on Friday afternoon, we bring you the best of the displays.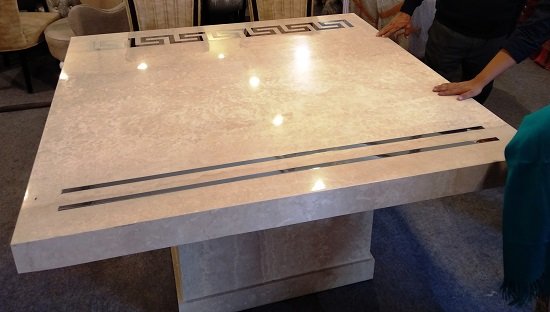 Photos By: Life In Chandigarh
A young entrepreneur from Delhi Honey Khullar, who started his enterprise Greenline Italia four years ago, has brought a range of modern furniture, designed and crafted indigenously (he proudly claims he is promoting Make in India). We saw on display an impressive dining table set with botticino fiorito Italian marble table (skeleton of ply board and flesh of marble), The 5X5 feet dining table set comes at best price of Rs 1.60 lakh, including 18 percent GST.
Another equally impressive dining table set has the flesh of world class Onyx marble. The 8X4 feet dining table set comes for Rs 1.85 lakh.
An eight-piece sofa set using high grade leatherite fabric and exclusive vintage polish on wood caught our fancy. The sofa set comprising a three-seater, two one-seater sofas, two pouffes and a center table has a prize tag of Rs 1.50 lakh.
http://greenlineitalia.com/
The furniture at most of the stalls is not for immediate sale and has to be pre-booked.
Chennai-based Kreative Comfort has brought in moulded teak and sal wood furniture with different fabrics. The range for a 9-seater sofa set and a center table is from Rs 1.35 lakh to Rs 1.75 lakh, inclusive of GST and doorstep delivery in Chandigarh only.
Nawab brand of Delhi has on offer an exquisite range of hand carved pure teak wood furniture in Rajasthani style. Our eyes remained glued to a 'jhula' and sofa set (3-seater sofa, 3-seater couch and a centre table) with a price tag of Rs 6.5 lakh, excluding GST and packing and carriage charges.
Indian Handicrafts had on display a range of wooden furniture with intricate metal engravings. Noteworthy among the displays are dining table sets, centre tables, double beds, set of different sized decoration tables and ethnic wooden trunks.
The organiser has his own stalls too, one of which has a range of impressive imported outdoor and garden furniture, including gazebos (outdoor huts) with seating, LED lit garden umbrellas and swings. The range from Rs 13,000 (LED umbrella) going right up to Rs 1.10 lakh (12-seater gazebo).
Ruchira Aggarwal of Shapes & Shades from Ghaziabad has displayed a whole lot of beautifully crafted sculptures made of terracotta and poly stone ranging from Rs 750 to Rs 2-2.5 lakh. A terracotta Buddha is a special attraction. But Aggarwal politely refused photography of his creations.
Saharanpur based Abu Fazal Exports on their first outing to Chandigarh have brought a range of exquisitely carved sagwan wood furniture. We couldn't take our eyes of a Rs 1.50 lakh sofa set, such was the quality of craftsmanship on it.
For wall hangings and other decorative items, the stall of Rajasthan based Fanusta Global attracted our attention. Talking to its owner Ekta Pareek revealed a movement for women's empowerment called Diva's as being instrumental in creating the beautiful pieces of art. The organisation runs a factory in Jodhpur and has two sale outlets in Jaipur. Diva's is looking for partnerships with women entrepreneurs and organisations in Punjab, Haryana and Himachal Pradesh to extend its activities. The range of wall hangings and other decorative items is from Rs 300 to Rs 15000.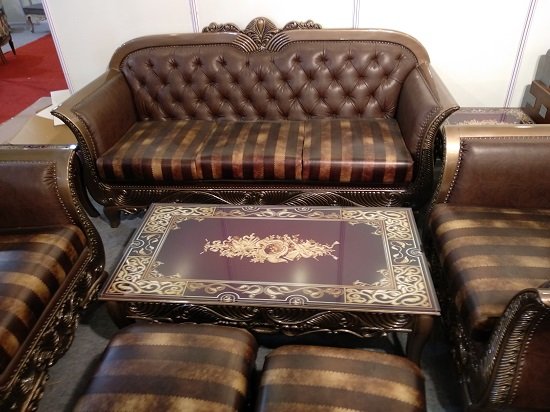 Talk of Rajasthan without marble is incomplete. The Incredible Art brand from Gangapur city in Sawai Madhopur district of Rajasthan has brought several sculptures in white marble. From small creations to as large as 8 feet high, they have so much in their collection. Elephants, horses, lions, panthers among animals, to fountains, lamps and fruit baskets, the range is extensive. There's a matching gulf in the price range as well – from Rs 250 for a small sized elephant to Rs 4.5 lakh for an eight feet tall horse.
So reach out, and get satiated.