This was the strong message which emerged from daylong deliberations at the Northern Region Smart and E-Mobility Conference with the theme 'Transforming India's Electric Vehicle Ecosystem', organised by the Confederation of Indian Industry (CII), in Chandigarh recently.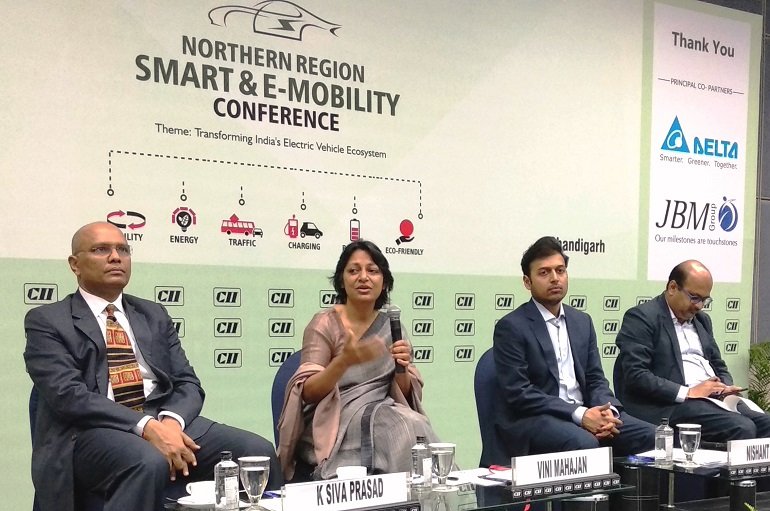 Photos By : Life In Chandigarh
Sharing Punjab government's perspective on E-mobility with top level executives from electric vehicle manufacturing, auto manufacturing, battery makers, charging infrastructure companies, conventional and renewable energy companies and electricity distribution companies, Punjab Additional Chief Secretary Industries and Commerce Vini Mahajan said the state government is keen on extending full support in creating a complete ecosystem for rapid transition to electric vehicles. At the same time, she emphasised that utmost care needs to be taken to ensure that the cost of transition on the end user is not unbearable.
Giving the example of an auto rickshaw driver, Vini Mahajan said there would be a huge differential between the amount he would get by scrapping his old vehicle and the amount he would have to shell out in buying an electric one. He will not only have to be supported by government subsidies and easy financing options, but the product, and services accompanying it, also need to be of high quality and the total cost of ownership (TCO) with a long term perspective needs to be sustainable.
On its part, the state government is working on generating a demand for zero emission and electric vehicles through structured government mandates and policy regulations, she said, and added that it needs to ensure that the manufacturers are also quick on delivery to meet the expected demand.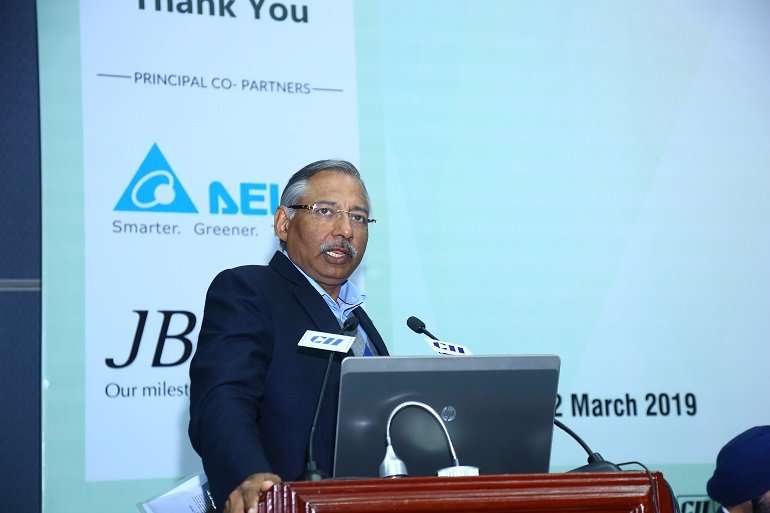 Her counterpart in Haryana, Additional Chief Secretary Devender Singh, while listing out aggregation of demand, research and innovation and economies of scale as the three crucial parameters that will determine the future of E-mobility in India, shared with the gathering an initiative of the Haryana Tourism Department, in collaboration with BHEL, for providing solar energy to power the charging stations required for electric vehicles in the smart cities of the state.
Incidentally Punjab and Haryana are among the several states which have lagged behind in rolling out their E-mobility policy.
After Karnataka became the first state to roll out its E-mobility policy as early as in 2017, other states which have followed suit with a policy or a draft are Andhra Pradesh, Kerala, Maharashtra, Uttarakhand, Telangana, Uttar Pradesh and Delhi.
Punjab Principal Secretary Transport K. Siva Prasad invited the various green transport industry stakeholders to contribute towards framing a policy for making the state a clean and green energy efficient state.
State Principal Secretary Power A. Venu Prasad informed the participants that Punjab is one of the few states to announce special tariff for electric vehicle charging stations.
Rajat Aggarwal, CEO, Invest Punjab, shared with the audience that after February 1, 2019 no new three-wheeler using petrol or any other oil-based fuel is being registered in Ludhiana, Jalandhar, Amritsar, Mohali and Fatehgarh Sahib cities, thereby promoting CNG and electric vehicles in the state.
Conference Chairman and Executive Director of JBM Group Nishant Arya felt that the electric vehicle story in India could be bigger than even the solar power boom, as it symbolises a breakthrough in the transport sector, which forms a significant part of the country's economy.
Since petrol stations have been found to be ideal locations for initially putting up the charging stations for electric vehicles, a senior official representing India Oil informed the gathering that Indian Oil had partnered with Fortum India, part of the Helsinki-based Fortum OYJ, to set up a network of charging stations across the country, beginning with Hyderabad, Bangalore and Nagpur.
The audience was also informed that state owned BHEL has also set up the first of its solar-powered charging stations on the New Delhi-Chandigarh route with a view to gradually cover the entire 250 km stretch.