His popularity, especially among the ladies, could well make a Bollywood superstar jealous. But he's not just made women swoon over his culinary skills but, as his Twitter bio points out aptly, he has empowered them through food. Making a connect with home cooks, celebrity chef Sanjeev Kapoor, who was conferred the Padma Shri last month, has over the years become a name synonymous with Indian food globally. So it's natural that when he arrives in the city, there's going to be a crowd, an enthusiastic one at that, where women in their 50s turn into giggly young girls and can't wait to ask Kapoor for a selfie (autographs are passé) and his "secrets".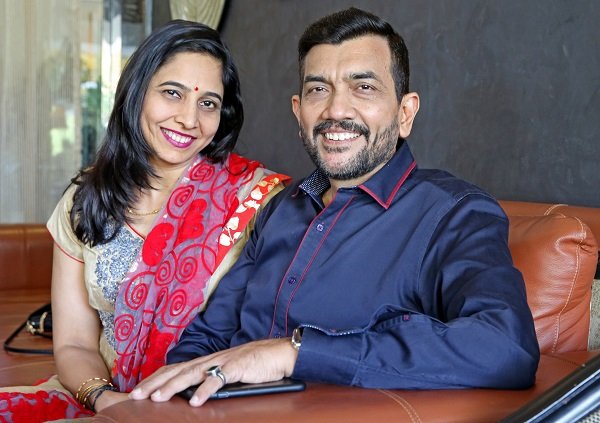 Photo By: Vikram Joy
Kapoor, looking dapper in a new bearded look, was in Chandigarh on the invitation of Tata Sampann that had organised a unique cooking contest at Hotel Piccadilly in Sector 22 as part of its 'Sampann Surprise' series. The hour-long cook-off was designed around the brand's philosophy of 'goodness ki shuruaat' wherein husbands were invited to participate and cook delicious dishes for their wives using Tata Sampann's range of products. "Tata Sampann is committed to bringing wholesome nutritious food and offers products like unpolished dals, superior quality spices, and low oil-absorb besan," remarked Kapoor who was accompanied by his wife, Alyona Kapoor.
Familiar with Chandigarh, having visited Punjab for various shoots and promotions, Alyona admits she's always asked if she finds herself lucky to have her husband cook for her. "And I always say I am," said Alyona as her husband piped in, "She is a very good cook herself and I think as we have learnt a lot from each other. While I really relish most of the dishes she makes, I really like her dosas." Alyona is also an integral part of the chef's projects including his channel, FoodFood.
When it comes to Indian food, trends in cooking and the likes, there's no one better to ask about the latest than Kapoor. And on Sunday we did just that. "I think one of the strongest trends to emerge in recent times is that people want to know the source of their ingredients and how to procure the best there is. Earlier when people would cook or even eat out, there weren't interested as much about these things as they are now," explained Kapoor.
Photo By: Vikram Joy
Judging the event that called in men to cook for the ladies, Kapoor noted, "Men have been occasional cooks but now I find that they are equally enthusiastic about cooking on a regular basis here in Punjab." Those who impressed Kapoor with their skills were the three winners - Harminder Singh, Shamsher Singh and Anil Punj. As a surprise, Kapoor donned the apron as well and rustled up 'Pav Bhaji Martini' for his wife. He also answered questions, gave away interesting tips and made beetroot salad and quinoa pulao.
"Be it home cooking or fine dining, presentation is key," said Kapoor. He also feels that the right masalas can make all the difference to everyday fare. "A lot of people feel that only fried food is tasty. But if you were to take away the masalas and just fry it, would it be the same? Similarly without masala, grilled food would be bland," said Kapoor who has recently toured with Prime Minister Narendra Modi. "Food speaks a universal language and can help better relationships among nations too," he summed up.