In the 2-hour long session, arranged by Dr Monika Yadav, Divisional Forest Officer – Wildlife, Ropar Division, on the request of residents after encountering a few snake sightings in their complex, the large gathering of senior citizens, men, women and children were given firsthand knowledge of various aspects of snakes by honorary wildlife warden Nikhil Sengar.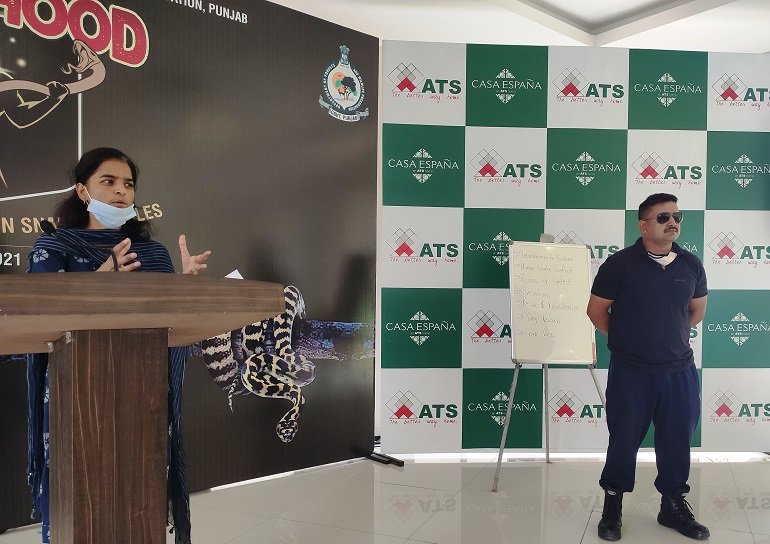 Photos By : Life In Chandigarh
The various topics for discussion were introduction to snakes, human-snake conflict, reasons for conflict, precautions, rescue and rehabilitation, young rescuers and snake bites.
Giving an overview, Dr Monica Yadav while admitting that snakes do create fear in the minds of most people, said that people must realise that snakes, reptiles and for that matter all of wildlife need to coexist with human beings. The least we, as humans, can do is not to hate snakes, even if we are unable to love them.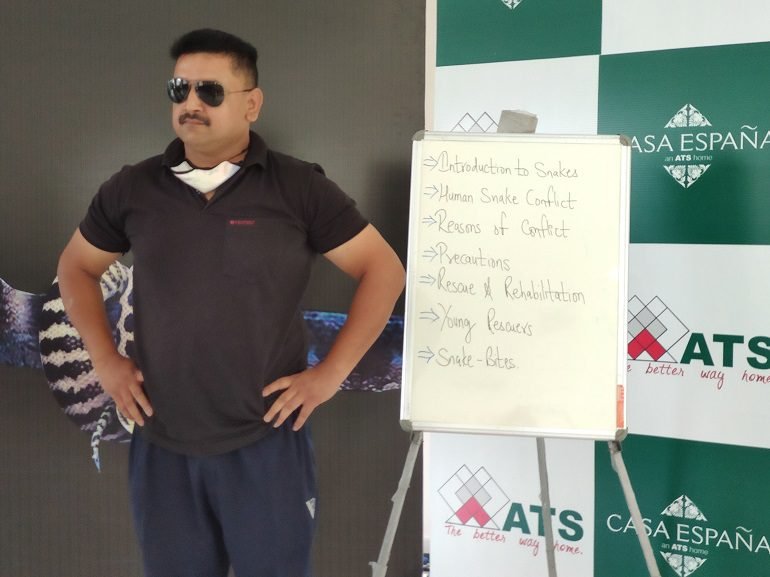 She informed the gathering that this is the first of a series of advanced workshops called 'Man/Hood' on snakes and reptiles to be organised by the wildlife division for the benefit of communities. She invited communities interested in getting such workshops on human-reptile conflict organised in their premises to write to her department on dfowildliferupnagar@gmail.com.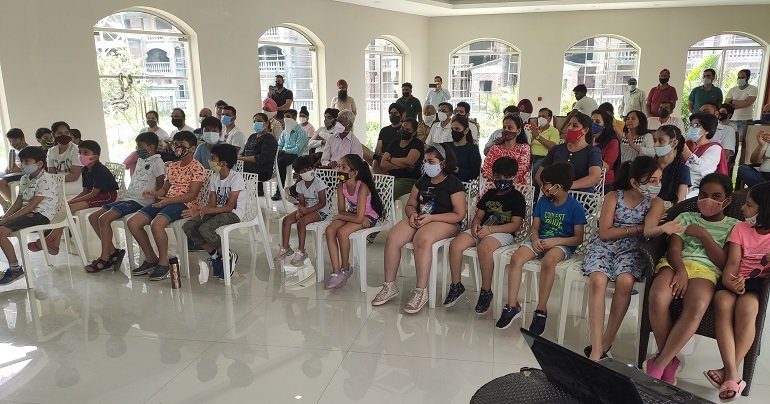 Quoting a 2011 study, Sengar said that an estimated 10 lakh snake bites happen annually in India, which is the highest in the world. In India, around 45,000 fatalities every year due to snake bites are also the highest in the world.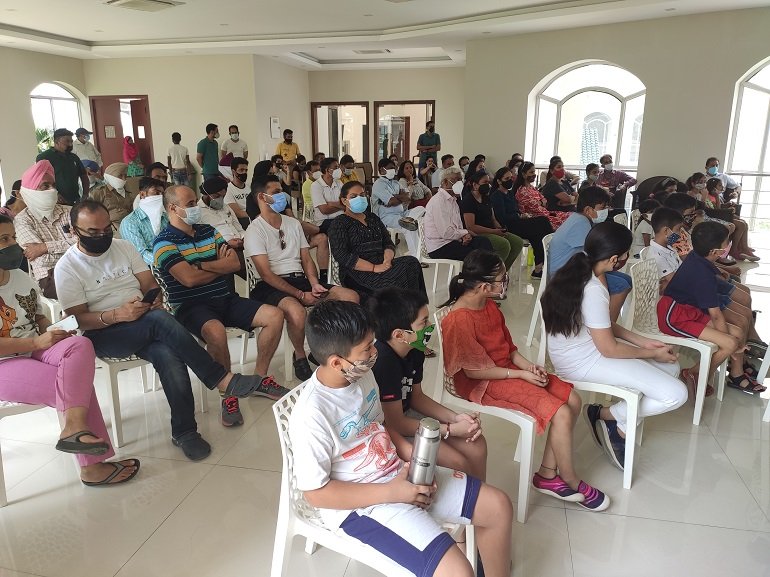 He said another study has established that contrary to the general belief that snakes are found more in forests and rural areas, snakes are known nestle 7-8 times more in semi-urban areas.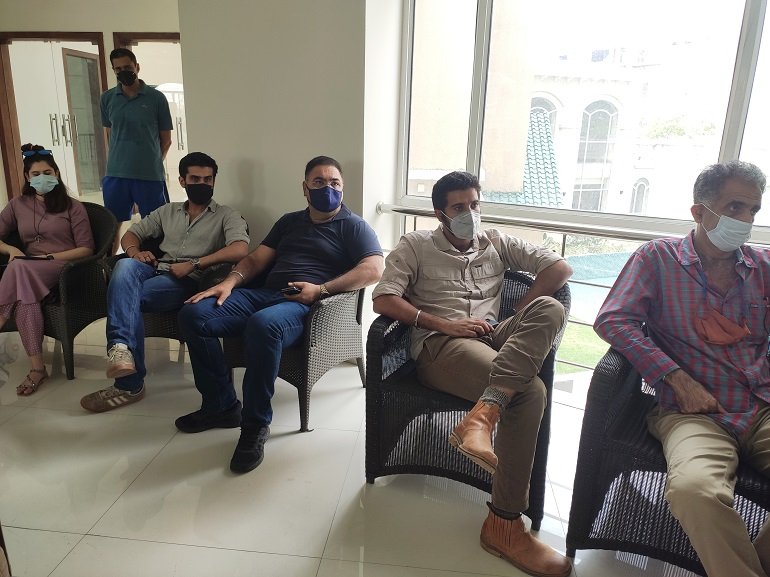 For reducing the incidence of snake bites, he said, in community living conditions like ATS Casa Espana, dense cluster growth of plants, litter of waste food items, grains, etc should be avoided, and conditions need to be created that do not encourage proliferation of rats, frogs or toads, etc, which are a big source of food for snakes.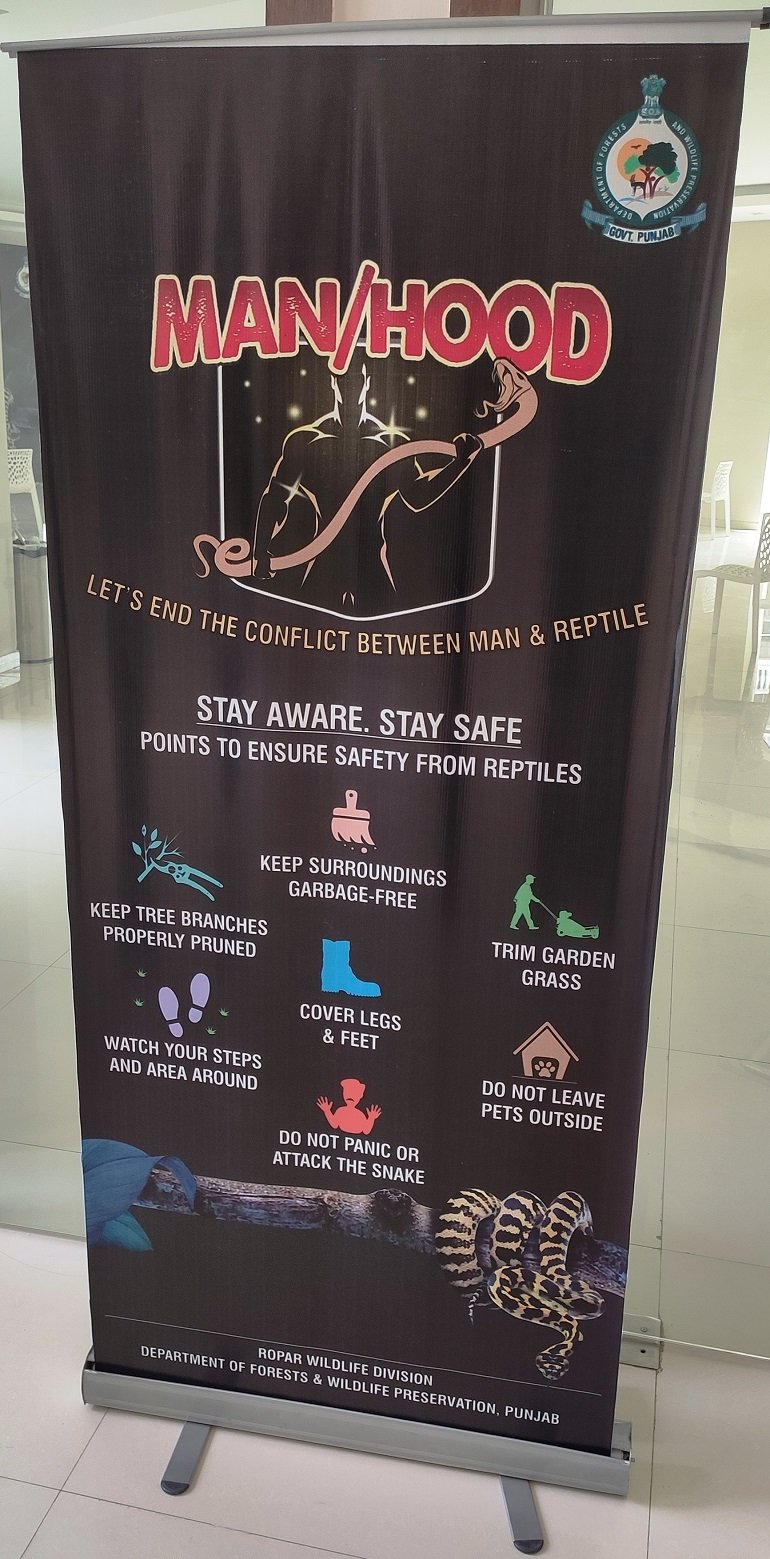 Maintaining that in practical conditions, it is very difficult to identify whether a person has been bitten by a venomous or no-venomous snake, he suggested that the best recourse after it has been established that a person has been bitten by a snake is to immediately rush the victim to the nearest hospital which has a facility of anti-venom injections and ventilator.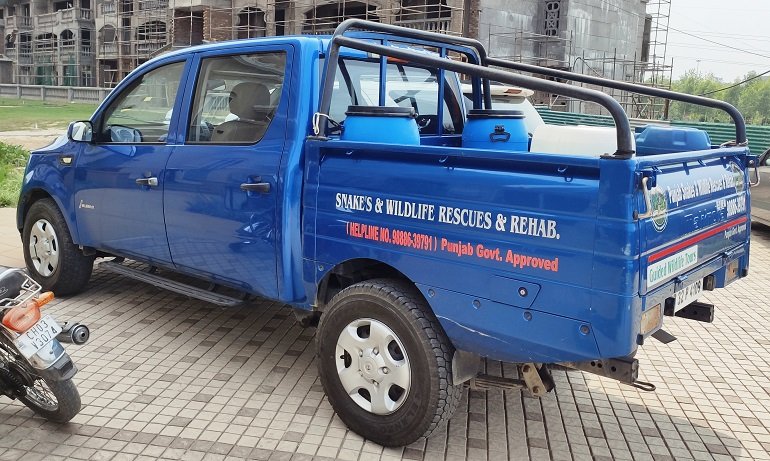 Unscientific interventions prior to admission of snake bite victim to hospital should be avoided because that can further aggravate the complications, he added.
Some handy information, courtesy www.indiansnakes.org
What is the best method to deal with a snake during a human-snake conflict situation?
The best way is to allow the snake to move away from the conflict situation on its own, if the same can be organized. Please remember that most snakes have been living unobserved in the same locality for a long time and given the opportunity it may disappear and not be seen in the future. A snake removal should be done by a trained expert using snake hooks, pipe, and a bag.
What is the best first aid for snakebites?
Ensure that the person with the suspected bite remains calm.

Immobilize the bitten area.

Transport victim immediately to the nearest hospital where anti-venom is available.

DO NOT make the patient walk or exert in any way that will increase heartbeat.

DO NOT wash the wound or apply anything (ointment, herbal paste etc) on the suspected snakebite.

The Golden Hour is the first 60 minutes after the bite when anti venom is most effective. The key to saving a snakebite victim is to get the patient to the nearest hospital within that window.
How many people in India die due to snakebite every year?
As per studies conducted, every year more than 45,000 people across India die due to venomous snakebite. Most of these deaths occur due to unscientific and/or delayed treatment. Snakebite is considered as an important medical challenge by the World Health Organization and India tops the list of countries with snakebite mortality.
LifeInChandigarh.com by APR Media House is an enjoyable digital reading startup, which keeps you abreast of the latest meaningful happenings of interest to large sections of folks in Chandigarh tricity, and expats from the region. It has been promoted by a public spirited senior journalist and media consultant with a view to encourage good quality and healthy journalism, a dire need of the times.
To keep in touch, drop an email or call :
kochhar.apr@gmail.com
9815617676