It's been a busy month for lovers of literature with back-to-back book launches being held in the city. Friday evening saw Parbina Rashid, a senior journalist in the city, formally launch her latest book, 'Echoes from the Valley: Stories by Assamese Women Writers' at The Browser in Sector 8.
PHOTOS BY: VIKRAM JOY
Translated and compiled by Rashid, the anthology, as she informs, reflects upon the socio-cultural scenario of Assam through 11 stories by 11 Assamese writers. "The stories span seven decades and come from three generations of authors," remarked Parbina at launch.
The book was formally unveiled by well-known thespian, Padma Shri Neelam Man Singh Chowdhry along with former bureaucrat Robin Gupta at a well-attended 'conversations with the author' event.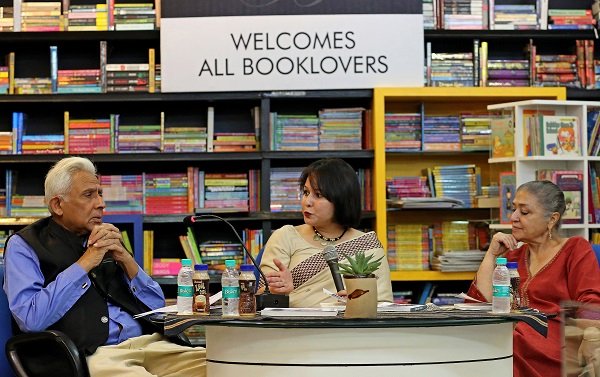 Parbina, who is an Assamese herself, shifted to Chandigarh many years ago and is married into a PunjabiSikh family. Gupta, the moderator for the evening, quizzed Parbina whether she chose to write this book as she was feeling homesick? "It was indeed an endeavour to connect to my roots. While I studied Assamese till Class XII, I lost touch but began reading again some years back. This simple step opened a treasure trove of Assamese literature and I wanted to share their stories with a larger audience and that's how this book came about," she said.
Keeping the central theme as 'woman and her struggles', the 11 stories look at how women have developed their consciousness about themselves as individuals. "I read hundreds of stories to choose these 11. I was looking for a common thread that could string it together and I found that with these stories," said Parbina who has selected the stories and clubbed them under three subheads – 'Mute Yesterday', 'Transitional Today' and 'Abstract Tomorrow'.
The writers' list boasts of some of the most powerful and finest writers of Assam – Sneha Devi, Indira Goswami, Nirupama Borgohain, Rita Chowdhury, Anuradha Sharma Pujari, Manikuntala Bhattacharya, Moushumi Kandali, Gitali Borah, to list a few.
"Much about the Northeast is unknown in the rest of India. I wanted to share a slice of the rich volume of work especially by women writers in Assam. These short stories will give readers an insight into Assamese life and the women in particular," said Parbina.
Commenting on the book, Neelam Man Singh Chowdhry remarked that she was impressed with how the essence of the story and the 'smell' and 'syntax' of Assam had not been lost in translation. "I really liked how Parbina has woven them together and these stories talk of spaces that belong to women and are well layered and nuanced," said Chowdhry.
The book published by Media House is priced at Rs 250.