Zerodha, on Wednesday announced in Chandigarh the launch of a set of five imaginatively written, illustrated and meaningful story books for kids, which they are touting as India's first kids' book to teach them basics of finance. A quick read through 'The Rupee Tales', as the set of books is called, showed the deep thought and commitment put in by both the writer as well as illustrator, resulting in an impactful effect. The brokerage firm also announced the launch of "India's first direct mutual fund and equity platform – Coin".

Interacting with media persons at the Chandigarh Press Club, Karthik Rangappa, the author of Rupee Tales & Vice-President - Educational Services, Zerodha, said "Rupee Tales is a recent attempt by our brokerage to familiarise children above 7 years with basic financial concepts. Zerodha has used storytelling with vibrant illustrations as a medium to convey these concepts", he added.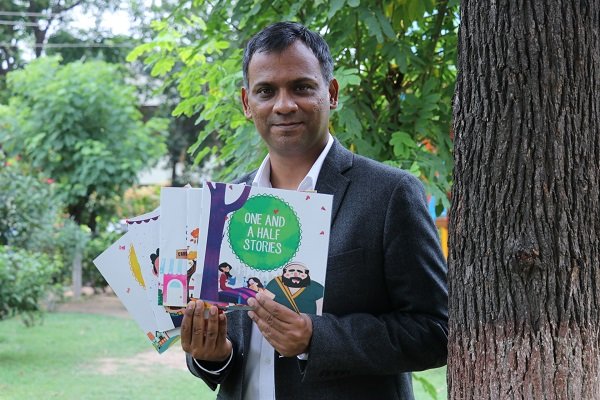 Karthik Rangappa, the author of Rupee Tales & VP- Educational Services, Zerodha, shows off his set of books.
Photo By: Life in Chandigarh
"Zerodha is committed to improving financial literacy in India. Our educational initiatives, such as Varsity and Trading Q&A are a testimony to this. We are taking this commitment further with Rupee Tales. It is our earnest attempt to creatively inculcate basic financial awareness among children. The concepts covered in Rupee Tales pertain to financial inclusion; pivotal to the cashless and paperless economy India is striving for. A large part of the 'financial inclusion for all' dream is dependent on how the younger generation adapts to it."
Each book deals with a specific topic, peppered with lively characters, and vibrant illustrations. The concepts covered include savings, banking & inflation, taxes, insurance, and stock markets.
Spelling out his inspiration for Rupee Tales, Karthik said, "The idea to write Rupee Tales came to me when my 7-year-old daughter kept asking me where I work and what I do. I realised it was not easy to explain what the stock market is or, for that matter, basic finance to Meera. During a casual chat at work, we realised there was no material available to familiarise kids to basic finance. Being a financial services firm, we somehow felt it was our responsibility to change this, and lo and behold, Rupee Tales was born".
He said the stories were conceptualised in-house at Zerodha. The Rupee Tales box set can be ordered from rupeetales.com. It's priced at INR 470.

On business growth

Karthik claimed that after a slow start for the first five years, Zerodha had grown tremendously in the past one year. It currently has a user base of over 3.25 lakh across India. In Punjab, Zerodha has offices across Amritsar, Chandigarh and Ludhiana and a client base of over 3.000. In Chandigarh, it has over 1500 clients, he informed.

Commenting on the investor scene in the country, Karthik said, "The investor participation in India is still very shallow; around 5 million investors who have traded once a year and not more than 1 million Indians who have traded once a quarter; less than 0.01% of India's population. We have been able to make inroads, though. To attract our first 90,000 clients, it took us five years, but with the launch of our zero-brokerage offering on equity investments and continuously improving technology offerings we have been able to quickly increase our client base to over 325,000 in the last 12 months."
On ZerodhaCoin

Karthik said Zerodha Coin is a platform that lets the customer buy mutual funds online, completely commission-free, directly from asset management companies. The mutual fund bought through Coin is in demat form, with a convenience of one portfolio across equity, mutual fund, currency. The brokerage charges a flat subscription fee of Rs 50 per month, irrespective of the number or value of mutual fund transactions. One can start, stop or modify SIPs anytime one wants and the first Rs 25,000 worth of investments would be free, he added.

In his opinion, "For an informed investor, buying mutual funds directly is the best option. SIP of Rs 5000 monthly invested for 25 years in direct vs distributor can potentially save Rs 28 lakh as commissions. Buying direct mutual fund in demat also gives the convenience of a single portfolio view".

To manage the growing needs of its clients, Zerodha currently has 22 branches, 70 partner offices and 5 support/call & trade offices in India, Karthik informed.

www.zerodha.com

The Books
Anu Learns To Save: Is the story of two little girls from a tiny village, who habitually help anyone in need. One of them, Anu, is in the habit of saving from whatever little she gets as rewards from those helped for a lean day. That lean days finally comes and she is able to help someone in distress out of the coins saved.
Mani's Money: Is the tale of a hard working small time cook who comes to learn from an elderly lady he respects a lot the importance of making the money grow instead of just saving and letting it stagnate.
Vishambhu's Bus Journey : Is about a mischievous kid who unexpectedly realises the importance of money paid in taxes to the government and taking good care of things which belong to all of us.
The Cake Shop: Is again story of an 8-year-old whose father, a stock broker, is unable to tell him he works in the stock market because he feels the boy is too young to understand. One day, cornered, his mother takes him to a cake shop to make him understand in a roundabout way that a stock market is a common marketplace where businesses in need of money meet investors with money.
One And A Half Stories: Is the tale of a mother reading out a new story book to her little daughter which leads her to understand the meaning of insurance – a car insurance, health insurance, home insurance, etc.