So upbeat is Uber India about the Punjab market, where its 18,000 strong army of drive-partners have lapped up 65 million trips in five years, that it now considers owners riding their cars around as its only competitors.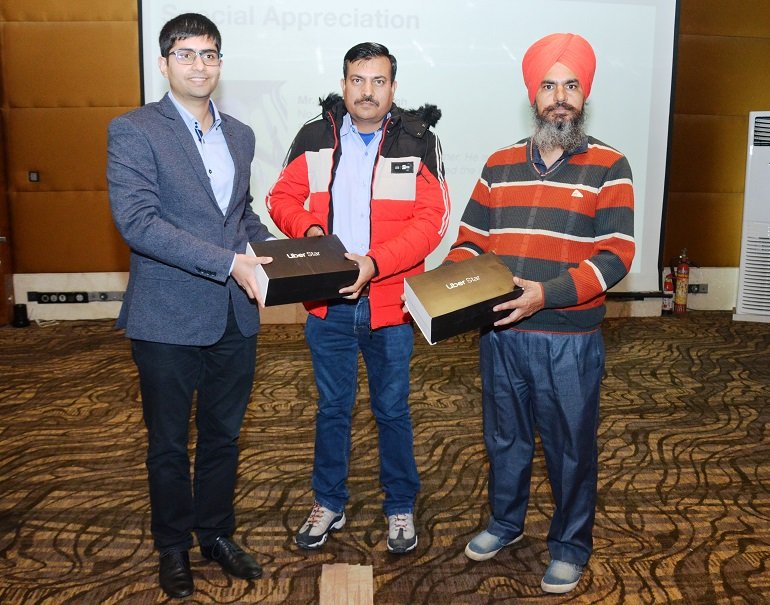 Photo By : Life In Chandigarh
"Our target is to constantly keep making efforts to reduce use of private cars by owners to ease road congestion and pollution, and protect the environment," Gaurav Dhama, Punjab Head of Uber India told LifeInChandigarh.com after a brief ceremony to honour two of the star driver-partners in the country in terms of number or trips done.
Jaswinder Singh with 30,310 trips in his three year association with Uber India has the maximum trips by any Uber driver-partner in the country. The other star performer honoured on the occasion was Rajinder Singh with 24,909 trips under his belt during his four years with the company. Both driver-partners have earned a very impressive 4.9 rating from riders on a scale of 5.
Dhama said, since its launch in Punjab in 2014 Uber India has expanded from two product offerings – Uber GO and Uber Premier – to an entire portfolio of multimodal mobility solutions, encompassing Uber XL, Uber Hire, Uber Intercity, Uber Pool and Uber AUTO and constantly improved driver and rider safety and overall experience.
Since its launch in end 2018, Uber AUTO has witnessed a phenomenal growth, Dhama claimed. In 2019 rides grew by two-and-a-half times. This year's growth target is three fold of last year's performance.
Uber Intercity appears not to have done as well, with Dhama evading figures and just stating that it has also shown good growth in the last two years since its launch. Currently, Uber India is serving more than 15 destinations across Punjab, with Chandigarh-Ludhiana and Chandigarh-Delhi being the most popular routes, he stressed.
Maintaining that Uber had become the preferred first choice platform for both riders and driver-partners, he said encouraged by the positive response from Chandigarh, Uber India had steadily expanded its geographical presence across four additional cities of Ludhiana, Amritsar, Jalandhar and Patiala in Punjab.
Dhama reiterated that Chandigarh market continues to remain one of the important hubs in the country. This is evident from the fact that several pilot projects like Uber Plus loyalty program for driver-partners and their families and 24X7 safety helpline were launched here, and only after their successful run these were extended to the entire country.
LifeInChandigarh.com by APR Media House is an enjoyable digital reading startup, which keeps you abreast of the latest meaningful happenings of interest to large sections of folks in Chandigarh tricity, and expats from the region. It has been promoted by a public spirited senior journalist and media consultant with a view to encourage good quality and healthy journalism, a dire need of the times.
To keep in touch, drop an email or call :
kochhar.apr@gmail.com
9815617676