Chandigarh-based Black Box GPS Technologies on Thursday announced the launch of this device in three models – PUMA Tracker, PUMA Smart and PUMA Prime – with a host of new features. It claims to be the only company in the country to introduce the anti-wheel theft and mobile call feature.
The new device was formally introduced in the market by Municipal Corporation Chandigarh Mayor Asha Kumari Jaswal.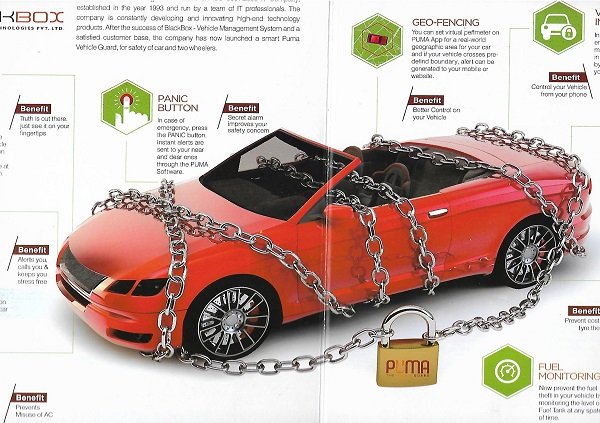 Photo By: Life in Chandigarh
Interacting with media persons, Rajesh Vaidya, one of the directors of the company looking after the PUMA device, said vehicle theft was increasingly becoming a cause of concern among owners since thefts are on the increase, even of wheels, fuel, etc., and the recovery rate of these stolen vehicles continues to be abysmally low. His company, which has its manufacturing facility in Baddi (Himachal Pradesh), has its own in house research and development teams, which help it to come out with unique features, he added.
Elaborating on the other features of the device, he said, PUMA gives real time location of your vehicle anytime, anywhere on your desktop or mobile whenever you require at the click of a button. You can even immobilise the engine of your car and active a panic button to alert your near and dear ones of an emergency with your location.
The device has its own 30 hours battery back-up so it can function even without power supply for that long. A call alert goes to you even when an attempt is made to remove the device from your car.
Different models of the device are priced in the range of Rs 8,000 to Rs 14,000 and come with a two-year warranty. The first year service is free and from second year the charges are as low as Rs 5 per day (Rs 150 a month), informed Vaidya.