The 'W2 Protection Spray Range', which includes apparel protection spray, room protection spray, hand-body protection spray and surface protection spray, is based on EcorsaniTM technology (patent filed) developed by IIT Bombay, and is priced such that it is well within the reach of the masses. The MRP of a 60 ml bottle of hand-body sanitiser spray is just Rs 35. The price tag on 225 ml and 500 ml bottles of all the other sprays is Rs 199 and Rs 299.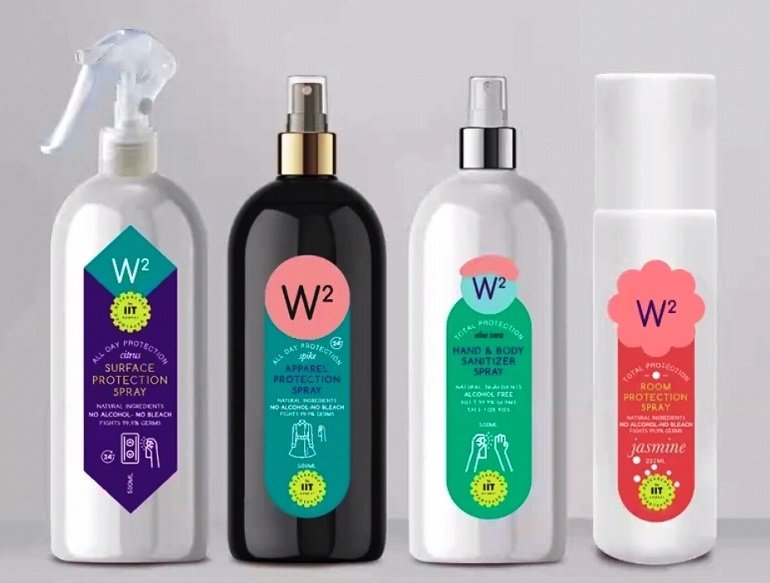 The range is being made available in stores, starting from NCR Delhi, but can also be bought online from anywhere in the country through the company's website www.w2whywait.com as well as on ecommerce platforms Amazon and Flipkart.
Launching the products in a virtual media conference on Tuesday, Mr Amandeep Singh, Director, Life Essentials Personal Care Pvt Ltd, shared, "It's an all-natural, No Alcohol-No Bleach protection spray range, which protects against bacteria, viruses (including COVID 19) and fungi.
Explaining the EcorsaniTM technology, developed by IIT Bombay and licensed to Life Essentials Personal Care Pvt Ltd, Dr Rinti Banerjee, Chair Professor, Dept of Biosciences and Bioengineering, IIT Bombay, said, "We had been working on safe and natural products that kill bacteria even before the pandemic. During this period, we modified and fine tuned our technologies to be effective against viruses and fungi also.
"This technology, based on compositions of biopolymers and essential oils, when tested with direct application on swabs of SARS-nCOV2 (COVID 19)-positive patients at government-run COVID facility at Kasturba Hospital Mumbai, proved to completely inactivate the Covid 19 virus. The results of experiments conducted while following international standards were ratified by a certified third party lab," Dr Rinti asserted.
Amandeep Singh added, "The efficiency and effectiveness of the W2 protection sprays is analogous to 70% alcohol and 1% hypochlorite based solutions. The alcohol and bleach free products have been formulated with a blend of all natural, biodegradable and safe-to-use compositions that are GRAS (generally recognised as safe) approved (GRAS is a US-FDA designation that certifies ingredients as safe)."
The W2 range is a part of 'Make in India' initiative of the Government of India and is supported by its COVID Emergency Credit Line Guarantee (ECLG) Scheme under stimulus package for MSMEs - Made in India, Made for the world.
Amandeep claimed that the hand-body protection spray has been approved for local application by the AYUSH Ministry. All sprays provide day long protection against viruses, bacteria and fungi.
The company has also developed a solution for indoor and outdoor fumigation based on the EcorsaniTM technology, and is readying to roll it out within the next couple of weeks.
Life Essentials does not foresee any production and distribution challenges because of the pandemic, and is geared to work to full capacity, which currently is 50,000 bottles a day and can be scaled up to 3,00,000 bottles a day depending on the demand. It has plans to invest Rs 30 crore into the development and distribution of its products over the next one year. These investments are to be funded by internal accruals as well as by external investments.
The W2 Range
Apparel Protection Spray: Good for apparel and clothing, bed and pillow covers, linen, curtains, cushions, etc, kids' soft toys, towels, bathrobes, upholstery.
Surface Protection Spray: Good for table tops, glass, metal, appliances, vehicle interiors, car handles, lift panels, railings, door knobs, counter tops, floors, bathrooms.
Room Protection Spray: A spray, preferably upwards, good for home, office, schools, hotels, restaurants, clubs, factories, gyms.
LifeInChandigarh.com by APR Media House is an enjoyable digital reading startup, which keeps you abreast of the latest meaningful happenings of interest to large sections of folks in Chandigarh tricity, and expats from the region. It has been promoted by a public spirited senior journalist and media consultant with a view to encourage good quality and healthy journalism, a dire need of the times.
To keep in touch, drop an email or call :
kochhar.apr@gmail.com
9815617676