Addressing progressive farmers, industrialists and senior government functionaries from Punjab and Haryana, she asked them to mark their diary for the three days as they cannot find a better opportunity to widen their horizons to the limitless possibilities in the field of food processing, which can result in a quantum jump in incomes of farmers, as envisioned by Prime Minister Narendra Modi.
PHOTOS BY: LIFE IN CHANDIGARH
Harsimrat, who earlier in the day laid the foundation stone for the first ever maize based Mega Food Park near on Phagwara-Hoshiarpur road in Kapurthala district of Punjab, said during her brief three-year tenure she had approved 42 mega food parks across the country, out of which three are in Punjab and two in Haryana. Out of these one in Fazilka (Punjab), which was lying in limbo for several years, was made operational within six months of her taking charge of the ministry, and the remaining two are under implementation, as are the two in Haryana – one by state owned HSIIDC in Sonipat and other by Hafed in Rohtak.
The Mega Food Park in Kapurthala is being developed by Sukhjit Mega Food Park & Infra Limited on 55 acres land in a declared Dark Zone, where slow desertification is happening because of overexploitation of water due to dependency on cultivation of cash crops. The mega maize based food park is an attempt to wean farmers away from the wheat-paddy cycle and usher in maize cultivation, which is much less water intensive.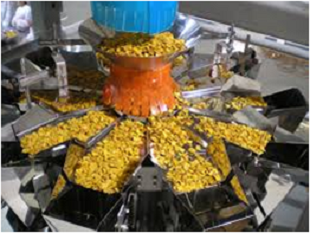 Enjoining the state governments in Punjab and Haryana to capitalise on the golden opportunity to help their farmers earn more income, create substantial employment opportunities and grow their economies, Harsimrat Kaur Badal said the Narendra Modi government was determined to ensure that all the 42 mega food parks are made operational by the end of its 5-year tenure in 2019.
She said before the Modi government came to power, only two mega food parks had been made operational, and one of them was Patanjali. "When I was given charge of the ministry, I cancelled the allotments of all the non-operational mega food parks and re-allotted them. Since then we have made six more mega parks operational in three years and four more will be running within this year. The remaining allotted mega food parks will also be made functional in the next two years, she asserted.
Focussing on the recently launched Kisan Sampada Yojana, she said the aim of the scheme is to make efforts to initiate every farmer into food processing by helping him set up his own big or small food processing and marketing unit. The scheme also encouraged individual farmers or group of farmers or farmers' cooperatives to establish smaller food parks or food processing clusters on 10 acres or more land and avail of massive subsidies, for which her ministry had been allocated Rs 6,000 crore to be utilised till 2019-20. Farmers setting up units in the mega food parks were also entitled to get soft loans from NABARD, which had been given a corpus of Rs 2,000 crore for this purpose.
Harsimrat said coinciding with India celebrating 75 years of its independence in the year 2022, Prime Minister Narendra Modi had envisioned doubling farmers' incomes and a big contribution in achieving this target has to come from food processing.
She said, the Indian food processing industry is already ranked fifth in the overall industrial sector in terms of production, consumption, exports and expected growth and contributes 13 percent to the overall exports from the country. Seeing its vast untapped potential, the world is looking up to India for sourcing its future food needs. Japan, for example, is seeking 10,000 acres of dedicated fields for tomato cultivation to meet its needs, she added.
In such a scenario, the farmers must rise to take things in their own hands to increase their incomes. The government is there to guide, handhold and provide capital subsidies and incentives. "I have even engaged a private company at the government's cost to scout for potential areas which are food surplus. The company will organise farmers in these areas and encourage them to set up small and big units to add value to their produce. It will provide consultancy to the farmers in selection of land, help fill up forms, provide them knowledge about how to source soft loans to set up processing facilities and avail of the attractive capital subsidies and incentives available to them. The farmers will be provided guidance on how best to market their value added products," the minister informed.
Giving examples, the minister said potato growers can set up plants to prepare potato chips or 'aloo tikkis'. Similarly there are opportunities for those growing carrots, peas, kinnows, melons, grapes, etc to simultaneously get into processing business, she added.
In a lighter vein she also admitted that because of her soft corner for her home state, she had instructed her personal staff in Delhi, and associates in Jalandhar and Bathinda to go out of the way to help farmers interested in venturing into food processing. "Dooje soobian de log mere pitche pae rehande ne ke madam eh kar do, ooh kar do. Par Punjab vich assi log is mamle vich thhilley hann. Farm bharann vich assi jarakde hann. So, main apne kisan veeran nu appeal kardi haan ke himmat karo, main bharosa dilandi hann tuhada vadda bhallaa hovega."
Earlier Haryana Agriculture and Farmers Welfare Minister Om Prakash Dhankar, in his impassioned address, while appreciating the World Food India 2017 as a very progressive step and confirming Haryana's participation as a partner state, sought help from the central government in a big way to train farmers in the state on how best to market their horticultural produce.
Offering to host the next edition of the world event in Surajkund, he said participation by Haryana will help it move ahead with its vision of capitalising on its locational advantage to capture the 100-crore-a-day NCR food market. For this the state government had launched a Peri-Urban Agriculture scheme in which it was giving emphasis on demand-based agricultural produce for an assured market.
The state government had earmarked a meaty Rs 500 crore for this scheme, under which 340 villages are being identified and promoted as horticulture villages and centres of excellence in horticulture are being set up in each district of the state with assistance from Israel.
He said he was pained to discover during his recent foreign visit that potato was selling for Rs 40 per kg in Fiji at the very same time when farmers in my state were distressed, having to sell at Rs 2 per kg.
Stressing on the need to open more and more agri-business schools, Dhankar said he would be the happiest person the day individual villages start having popular brands of their own, and these brands start finding a place in the palate of well placed people across the world.
He also advocated that horticulture produce to be marketed in three separate sections in various mandis - fresh, dried and frozen – to give a fillip to farmers' incomes.
Resorting to mirth to buttress his assertions, Dhankar related his recent experience when he flew on an official tour to Australia, New Zealand and Fiji. He said during the outbound journey on a foreign airline we found consolation in finding at least one Indian item on the food menu – pickle from Allahabad. But on the return journey by the National carrier even that one Indian item was shockingly missing.
On another occasion he described us Indians as very hard working and visionary. "If we can reach Canadian shores without a visa, then we can do anything," he ventured, to a round of applause from the audience.
Speaking on the occasion the chairman of the CII Food Processing Committee and CMD of Nestle India, Suresh Narayanan batted for the glorious future of the food processing industry in the country. Quoting Nestle India's happy experience in India ever since it launched its first plant in India at Moga (Punjab) in 1961, he said the company had since launched seven more plants across India, learning from the highly successful relationship model adopted in Moga. One of these plants (for nutritional products) set up at Samalkha is considered as one of the 10 best plants of Nestle worldwide, he maintained.
Quoting figures highlighting the promising future of the food processing industry, Narayanan said the industry was currently worth 40 billion US $ and expected to grow at a fast clip. It accounted for one-third of the total food market in the country and ranked fifth in the industry in terms of production, consumption, exports and expected growth. The food processing industry contributed 14 percent to the GDP of the manufacturing sector and accounted for 13 percent of the country's exports and attracted six percent of the total industrial investment.
Listing out reasons for batting for the food processing industry, the Nestle head said first and foremost was the size of the consumers within the country - a staggering 130 crore. Then raw material was in great abundance, with India being the largest producer of milk, 2nd largest producer of fruits and vegetables, rice, wheat and other cereal products and fish, 3rd largest producer of eggs and 5th largest producer of meat in the world.