The upbeat mood in the industry has been further bolstered with the announcement by the Union government of stage II of FAME (Faster Adoption and Manufacturing of Hybrid and Electric Vehicles), under which Rs 3,333 crore annual promotional funds for electric vehicles and supporting infrastructure have been earmarked.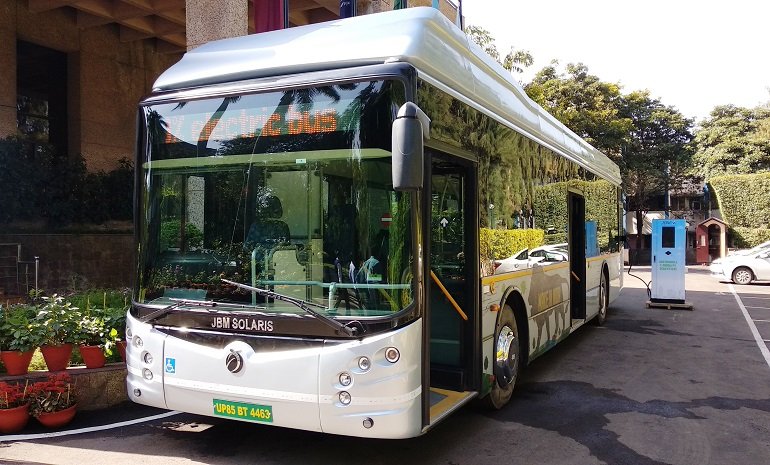 Photos By : Life In Chandigarh
In the wake of these encouraging developments, lifeinchandigarh.com caught up with Nishant Arya, Executive Director of the 2.2 Bn $ JBM Group, a frontrunner in end-to-end solutions for electric bus manufacturing and support systems, at the Northern Region Smart & E-Mobility Conference organised by CII in Chandigarh recently.
We talked to him extensively about the transforming electric vehicle scenario in the country and the Group's bus division JBM Auto, which has introduced the JBM Solaris EcoLife series of electric buses, claimed to be India's first 100% electric buses, and manufactured indigenously at the group's bus division facilities at Faridabad in Haryana and Kosi in Uttar Pradesh in association with Solaris Bus, one of the leading European bus maker and wholly owned subsidiary of the CAF Group.
Excerpts from an exclusive interview with Nishant Arya, who is also Co-Chairman, Sustainable Technology Development Committee, and Chairman, Cross Functional Team of Electric Mobility, for ACMA (Automotive Component Manufacturers Association of India):
Q. What is the current state of JBM Group's e-mobility business?
A. JBM believes in a 360-degree approach towards the deployment of electric vehicles in the Indian transport ecosystem. Thus, we have been pioneers in bringing to the country end-to-end solutions with respect to not only the vehicle but also the support infrastructure in the form of charging solutions as well as operating patterns.
We have developed the "Well-to-Wheel" concept of zero emission e-mobility with in-house capabilities in clean energy generation, energy storage systems, charging infrastructure and e-vehicles. Our multiple businesses like renewable energy, EV charging infrastructure and electric vehicles have strategically synergised in creating a seamless solution from generation to consumption of clean energy. This will signify the next phase of public mobility in India. In fact, our electric bus EcoLife provides a completely flexible solution, offering the ability to adjust the charging system of the bus to an operator's or city's infrastructure.
Q. What is the status of JBM Auto's engagement with the central government and states?
A. Noida and Greater Noida in Uttar Pradesh and Gurugram in Haryana have already inducted JBM's CNG buses into their public transport. We have committed to deliver 200 such buses within a few months out of the targeted 500 in the city of Gurugram. Our objective is to provide similar solutions, including electric buses, to all states and cities across the country. Delhi, Haryana and Himachal Pradesh from the North, Karnataka and Andhra Pradesh from the South along with Maharashtra, Gujarat and Madhya Pradesh from the West have shown keen interest in our offerings and we are working out a complete strategy.
Q. What are the few things which need to happen quickly and simultaneously for e-bus business to really take off?
A. There are challenges in the form of higher capital cost for manufacturing and expensive batteries. The cost of batteries is huge as currently these are being imported. A robust eco-system that supports the usage of electric vehicles needs to be put in place along with a strong government policy on setting up charging stations. These charging points can be in the form of pantograph (through overhead wiring) or plug-in charging. The government can be the largest buyer of electric vehicles, which will lead to economies of scale for the industry. This will, in turn, also lead to setting up charging stations across the country.
Q. What is the status of tendering for e-buses across the country?
A. Eleven-odd cities have been chosen to start the transition to electric buses for public mobility. These include Delhi, Mumbai, Kolkata, Bangalore, Hyderabad, Ahmedabad, Jaipur, Indore, Guwahati and Jammu. Tenders are already in various stages of finalisation. In Future, multiple smart cities are coming up and we see a big market emerging for electric buses.
Q. What is the expectation, how long is it expected to take for e-mobility to take off in the country?
A. With the recent announcement of FAME II scheme by the government, the momentum in the e-mobility domain in India is expected to witness a rapid upsurge. This is a much awaited and welcome move by the Union Cabinet. It reinforces the government's vision and focus on adoption of electric vehicles and charging infrastructure with greater momentum in the next 5 years. This is going to have a direct impact on EV manufacturing and adoption in the country. Also, by focusing on electrification of the public transportation, that includes shared transport, FAME II has ensured that there is progress from fossil fuel to non-fossil fuels across segments and adoption of EVs happens across every layer – 2-wheelers, 3-wheelers, 4-wheelers and buses.
Q. Do you see scope for use of renewal energy in creating an ecosystem for EVs?
A. There is a tremendous potential for use of renewable energy in the creation of an ecosystem for EVs. Green efficient technology is the key to a sustainable future, and aligning with the vision of the government, all organisations should work towards this. Inclusive growth will bring about a paradigm shift in the way we use and reuse energy in the coming years. At JBM, we are supporting the ambitious project of our honourable Prime Minister by providing a zero-emission ecosystem. We are offering to provide the infrastructure conducive to e-mobility.