Meet the crack team of eduVelocity Global, which claims to offer 35-plus years of collective experience of working with schools across India and hundreds of universities across the US, Canada, UK, European Union, Australia, Singapore, and elsewhere, ranging from private international universities, to public sector international universities, to small and large public and private engineering, medical, business and liberal arts institutions.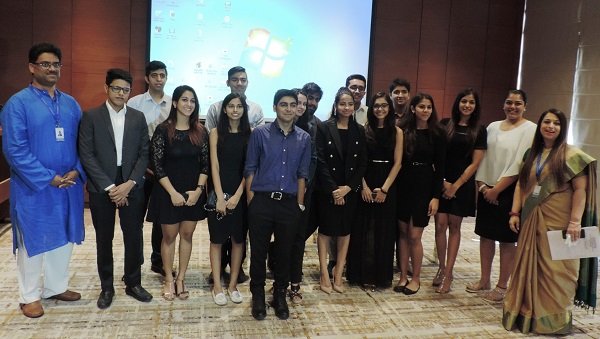 PHOTOS BY: LIFE IN CHANDIGARH
Interacting with media persons on the occasion of "Jubilation 2017", the passing out celebrations of the third batch from its Chandigarh Centre in Elante Offices, held in Hyatt Regency, on Saturday, eduVelocity Global founder and Managing Partner Vinu Warrier and Director, Admissions and Counselling, Punita Singh said "We do not straightaway put a platter of universities before a student. We first assess the aptitude of a student through a structured test and then try to deeply understand the student's personality and interests. Thereafter, we try to match these with the best possible programs suitable for them in a clutch of universities for them to choose from before putting them through our detailed program.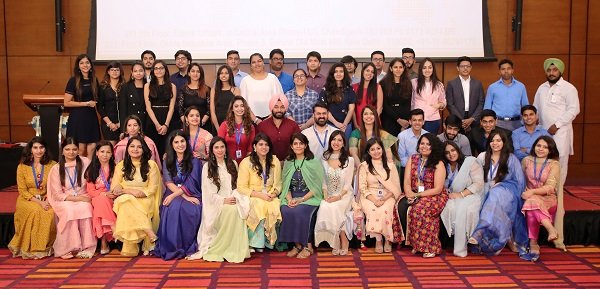 "We guarantee results. Our success rate is 100 percent - to date, every single student who has applied through us has received admission offers, and more than 80 percent of them have offers of merit-based scholarships, be they academically average students or school toppers", they added.
Announcing the performance of its Class of 2017, Warrier said, "For the fall 2017 university admissions season, our students have received admission and scholarship offers from over 250 top-ranked universities from eight countries.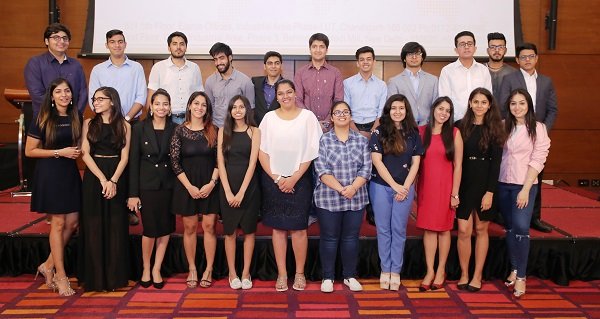 "Our Class of 2017 were accepted at universities ranging from such Ivys as Cornell and Brown, to such highly selective privates as Stanford, Caltech, and Johns Hopkins; to such "public Ivys" as University of Michigan, UC Berkeley, UCLA, UNC Chapel Hill, UW-Madison, and University of Illinois Urbana Champagne. Among world ranked Canadian universities the offers have come from University of British Columbia, University of Toronto, University of Waterloo and McGill. Several G8 universities in Australia, universities like Leiden in Europe, as well as universities across the UK have also offered admissions to our students. We also helped our students generate more than two and a half million US dollars in merit-based scholarships", he added.
"From engineers and computer scientists, to astrophysicists, film makers, healthcare leaders, psychologists, actuarial scientists, international policymakers, creative writers, and even a kinesiologist… our Class of 2017 includes undergraduate and graduate students with an amazing diversity of interests and backgrounds, personalities and personal aspirations about shaping global careers for themselves. Yet, what they share in common, today, are multiple admissions and scholarship offers from the overseas universities that best fit their dreams about tomorrow," shared Punita.
Explaining the methodology adopted by eduVelocity, she said, "Besides our long term and one-on-one mentoring to help students earn admissions to, and scholarship offers from world renowned programs and universities, they also go through psychometric testing, assessment and counselling. Career counselling, life skills development, stream selection, program selection and personality and profile development are some of the other inputs which help them find their way through the cobwebs in their mind and move towards clarity."
Sharing her experiences about the batch of 2017, Punita Singh said, "I saw these kids come to us seeking clarity and charting a secure academic path. Students get the classic undergrad education experience apart from choice and flexibility towards myriad experiences that helps them get clarity about their career choices. What plays a key role for a successful decision is - choosing the best-fit university, based on a diverse academic and co-curricular background."

Appreciating their counsellors and mentors for bringing in them clarity and sharpness about their interests, and compatible careers and programs, and the help extended by them in professionally handling the maze of paperwork, the students, who interacted with the media persons, said they would be getting into their newly chosen programs in a positive and confident frame of mind.

For more details, please visit: www.eduvelocity.in