Look around you as your drive on city roads. Do you notice the increasing number of big wheels that seem to be racing down the streets? From the sporty chic (read the likes of Maruti's Vitara Brezza, Ford Ecosport, Renault's Duster and Hyundai's Creta) to the big and mean (Mahindra XUV, Thar, Scorpio, Tata Storme), an increasing number of young buyers are opting for mid-segment SUVs.
For some time now, SUVs have been a mainstay of the luxury segment. But with auto companies launching affordable and compact SUVs in the mid-segment range, buyers' are fast losing interest in sedans, especially in the Tricity. Life in Chandigarh drives around to map the trend.
Photo By: Sumit Kumar
OWNERS' TAKE
According to city-based entrepreneur Rhydham Aggarwal, an SUV owner and lover, "I have been driving Maruti Gypsy since my college days and I could never get over SUVs since then. Though I have a Hyundai Verna as well which offers a good comfortable drive, but when it comes to some long drives, especially in the hills, there is nothing that can beat an SUV."
Aggarwal, who makes frequent work visits to Himachal Pradesh has another reason to drive an SUV on national highways. He adds, "I have observed it numerous times that people make way for you when you are driving a SUV. On the contrary they try to scare the sedan and hatchback drivers on the road."
Demonetisation has not left any industry untouched. According to recent reports, it hit the sales of the automobile industry in the country - down by 18.66 per cent which is a 16-year-low record. The industry's sluggish pace was most apparent in the data for the month of December 2016.
Leaving apart the demonetization effect various car marketers accepted the growth of the compact SUV segment which is quickly becoming the first choice of car buyers. Varun Saini, an HR specialist shares, "Since school days I was crazy for Maruti Gypsy. My interest for cars changed gradually with time and age with a little inclination towards sedans. I believe it was because of my friends from Punjabi background that I became a hard core SUV lover during my college days. Mahindra Scorpio was the first SUV I drove and it was during that drive only I decided that whenever I would be able to buy a car, it would be a SUV only." Incidentally, Saini bought a Renault Duster late last year. "In the last four months my mean machine safely took me to some of the toughest terrains of the country including Jammu and Kashmir and Himachal Pradesh. With each trip my love for an SUV has only increased."
SHIFT IN BUYING FROM SEDAN TO SUV
It is noteworthy that the sedan sales have reduced sharply across segments. Though hatchbacks continued to be strong with significant growth yet the sedan market declined significantly.
Varun Davessar, a national level rally champion who has grown old driving SUVs has a different take on these machines. "When you are inside an SUV you can actually feel the throb of the engine that adds to your adrenaline rush. I have a Mercedes as well that I enjoy more sitting on the backseat, driven by my chauffeur. But I can never even imagine myself on the backseat of my Gypsy or Thar even if you bribe me to do the same," quips Davessar.
A couple of years ago the likely upgrade option for small car owners was a luxurious sedan with exceptions opting for the SUV segment. Surprisingly the trend has changed drastically and the latest buying trend showcases that customers who are looking to upgrade from a hatchback are willingly opting for a compact SUV.
Like Sumit Rawat, a city-based SEO professional. "I have been saving money for a nice sedan for the last one and a half year. Different models came in during this time and I finally shortlisted Hyundai Verna, Maruti Ciaz and Honda City keeping the features in mind that I wanted. It was in August when I drove one of my friend's Renault Duster for the first time when I realised the on-road difference between a sedan and a SUV. This one drive changed my mind and despite being a sedan lover I booked a Creta which I love driving now."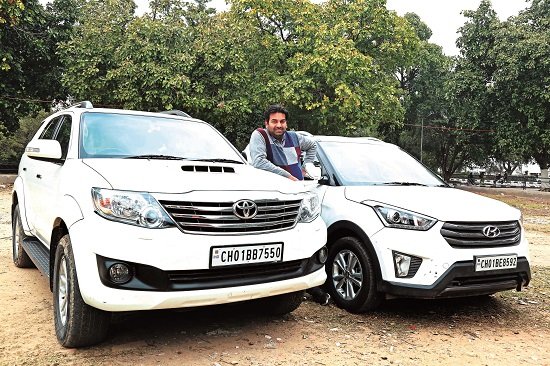 Photo By: Sumit Kumar
ROBUST LOOK, AFFORDABLE PRICING
The sturdy and robust exteriors are not the only feature that has fuelled the sales of the compact SUVs. The contemporary compact SUVs from automobile giants like Mahindra & Mahindra, Tata, Maruti Suzuki, Hyundai, Ford, Honda, Renault, Izusu et al that includes Scorpio, Safari, XUV300, Duster, Creta, Vitara Brezza, Ecosport are equipped with advanced technologies, stylish interiors, better fuel efficiency and better space that make it a sought-after buys in the affordable domain. Prices start as low as Rs 6.5 lakh.
Apart from the premium compact SUVs, the all time favourites that have ruled the hearts of adventure drivers for ages are Gypsy, Thar and Bolero. Though they may be less appealing to the eyes, they remain all time favourites when it comes to performance.
INDUSTRY SPEAK
"The Indian car owners, especially the upper middle class are now looking to elevate their driving experience. SUV definitely offers a better grip on the road as compared to hatchbacks and entry level sedans. It offers better space than sedans for a mid-size family and is the best vehicle to opt for if you are an explorer. This segment of the automobile industry is indeed growing and the consumer is expecting more to come from our brand that rules the hearts of the Indians," explains a senior manager with Maruti India.
Agreeing with the same, a senior official with Ford automobiles tells us, "SUVs are definitely not the new thing but definitely are the in-thing. Though the families are becoming nuclear now but when if you have a joint or large family you have no option with sedans to accommodate your family members. You have to go for a SUV that offers seating capacity for seven to eight people. Also SUVs are tougher and sturdy on tough roads that offer a better control and driving experience."