These observations were made by Satyajeet Rajan, Director General (Tourism) in the Union Ministry of Tourism, while interacting with participants in a Special Plenary Session and later talking exclusively to Lifeinchandigarh.com on the concluding day of the two-day CII Hospitality Summit 2017 : Hospitality Sector in the North – New Trends & Technologies, Alliances & Partnerships, Innovations and Practices, organised at the CII Northern India campus in Chandigarh on Saturday.
Photos By: Life in Chandigarh
During another session, the Thought Leadership Session : 'Partnerships for Growth – Expanding the Business Footprint', captains of the hospitality industry, including top executives from resort and hotel chains like IntelliStay Hotels, Tree of Life Resorts and Hotels, Carlson Rezidor Hotel Group and Keys Hotels, interacted with other representatives of the industry, including hotels, restaurants, resorts and spas, institutes of hospitality management and tour operators, to explore business opportunities for their respective international and national hotel and food and beverages chains in their expansion push in the North.
The Director General (Tourism) invited the hospitality industry from North India to take up heritage sites for basic maintenance and upkeep under the Tourism Ministry's 'Adopt a Heritage Site' campaign, recently rolled out by President Ram Nath Kovind at a function organized to mark World Tourism Day on September 27.
Yatra.com Adopts Hampi
He informed that online tour and travel company Yatra.com had adopted Hampi in Karnataka for basic maintenance and upkeep of the world heritage site of UNESCO. Yatra had also adopted other historical sites - Ajanta Ellora caves in Aurangabad district of Maharashtra, Qutab Minar in Delhi and the iconic Leh Palace.
Similarly, TK International Limited, which manages many hotels and resorts, has adopted Konark Sun Temple, Rajarani Temple in Bhubaneshwar and Ratnagiri monument in Madhya Pradesh. The SBI Foundation has adopted Jantar Mantar in Delhi.
Satyajeet Rajan said, "We have listed out some monuments to be offered to the private sector for adoption, but are not limiting ourselves to those. Offers to take up other monuments and tourist spots can also be considered."
Large Format Food Festivals
He also suggested that organising large format food festivals, which have a universal appeal, should be considered by the hospitality sector both in the country and abroad to attract tourists.
Observing that highways had improved tremendously in India over the years, he felt that the roadside amenities along highways and in monuments were woefully lacking. "We are in touch with the National Highway Authority of India (NHAI) and petroleum companies to improve the roadside amenities along highways. Archaeological Survey of India (ASI), which maintains some of the heritage sites, is also being roped in to improve public amenities, he added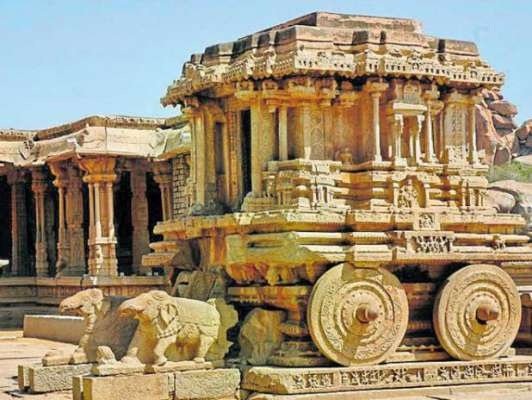 Security of Foreign Tourists
Reacting to observations on security concerns among foreign tourists, while claiming that such stray incidents took place in other countries as well, including advanced countries, he admitted that this perception of insecurity among foreign tourists needed to be tackled seriously. In this regard, he informed the tourism ministry was going to approach the Union Home Minister to push for expeditious implementation of the concept of tourism police across the country and consider deploying Central Industrial Security Force (CISF) to guard the ASI-managed heritage sites.
The Director General (Tourism) also agreed to take up with the state governments and concerned central agencies some other concerns of the hospitality industry, like putting online the entire process of taking 30-odd approvals required before start of business operations, putting timelines to the approvals and improving infrastructure and internet facilities at tourist places. He promised to write to the state governments on the issue of earmarking hospitality zones in cities and towns so that the industry could get land at economically viable rates.
Complex Industry
Submitting that the tourism and hospitality was a complex industry, dependent, like some other industries, on a number of agencies for approvals and support and it was not always easy to get things moving at a brisk pace, he admitted that lack of knowledge among officials and corrupt practices at some levels often compounded the problems.
He informed that one example of efforts being made to cut red tape at the level of the central government, and put approvals online, was the classification of hotels, where the cumbersome and time-consuming process of postal requests had been done away with.

Spending By Foreign Tourists
While agreeing that India had a vast tourism potential and the country was still a long way away from reaching anywhere near the full potential, he asserted that the tourism sector was making good progress. Though India ranks 25th in the world in terms of number of international tourist arrivals and 8th in the Asia-Pacific, but in terms of foreign exchange earnings (FEE) it is 13th in the world and 7th in the Asia-Pacific. "So you see, per capita spending by international tourists coming to India is pretty high", he added.
Disfavouring a comparison between India and any other country in terms of strategies to attract tourists, Satyajeet Rajan said "ours is a unique culture and we would like to showcase it in all its glory. We would be happy if the tourists come to India to enjoy the rich cultural and geographical diversities (mountains, deserts, beaches), ancient heritage and monuments, and bask in the heavenly experience of centuries old practices of yoga, ayurveda and spiritualism, and not tourists immersed in casino culture. Medical tourism is another area where we are doing exceedingly well, and we are keen on building on our positives."
Wondering why Ayurveda tourism is thriving in South India, when the biodiversity is in much greater abundance in the Himalayas, he stressed the need to promote ayurveda tourism in a big way in the North.
Interacting with the gathering, Prashanth Rao Aroor, CEO, MD & Co-founder of IntelliStay Hotels, had this advice to give to students of hospitality management institutes wanting to make a choice between beginning a career with a five star chain of hotels or upcoming chains of new branded hotels : "This the right time to ride the wave when at least five chains of new brands in the country are growing exponentially, throwing up immense opportunities for talented and trained professionals to grow their careers at a faster clip than in five star chains, where career growth is slow and limited." Giving example from his personal experience he said his own restaurant manager from managing a single restaurant had grown to become COO of their entire chain of 20-odd hotels in less than 10 years.

http://intellistayhotels.com/

Among others who shared their expertise with the gathering was Amanjit Singh, Head Marketing & Business Development of boutique resorts and hotels chain Tree of Life Resorts & Hotels, which also owns the Tree Leaf brand.

http://www.treeofliferesorts.com/

Keys Hotels, which runs a chain of hotels in 19 cities under three brands Keys Prima, Keys Select and Keys Lite, was represented by Gurpreet Walia, Director Strategy & Partnerships.

https://www.keyshotels.com/

Zubin Saxena, Vice President Development – South Asia, Carlson Razidor Hotel Group, talked about opportunities of doing business with his group, which owns several popular brands – Quorvus Collection, Radisson BLU, Radisson, Radisson RED, Park Plaza, Park Inn, Country Inn & Suites and Club Carlson

http://carlsonrezidor.com/

Man Mohan S Kohli, Chairman, CII Hospitality Summit 2017 & CEO of Aroma Group, and Manu Kochhar, Past Chairman, CII Uttarakhand State Council, and Joint Managing Director of Hotel Madhuban, moderated the Special Plenary Session and the Thought Leadership Session, respectively.