It's early days yet, since Auric, touted as the world first all-natural beverage for mind, body and skin based on anti-ageing wisdom of Ayurveda, was launched nine months ago as a startup, but the brand, buoyed by its acceptance in the market, has already laid out plans for expanding its product portfolio as well as its reach into the rest of the country in the next three to four years.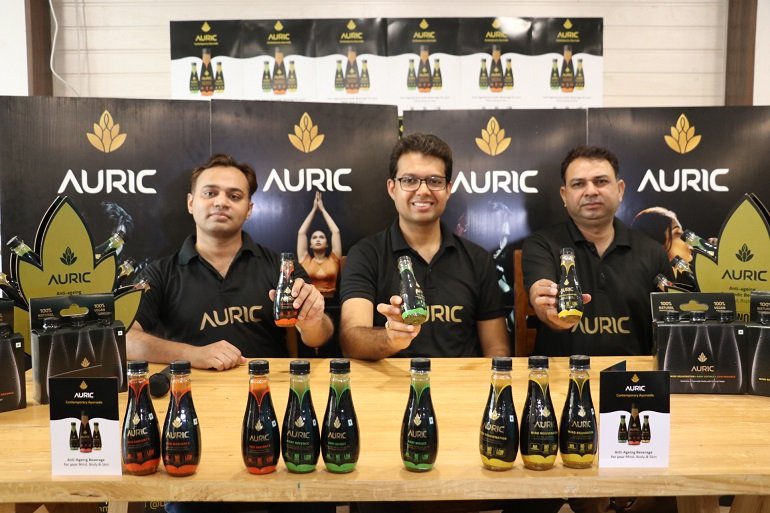 Photos By : Life In Chandigarh
Sharing details of the public response to the brand, and its expansion plans, with LifeInChandigarh.com on the sidelines of a media interaction, in Chandigarh recently, Deepak Agarwal, Founder and CEO, Auric, claimed that they had already sold more than 50,000 units of the 250 ml bottles, available in three different variants, in Chandigarh tricity and more than 80,000 in the NCR.
The brand is available in three dozen stores in the tricity, including in the most popular ones like Harry Hyper Store, Peshawari, Life Supermarket, Kewal Stores and Empire Stores, and more than 170 stores in New Delhi and Gurgaon. With aggressive marketing, free samplings and tie-ups with salons and gyms the brand is getting stronger by the day, he added.
"We have prepared plans to expand our product portfolio by adding more healthy beverages like Turmeric and Aswagandha lattes, milkless shakes, weight loss and dinner alternatives and probiotics within a two year timeline. We'll also increase our reach to 50-odd cities across the country in the next 3-4 years," he gushed.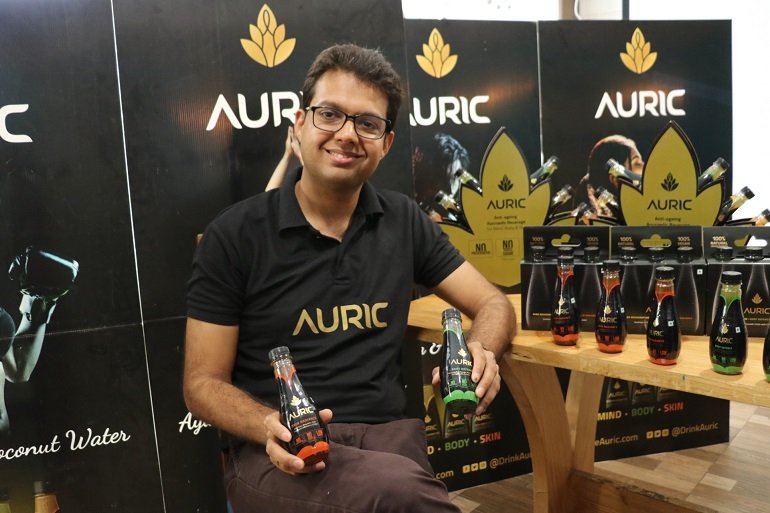 Expressing confidence about being able to achieve their goals, Agarwal claimed that Auric had been widely accepted as a healthy replacement for sugary drinks, packaged juices, carbonated beverages and flavoured water. "You get an anti-ageing drink at the price of bottled coconut water (250 ml of the beverage costs Rs 50 as against 200 ml of coconut water with an MRP of Rs 40). It also makes sense to drink healthy when you compare it with a 300 ml can of Coke (Rs 35) or 250 ml Red Bull Energy drink (Rs 99)," he argued.
The existing three ready-to-drink beverages are claimed to be different concoctions of a wide variety of Ayurvedic herbs like Aloe Vera, Gotu Kola, Haldi, Amla, Aswagandha, Moringa, Shankhapushpi and Brahmi. Agarwal says, "The smart drinks by Auric are designed for the fast-paced 21st century lifestyle where right nutrition is often compromised. All beverages offered are rich in antioxidants, 100% natural and vegan, sugar-free, gluten-free, chemical-free, and do not use any preservatives or artificial flavours, and yet non-bitter in taste."
The beverages are ideal for the calorie conscious as well. Each 250 ml bottle consumed adds just 35 calories to your daily diet. One of the variants is crafted to calm the mind, another to power up immunity and the third to add radiance and glow to the skin.
The beverages are also available nationwide through Auric's website (https://www.theauric.com) and online channel partners like Amazon India, Bigbasket, Milkbasket and Qtrover.
LifeInChandigarh.com by APR Media House is an enjoyable digital reading startup, which keeps you abreast of the latest meaningful happenings of interest to large sections of folks in Chandigarh tricity, and expats from the region, It has been promoted by a public spirited senior journalist and media consultant with a view to encourage good quality and healthy journalism, a dire need of the times.
To keep in touch, drop an email or call :
kochhar.apr@gmail.com
9815617676