Much before the swanky malls opened doors, Sector 17 plaza was the place to head to for a shopping spree. After a brief dip in sales, Sector 17 is in action again but still not buzzing as it used to be on weekends particularly. There are many talks of giving it a makeover and making it a cultural hub as well. While that will happen, when it happens, we feel there are some things about Sector 17 that we have grown to love. You may have your own list too. Here is ours: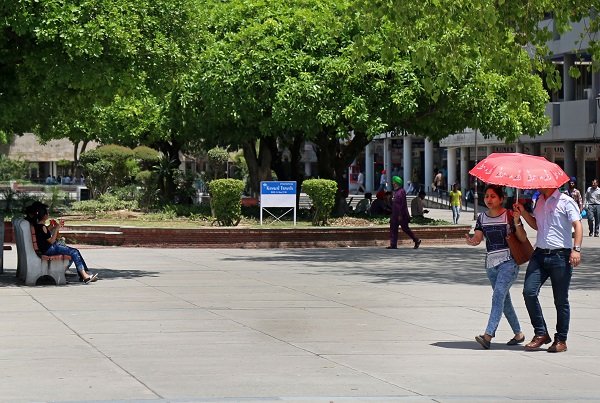 Photo By: Sumit Kumar
1. The layout: Styled like an open mall, we have always liked the fact that there's something for everyone here. While new age malls offer the comfort of an air-conditioned environment, walking in the corridors of Sector 17 while taking in the fresh air is fun too. Winter sun is bliss here.
2. Softy special: Sector 17 is one place that sells ice-cream, or isn't it called frozen dessert now, that's relished all through the year. Summer holidays to the time you had nothing much to shop for, a softy in hand is what Sector 17 is synonymous with. You also have the option of sipping on a cola or strolling in the plaza munching on popcorn.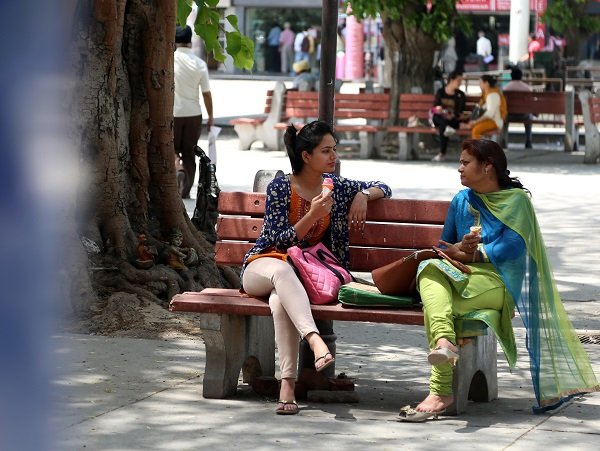 Photo By: Sumit Kumar
3. The Book Shops: Be it English Book Shop or Capitol Book Depot or Universal Book store, Sector 17 has been a go-to place to buy the bestsellers and stock up on stationery. The fact that you could browse the shelves at ease without being hounded to buy is an added plus point.
4. Phulkari emporium: When your distant NRI cousin comes visiting and is looking for souvenirs from Punjab, you always steer them to the Phulkari state emporium in Sector 17. They have added new products in the past and are usually well stocked. But count yourself lucky if the sales staff is in a cheerful mood.
Photo By: Sumit Kumar
5. Indian Coffee House: Yes, it's always packed to the brim. Yes, there are no air conditioners here. Yes, it can be a long wait for a table but don't we just love the warmth, the aroma and the food at the Indian Coffee House. We challenge you to walk past it on a weekend and resist the temptation to step in for a piping hot coffee and dosa. The French toasts are good too and despite the trying conditions, the staff is seldom rude. But they will always let you know that ketchup here doesn't come for free.
6. Run, kids run: We love the fact that there is a lot of open space in Sector 17. Buy the bachcha brigade some balloons and bubble tubes and you will have them out of your hair for good. The excitement is hard to match, though adult supervision a must.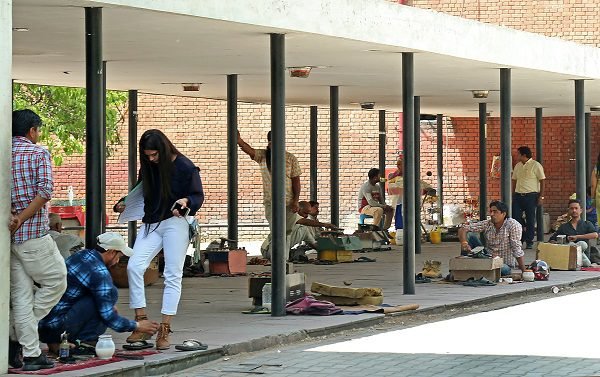 Photo By: Sumit Kumar
7. The musical fountain show: Every evening the fountains in the plaza turn on a show complete with a medley of music and laser lights. Even if you have caught it a couple times, it is still fun to watch.
8. The umpteen fashion clothing stores: Be it a bridal lehenga or an outfit for the best friend's wedding; denims or dungarees, branded Western wear to custom made sherwanis for the groom, Sector 17 market offers it all and at different price points. From flowing fabrics to stitched suits to accessories like scarves and stoles, take your pick here.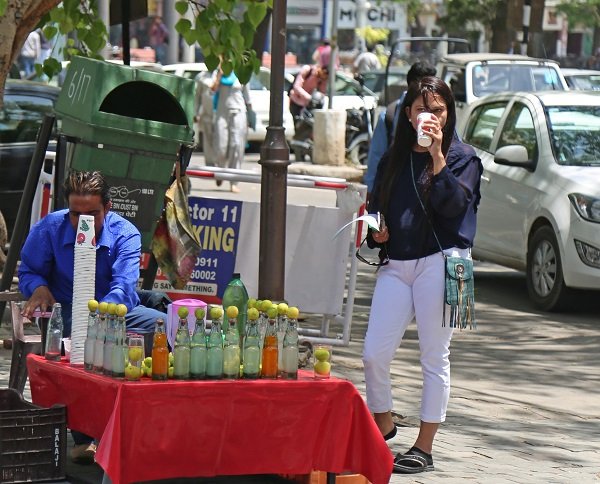 Photo By: Sumit Kumar
9. The shoe stores: Just as there are umpteen stores offering clothing options, there are that many shoe stores in Sector 17. Here too there are choices galore and at various price points. We have always found the largest variety of Bata shoes at their Sector 17 store. Ditto for Woodland.
10. The shoe polish team: The corridor next to Neelam theatre is where you will find the 'shoe specialists'. For as little as Rs 20 you can give your leather shoe a true makeover. On offer are various services like repair and polish, new laces and even sole jobs. In fact, most times when a neighbourhood mochi is missing in action, you know you can find the man on the job here.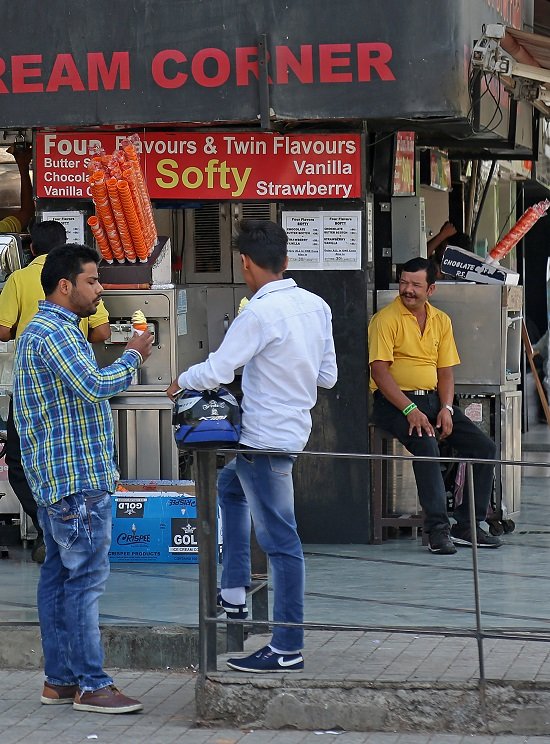 Photo By: Sumit Kumar
11. Budget conscious: One of the things that we really like about shopping here is that you will find what you are looking for within budget. Big stores like Jainsons, Kapsons, Catwalk, Kohinoor etc realise the need to stock up on all varieties and seldom disappoint.
12. The eating places: A trip to Sector 17 wouldn't be as exciting if there was no chaat to dig into at Sindhi's or kathi rolls to munch on at Hot Millions. A number of vendors also offer bhelpuri and roasted sweet potato in the evenings.
13. A place to hang out: Even if you don't have shopping on the agenda, Sector 17 is big enough to stroll around and window shop. Park yourself on the parapets under the various trees or benches and see the world go around. The vibe is fun and you rarely come back without having spotted a relative or friend.
14. The Bridge Market: That's a whole new world out there. Clothes, shoes, belts, perfumes...this market space under the bridge in Sector 17 has its own clientele that is looking for casual buys at affordable prices.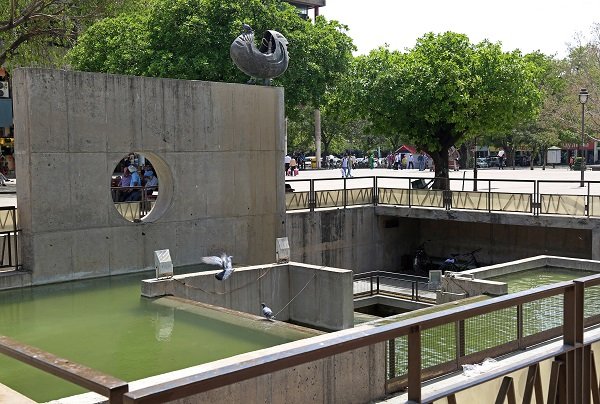 Photo By: Sumit Kumar
15. Kids' Own: One of the first of its kind play areas in the city, Kids's Own in Sector 17 has gone on to become a kiddie birthday party hub. We love the play gym areas, the cafe upstairs that dishes out simple yet delicious fare and the alert and always courteous staff, more fondly called 'didis' here.
16. Empire Stores: One of the most iconic departmental stores of Sector 17, Empire Stores has been offering everyday essentials under one roof. Anyone who has grown up in Chandigarh, will remember this store as it was one of kind back then.
17. It's central: Don't we just love the location? No matter which sector you live in, Sector 17 never really seems far.