We don't have to tell you that Indian food is as diverse as its people. So it's a rare opportunity to get to savour delicacies of a state far away on home turf. At the ongoing 'Destination North East 2017' - a trade fair organised by the Ministry of Development of North East Region (DoNER) and PHD Chamber at Parade Ground in Sector 17, Chandigarh – the flavours from the kitchens of the seven sisters (states) are on offer.
Photo By: Vikram Joy
Let's take you on a food trail
As you walk into the main entrance gate, you will be tempted to first take a look at the bamboo product stalls right at the beginning. At hand here are various artefacts – trays, furniture, baskets et al. You can have a look around and build your appetite by visiting the trade fair stalls all nicely organised in three big pavilions.
Photo By: Vikram Joy
As you come out of the last hangar, to you right you will see a stage that has an on-the-spot singing competition and beyond that are the food stalls. These are the local delicacies on offer ranging from chaat, papri, thalis, even boiled corns. If you are hunting for North Eastern flavours here, this is the wrong place.
You need to look opposite to this. Next to the main performance area are a row of stalls and that's where the magic happens. Each of the states has put out special menus of starters and main course.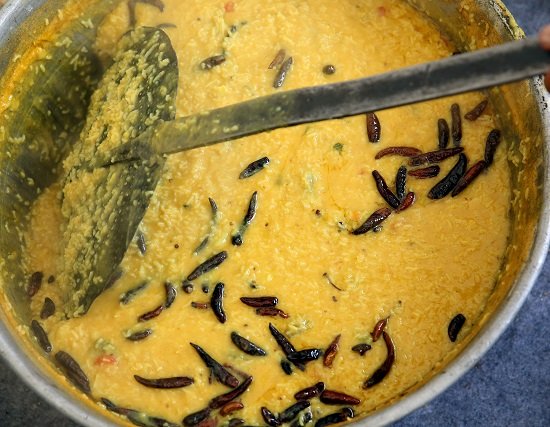 Photo By: Vikram Joy
What to eat
This is going to be tough to decide. Firstly, don't get put off by the bamboo shoot smells wafting from the make-shift kitchens. Bamboo shoot is an essential part of North Eastern fare and it can get a while getting used to.
Most of the stalls have at hand staff that can help explain the dishes to you. Since all these dish names, sights and smells are alien to the Punjabi palate, we advise that you ask the stall members to explain what goes into each dish to make a wise selection. We did that and it helped. Don't go expecting just momos and soups. This is beyond that and it would be nice if we can be a little adventurous in trying new flavours.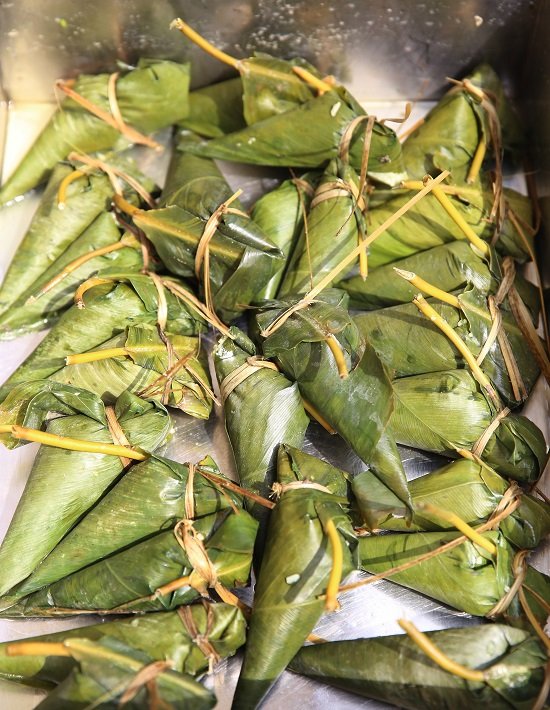 Photo By: Vikram Joy
The Mizo stall's sticky rice wrapped in leaves (not sure if those were banana leaves) is good and the pork and chicken dishes are served with a delicious kimchi-like salad.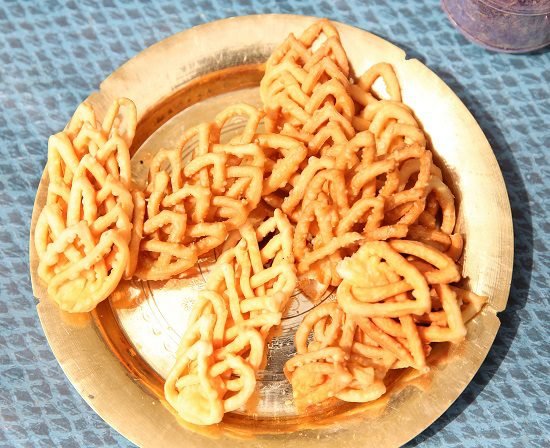 Photo By: Vikram Joy
We also relished the 'Khabzye', a pretzel shaped sweet dish that is made from pounded rice and is available at the Sikkim stall. The intricate shape got us talking with a staff member (mostly women from self-help groups) and she said it was a tedious process to make it. At Rs 10 per piece, it is worth a bite. Also on offer here are unusual pickles – radish and channa for one.
Photo By: Vikram Joy
The food stall from Tripura was where all the action was on Tuesday afternoon (also because all the fare here was vegetarian). We truly relished the puffy malpuas here that had just the right amount of sweetness and unlike the north Indian version it was more like a bun than a flattened bread. This is also for Rs 10 a piece. If you are looking at a main course meal, the sticky rice served with a gloopy vegetable curry is so worth it. The curry looks insipid at sight but the onion mixed with vegetables (it might have had baingan too) is sumptuous. Though the sticky rice, also packed in a leaf, looks like it won't be enough for one person, but trust me it will more than fill you up. Sticky rice and vegetable thali costs Rs 20. We demolished three malpuas.
Photo By: Vikram Joy
Next door is the 'Smoky Hearth Kitchen' that packs in dishes from Assam, Manipur and Meghalaya. The chicken rice we had from Meghalaya was okay as it lacked a flavoursome punch. The organic honey, made by honey bees in orange orchards, was thick and really, really nice. Another highlight here is Pashor Kait – a fried banana flower dish made like pakoras.
Manipur offers mushroom chicken, fish curry gravy and Kangshue stewed vegetable soup. We chose Assam and got ourselves a sabzi made from jackfruit paired with pooris. It made a good match and the whole chilli and mustard pickle had us going for seconds, much to the surprise of the staff.
We also liked the fact that the meals are very reasonably priced.
Photo By: Vikram Joy
The Business Side
The strengths of North East are also showcased in the domains of tourism, food processing, handicraft, handloom, organic farming, food processing, horticulture, floriculture, medicinal and aromatic plants, organic farming, bamboo development, logistic developments and IT interventions through round table discussions and exhibition stalls.
The fair is on till March 8.