Be it momos or samosas, golgappas or chaat, every sector in the city has its own street-side delicacies to boast of. However, there's a tricky side to digging into street food and there's the question of hygiene on everyone's mind. Giving in to popular demand for street side fare that's made in healthier environs, The Lalit Chandigarh has rolled out a street food festival 'Khao Gali' (pronounced as gully) at their all-day cafe. Steered by Executive Chef Shibiraj Saha, the menu traverses through the country picking up popular fare that's available in the gullies, nukkads and streets.
Photo By: Vikram Joy
You realise the hotel's cafe, that is styled like an open kitchen format – is hosting the street food festival when you spot an autorickshaw cut-out as a photo booth and typical street-side rehris dotting the cafe.
Photo By: Vikram Joy
Full credit to the team for creating the ambience – you can actually hear the sizzle of the tawa, the rising steam and the aroma of something cooking waft through. "We wanted to host live stations as they are the most important element of street food. Although many of us like to eat street-side delicacies, one is always questioning the hygiene levels where the food is being made in. We wanted to offer the same dishes prepared using better ingredients and in cleaner conditions," informs Muthu Kumaran, Food and Beverage Manager, The Lalit Chandigarh.
The festival has a changing menu where specials from different Indian states are being offered and is open only for dinner. The chaat, golgappas and pav-bhaji remain a permanent fixture all through the festival.
Photo By: Vikram Joy
The live-stations offer both vegetarian as well as non-vegetarian options. Our pick was 'Chicken 65' that had just the right amount of spice we were looking for. It was a perfect accompaniment to the hot Thukpa soup. Don't miss the piping hot chaat and the egg and parantha mix made in a scrambled version here. The vegetarians will relish the teppanyaki-style 'tadka chowmein.'
Photo By: Vikram Joy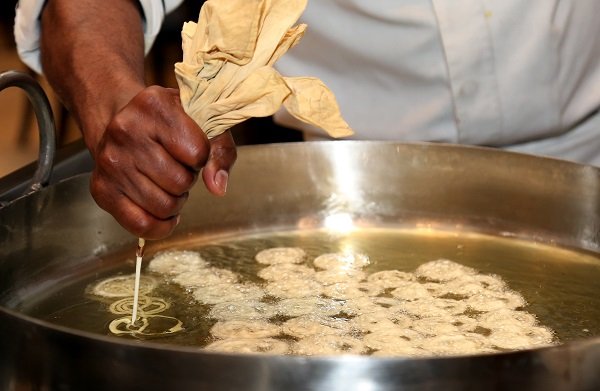 Photo By: Vikram Joy
Photo By: Vikram Joy
You can also choose to stand and savour the meals in true street-side style. The mini jalebis made fresh in front of you were a true delight. While the dishes will more than fill you up, the hotel's dinner buffet is also on offer.
Where: The Lalit Chandigarh
When: The food festival is on till March 22.
Time: 7.30 pm onwards
Meal for two: Rs 2,500