Shirin Mann Sangha's fixation since childhood with the traditional juttis worn by her mother, whom she adored as her role model, by some quirk of fate, was ushered into business of juttis, but with a difference. Her label Needledust, which reinvented the flats and turned it into a high fashion accessory, four years down the line is a loved brand with a worldwide following, including among several Bollywood divas like Priyanka Chopra and Deepika Padukone, who made specially crafted juttis by Shirin a part of their trousseau for their wedding festivities.
Photos By : Life In Chandigarh
Speaking to LifeInChandigarh.com at the launch of her first store in the city, where she did her schooling at Vivek High, and where her family and bulk of friends are, 32-year-old Shirin says this store in Elante Mall is only her third offline outlet after Saket and Asiad Village in Delhi. "It's so nostalgic, and such a wonderful experience, to be opening my exclusive store in the city of my dreams, where I spent some of the most enjoyable years of my life," she shares with a glitter in her eyes.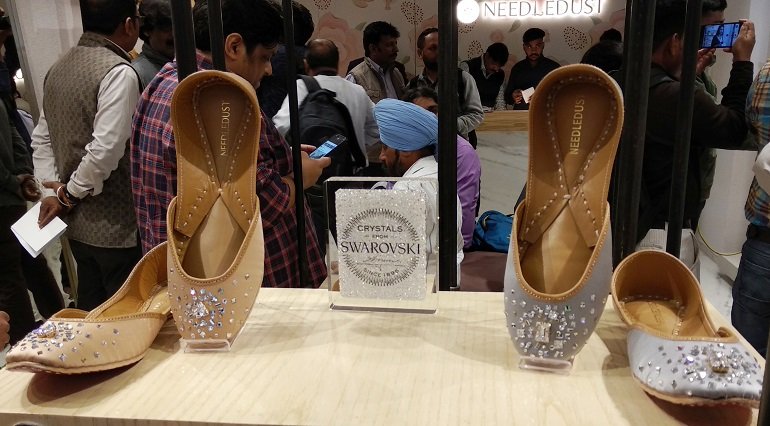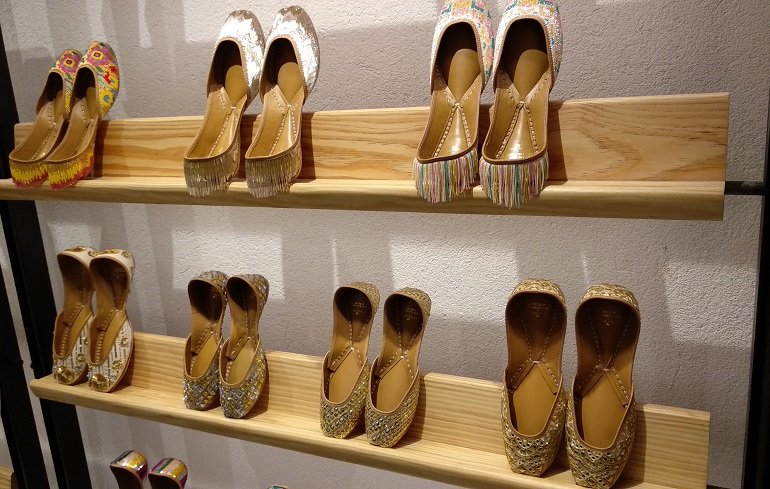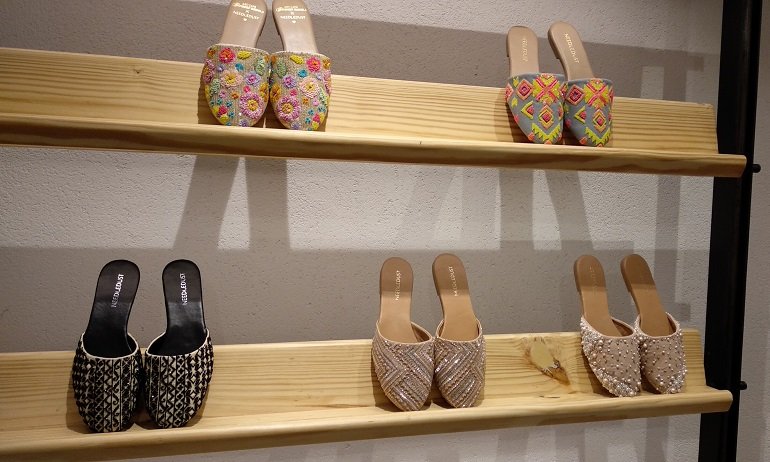 What makes the brand stand out is the sheer exquisiteness and enormous variety of the embroidery or embellishments on the uppers, the high quality of the leather and other materials used and the unmatched comfort of wearing the flats. "Highest quality calf leather is used in all out jutties, through recently we have also introduced a completely vegan (using faux leather) range of slip on mules (back open). The sole has a double foam cushion and the flats are scientifically designed so as not to cut into the skin, as is the common complaint with juttis available in the market," she emphasises.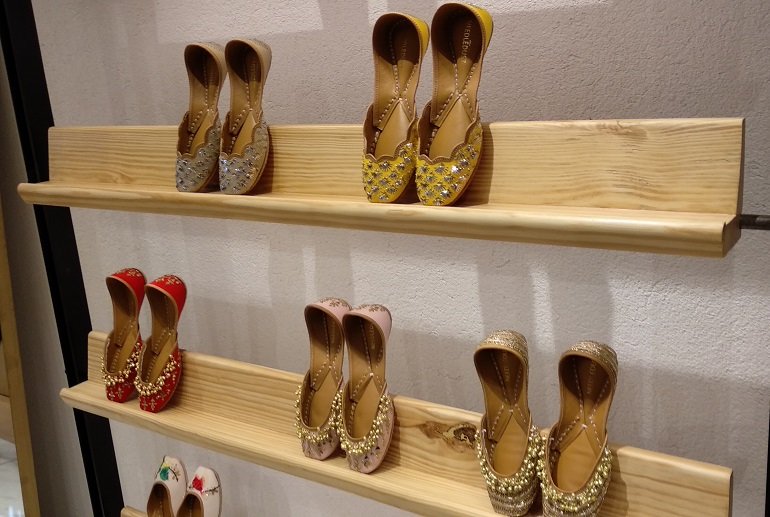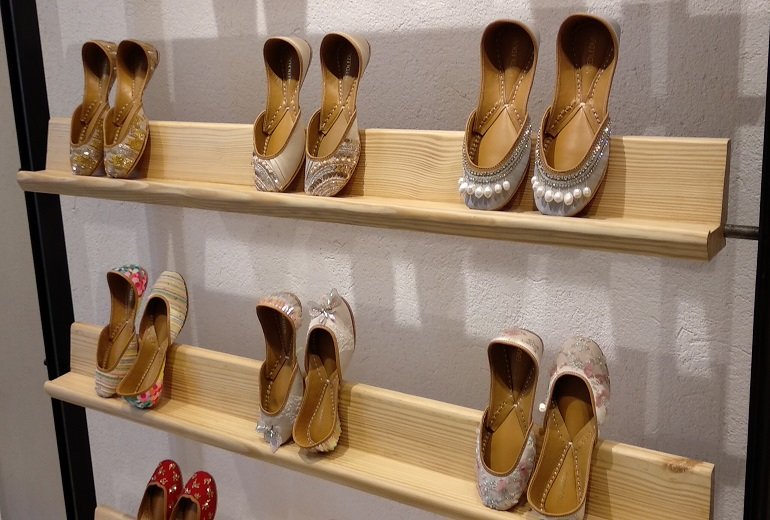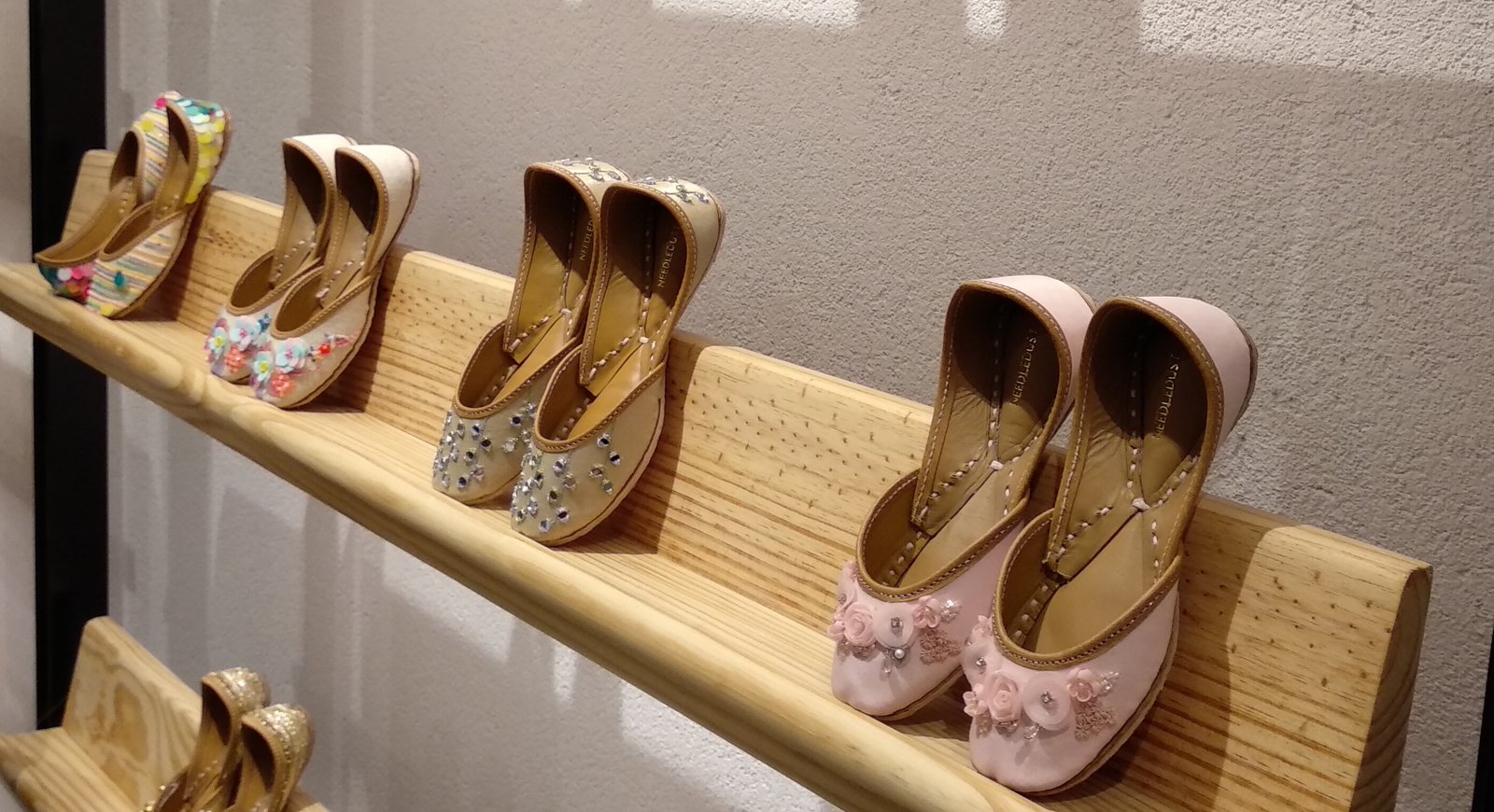 Recently, Shirin, who besides being the founder of Needledust is also its creative head, has also entered into an agreement with the world renowned Swarovski to offer special and bespoke customisation service to their patrons at the Chandigarh store, which has prominently displayed a new Swarovski crystal range of juttis along with an Autumn-Winter Collection. Another exclusive range has been crafted in association with the pioneering duo of Indian high fashion industry Abu Jani-Sandeep Khosla (AJSK).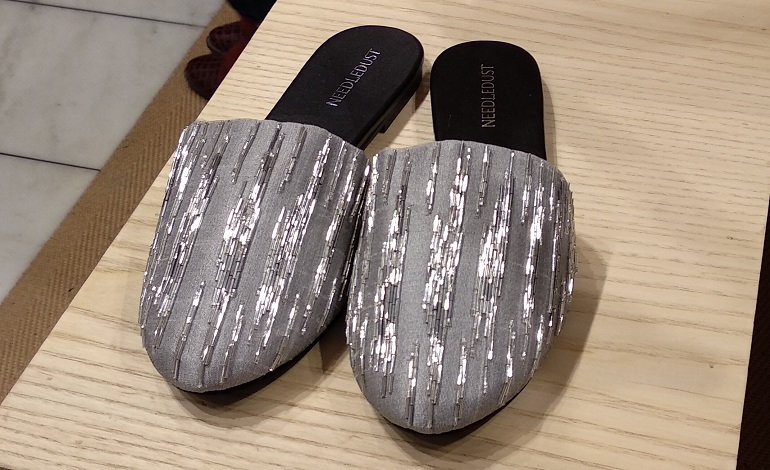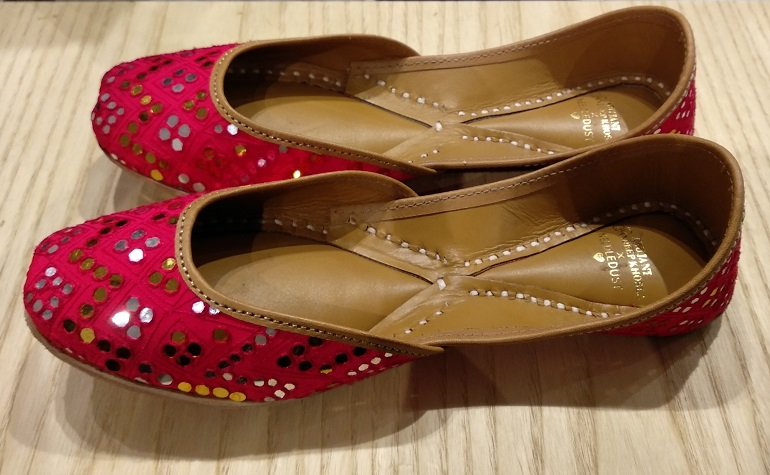 "We are foraying in a major way into international mules which are inspired by the fashionable traveller. As far as juttis are concerned we have contemporised these to pair nicely with even western wear. That's a USP of my line," she gushes.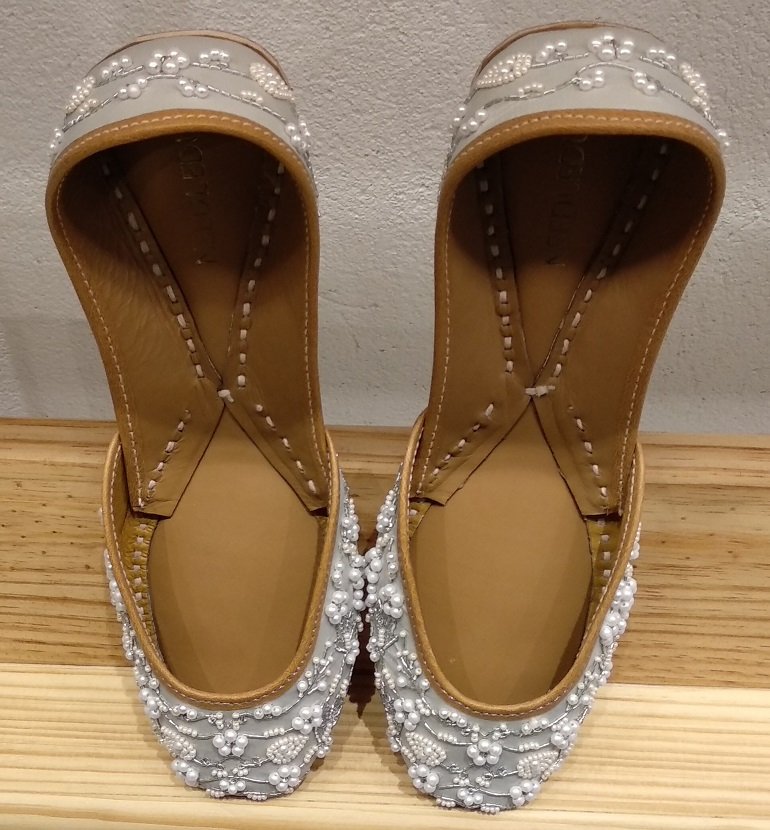 Each element of Needledust is claimed to be carefully designed in the brand's aesthetic with raw materials including pine wood, gold brass, Indian marble and jute. The various sections are juttis, mules, kids, celebrity and Needledust X AJSK.
Though Shirin's admiration for juttis developed at a very young age, her first real involvement with this traditional handicraft happened when she started scouting for that perfect pair - trendy colour, exquisite design and comfortable - to go with her wedding lehenga. "I went everywhere, but to my utter disappointment found none to my liking. Some were too simple and boring, and some uncomfortable to wear. So, I decided to design by own wedding pair adorned by ghungroos and got them custom made from craftsmen," she reminisces.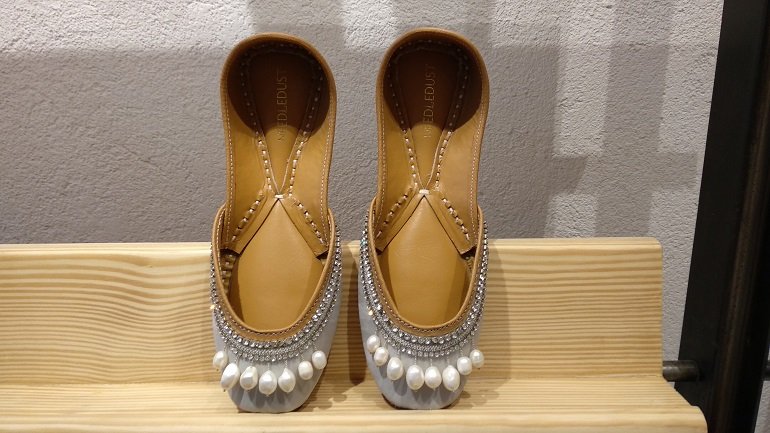 Shirin says the outcome was great and the pair was appreciated by my family and friends alike. This was when a thought emerged - why not try and fill this gap in the market by designing traditional juttis with high quality, comfort and contemporary styles in mind. Encouraged by her husband to go ahead, Shirin gave birth to the Needledust label.
Launching her juttis first on an online portal, she says she was elated when the entire stock got sold out within the first 10 days. From then on there was no looking back. Within months, the brand won the imagination of a worldwide audience. Bollywood celebrities followed, and Needledust brand became synonymous with high fashion juttis.
Besides Priyanka and Deepika, who fancied the brand for their wedding ceremonies, among the other stars known to have patronised it are Alia Bhatt, Aishwarya Rai Bachchan, Katrina Kaif, Kareen Kapoor Khan, Kangana Ranaut, Sonam Kapoor, Sonakshi Sinha, Kriti Sanon, Disha Patani, Sara Ali Khan and Tapsee Pannu.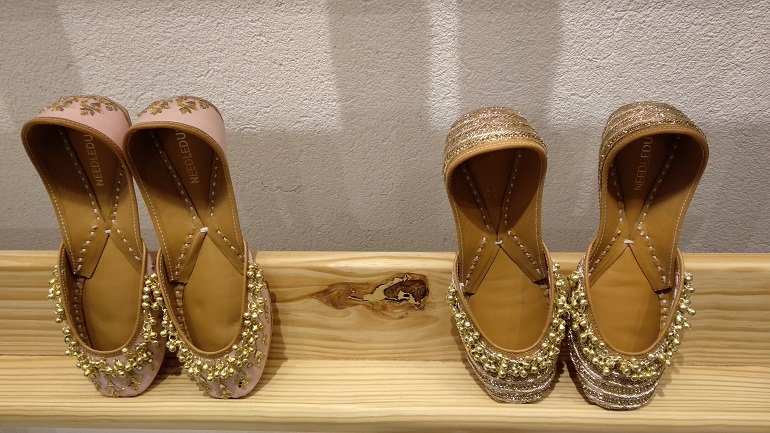 Shirin firmly believes that one does not always need formal training or education in the field of creativity. She herself has none. "If you have the creative instincts, are passionate about something and willing to work hard, nothing can stand between you and success," she shares.
After the launch of this third store of Needledust in Chandigarh, following the first two opened in Delhi, Shirin now plans to open still another one in Delhi and one in Mumbai.
The price range starts from somewhere around Rs 2700 and goes up to Rs 7200. Kids' stuff starts from Rs 2200.
Designing juttis for men is also on Shirin's agenda. "Hopefully it should come through next year," she says in her parting shot.
LifeInChandigarh.com by APR Media House is an enjoyable digital reading startup, which keeps you abreast of the latest meaningful happenings of interest to large sections of folks in Chandigarh tricity, and expats from the region. It has been promoted by a public spirited senior journalist and media consultant with a view to encourage good quality and healthy journalism, a dire need of the times.
To keep in touch, drop an email or call :
kochhar.apr@gmail.com
9815617676