'Dil Diyaan Gallaan' explores the painful journey of three generations of a Punjabi family from Hosharipur, torn apart by migration abroad of an elder son, where the first two generations refuse to forgive and forget, but are forced to face their past and hopefully heal when the third generation steps in.
Will the third generation succeed? We'll see as the absorbing family drama unfolds.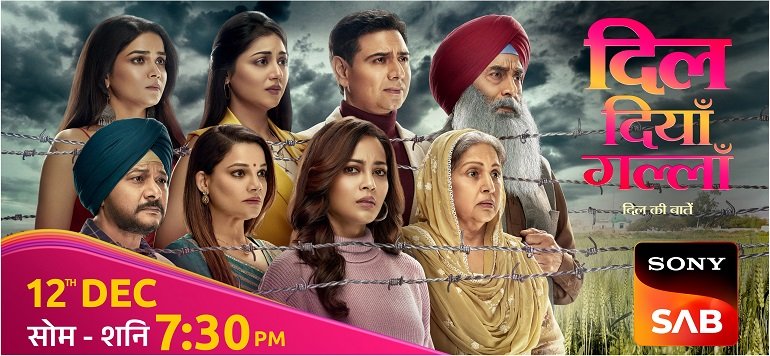 Photos Courtesy: Sony SAB TV
Produced for Sony SAB TV by well known telefilms maker Rashmi Sharma, under the banner of Rashmi Sharma Telefilms, the serial has a talented cast led by veteran film and Tv actor Pankaj Berry, and including among others Kaveri Priyam, Jasjeet Babbar, Sandeep Baswana, Ravi Gossain and Hema Sood.
So folks, brace yourself to once again come out of your individual rooms and sit close in the hall with the family 7:30 p.m. every Monday to Saturday to experience and feel this emotion-charged family drama touch a chord deep inside you.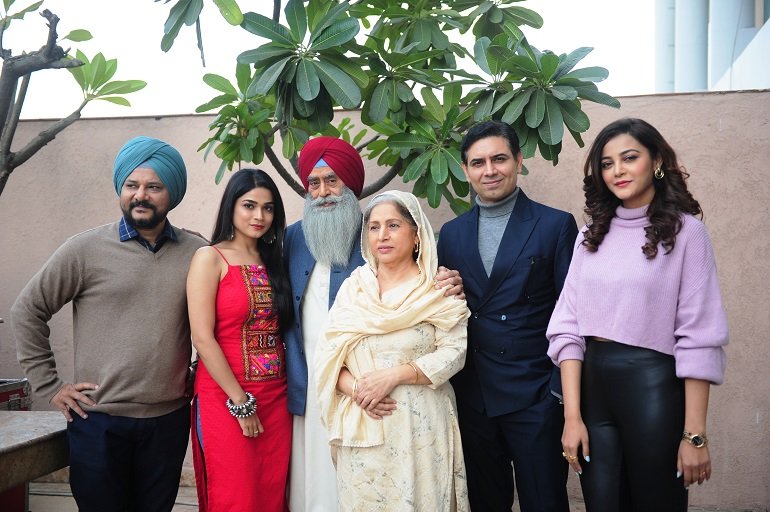 Besides screening a few promos, SAB TV also presented the entire cast of the teleshow during a media interaction as part of its National launch in Chandigarh on Wednesday.
Though the plot of the show is set in Punjab, the channel feels that it is sure to resonate with the Indian audiences nationwide and worldwide since it highlights the predicament of innumerable families who are distanced from their loved ones due to migration abroad, misunderstandings and unspoken words.
Neeraj Vyas, Business Head, Sony SAB, described the show as a "milestone" in the entertainment channel's new journey over the past two years "to connect with the viewers through stories that matter to them and are a reflection of their own life, their problems and their hopes."
In the context of his own young son readying to move abroad to pursue higher studies, Pankaj Berry, who has acted in several Hindi films and popular Tv serials like Gul Gulshan Gulfaam and Tenali Rama, feels that he is living himself while portraying the first generation character of Dilpreet Brar in the show. "Every character in 'Dil Diyaan Gallaan' is reliving the realities of most families, and hence the confidence that it will instantly connect with the viewers," he added.
Producer Rashmi Sharma, who has long running teleserials like Saath Nibhana Saathiya, Silsila Pyar Ka, Sasural Simran Ka and Swaragini under her belt, says 'Dil Diyaan Gallaan' had to have a plot set in Punjab because "there cannot be more compatible people than Punjabis to relate 'dil diyaan gallaan' (meaning 'dil ki batein' in Hindi). They are so frank and forthwith while expressing their emotions."
Neeraj Vyas was noncommittal about how many episodes of the teleserial to expect, saying "we'll be happy if it runs a year or little over that. But if it resonates with the viewers the way we expect it to, then there is no limit. We have worked very hard on getting a good story and a good cast, hence we can assure one thing, that it will not be dragged beyond a point where it ceases to be lovable among the audiences," he added.
Reacting to how many episodes have been shot already, Rashmi said shooting is ongoing and "we expect to have an adequate number of episodes ready before we present the first episode to the viewers on December 12."
'Dil Diyaan Gallaan': 7:30 p.m. every Monday to Saturday, only on Sony SAB TV
LifeInChandigarh.com by APR Media House is an enjoyable digital reading startup, which keeps you abreast of the latest meaningful happenings of interest to large sections of folks in Chandigarh tricity, and expats from the region. It has been promoted by a public spirited senior journalist and media consultant with a view to encourage good quality and healthy journalism, a dire need of the times.
To keep in touch, drop an email or call :
kochhar.apr@gmail.com
9815617676