The elaborate thermal screening, sanitisation measures, safety masks and social distancing norms apart, the mood in the sub-100 gathering was upbeat as the national and regional industry leaders emphasised the need to responsibly and strictly comply with the SOPs, painstakingly framed by EEMA, and convince the government about opening up the sector further.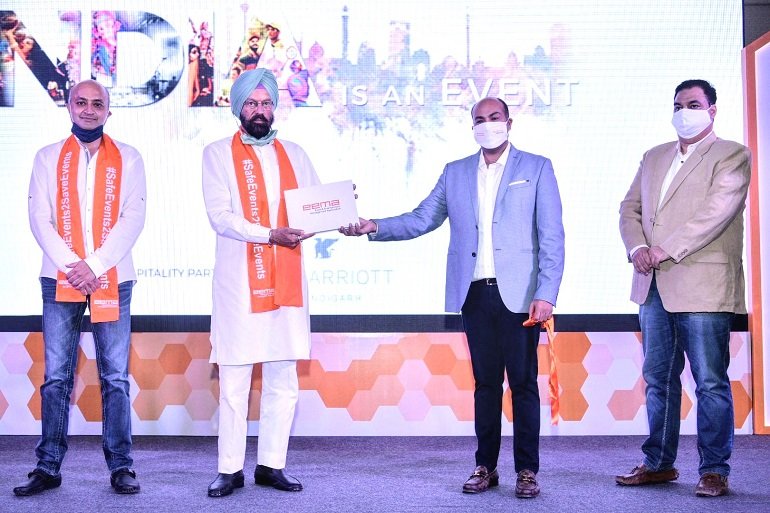 Though EEMA had been pushing the government to allow events with a ceiling of 200 people, the industry has expressed satisfaction over the breather provided under Unlock 4.0 of allowing gatherings with a maximum 100 people for social, religious, cultural and corporate events with effect from September 21 in most parts of the country.
Speaking to LifeInChandgiarh.com, Ankur Kalra, one of the founding members of EEMA, said he expected marriage ceremonies to be among the first events to get going. "Marriages are an essential activity and cannot be put off indefinitely, and with the festive season approaching, marriage planners can look forward to early revival of their business. "Other events which are considered avoidable, like exhibitions, large conferences, music festivals, etc will also slowly but surely make a comeback," he shared.
EEMA has divided the entire industry into eight broad categories for the purpose of framing SOPs specific to each of them. These categories are weddings and other social events, corporate events, corporate activations, large conferences, government and large scale public and political events, rural marketing, religious events and musical festivals or concerts.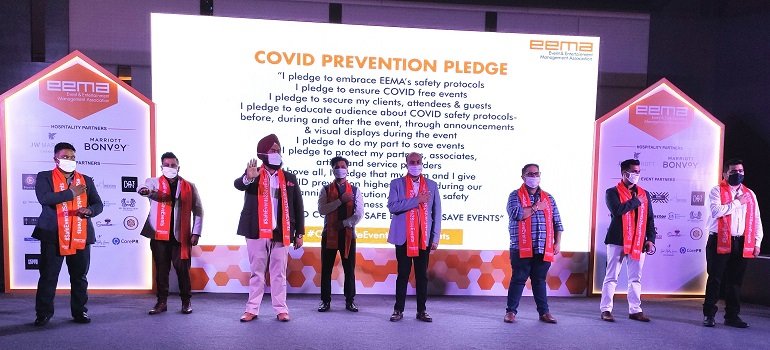 Though most SOPs may be common to all categories, there are many which are specific to different categories. Apart from following the usual safety protocols like sanitisation of venues, social distancing, wearing of masks and thermal screening, each organiser/event agency will have to do risk assessment of the venue and location in terms of space available, ventilation, sanitisation and seat distancing (6ft distance between two people and 4 sq metres of venue space per person).
The SOPs also encourage allowing entry of only guests who are pre-registered. There are strict guidelines regarding hygiene and other safety protocols to be followed by vendors and crew; waste disposal, including disposable gloves, face masks and caps (which should be treated as hazardous waste) and post event sanitisation.
Another important SOP is, every event should have a four-member mitigation committee known as Covid Risk - Mitigation, Audit, Compliance Committee (CR-MACC), which will have an event planner representative, a venue rep, a host/client rep and a third-party safety officer. This committee will ensure that all the protocols are followed and practiced in letter and spirit.
Ankur Kalra, while admitting that implementing the SOPs is not going to be easy, as it would involve devoting excess time, effort and resources, and will consequently add to the costs, asserted that the organisers/event agencies have no other option but to diligently plan and execute the SOPs to ensure zero incidence.
"Even a single reverse can prove disastrous for the industry. On the other hand, if we are able to convince the government that we can handle large gatherings without any risk of spreading the disease, it will only help open up the sector even more," he emphasised.
While EEMA is holding a series of workshops across the country to sensitise the organisers/event agencies about the SOPs, it is also seriously emphasising on what it is calling as 'guest social responsibility'. "Guests are equal partners in ensuring the safety of any event. We are telling organisers/event agencies to spread awareness about the SOPs among guests at all events and we expect them to act responsibly in their interests and those of others around them," Kalra added.
Punjab's Minister for Sports, Youth & NRI Affairs Rana Gurmit Singh Sodhi, while formally releasing EEMA's SOPs for the events and entertainment industry, commended the UT Chandigarh administration for increasing the maximum limit of people participating in an event from 50 to 100 and expressed confidence that Punjab too would follow suit.
Later, EEMA's local representatives Binay Pal Singh, Bharat Dhiman, Daman Preet Singh, Vikramjit Singh, Angat Walia and Deepak Kumar, besides representatives of the hospitality and tourism industry, took a Covid Prevention Pledge to embrace EEMA's safety protocols.
SOPs are available for download on eemaindia.com
LifeInChandigarh.com by APR Media House is an enjoyable digital reading startup, which keeps you abreast of the latest meaningful happenings of interest to large sections of folks in Chandigarh tricity, and expats from the region. It has been promoted by a public spirited senior journalist and media consultant with a view to encourage good quality and healthy journalism, a dire need of the times.
To keep in touch, drop an email or call :
kochhar.apr@gmail.com
9815617676