In today's fast paced life where most youngsters are leading the indolent and lethargic life of 'oldies', there are those who are still full of vigour and are achieving higher levels of fitness despite having entered the senior citizens' club several years ago.
If you are procrastinating about getting up for a morning walk or joining a yoga class, you need to read about these fitness enthusiasts who haven't let age, of all things, deter them.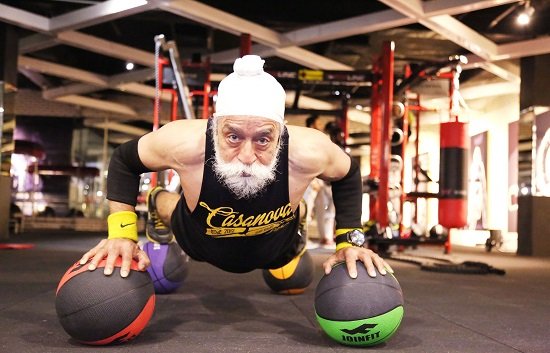 Photo By: Sumit Kumar
A remark about his potbelly at a family function became the sole reason for 72-year-old entrepreneur Tripat Singh to follow a healthy routine. Inspired by the oldest marathon runner Fauja Singh, the septuagenarian dedicatedly started jogging and running to stay fit. It was his devotion only that bagged him the first position at a 42-km marathon run in 2013. After accomplishing this feat he decided to hit the gym at the age of 69 and in merely two and a half years he has become a source of inspiration at the Ozi gym, Mohali, where he spends more than one and a half hour daily. His toned body, muscles and fitness levels is the envy of many a youngster here.
"I admire Fauja Singh for his zeal and passion for running. The only thing that came to my mid was 'If he can do marathons at the age of 99 why can't I?' And this is what inspired me to run. Afterwards, I initiated decided to be a regular at the gym to keep the body in shape but now, it has become a passion which I just can't do without," says Singh.
105-year old Fauja Singh needs no prelude. The international sportsperson is an inspiration to numerous marathon runners. Chandigarh-based columnist and writer Khushwant Singh, who has written a biography on the Sikh centenarian marathon runner titled 'Turbaned Tornado' has observed Fauja very closely. When asked about Fauja's secret of staying fit at this age, Singh promptly responds, "After officially retiring in 2013 he makes sure that he walks couple of kms every day to stay active. He goes to the Gurudwara and loves interacting with people. He loves listening to music especially on radio to keep himself entertained, engrossed and abreast of the latest happenings. To cap it all he keeps himself engaged and his mind occupied by doing one or the other thing and this is his mantra of staying fit."
Photo By: Sumit Kumar
At an age where majority of seniors have a stick in their hand or are battling health issues, 70-year old Prof Harish Kapoor loves to hold his racket to serve and smash on the badminton court. For Kapoor, badminton is not just a game, but a vital part of his life. Having retired from Panjab University, Kapoor reminisces, "As a toddler I would play daily for several hours and even today I play almost three to four games every day." Chandigarh State Veteran Badminton champion — Kapoor, has won the 'State Champion' title consecutively for the last three years and has represented Chandigarh at the national championships held in Dharamshala, Mumbai and Haridwar (in 65+ category). He is all set to represent the city in an upcoming tournament in 70+ category.
Passionate about cycling, long drives, playing instruments and listen to music the septuagenarian's mantra to stay fit is to keep yourself engaged. He shares, "It is important to keep your mind at peace. If your mind is at peace, you'll be enthusiastic and will be able to live life to the fullest. I go for a 5-km walk, play few games of badminton, read books, play my Casio keyboard, and on most of the weekends, I just drive down to Shimla, Kasauli, Chail or Barog et al to be at peace. This sojourn not just rejuvenates my senses but also motivates me to stay fit and active."
Photo By: Sumit Kumar
And if you thought 'gymming' was only a youngster's prerogative, them let's introduce you to H S Sethi. The 87-year-old is a regular at the gym 365 days of the year for more than three decades. It was only a spinal cord injury that set him back for a while but the illness could not deter his determination and passion. "I believe gymming is all about determination. And 100 per cent determination is required to control your body and senses. Exercising is essential to stay fit and healthy and this is what keeps me active all day long. Though I missed out for two years due to the injury but now I am all set for my healthy routine," said Sethi who we caught up with at the gym of PCA Stadium in Mohali.
Photo By: Sumit Kumar
These examples of sheer dedication and passion portray that zeal, determination, and passion ride higher than awards and accolades. For these achievers internal motivation was the chief source of inspiration and they never aimed at making records but they always aimed at beating their best performance. Are you inspired? We sure are!