One such upmarket facility, Crest Multispeciality Dental Clinic & Implant Center (www.crestdentalclinic.com), opened up recently in the busy Sector 20 market, Panchkula where the husband-wife duo Dr. Manoj and Dr. Shifali Bansal have provided smart and modern infrastructure for comprehensive cosmetic and restorative smile treatments.
Photos: Life In Chandigarh
Both MDS, Dr. Manoj is qualified in conservative dentistry and endodontics and specialises in root canal treatment and smile makeover, while Dr Shifali has trained in oral and maxillofacial surgery and specialises in implants and trauma care.
Speaking to socially oriented news website LifeInChandigarh.com, Bansals, who have moved to Panchkula from Punjab, where they had been practicing since 2013, shared that "we have put together smart facilities with instrumentation and materials sourced from reputed international level brands. These will be complimented with expert and professional services and assured ethical practices," they added.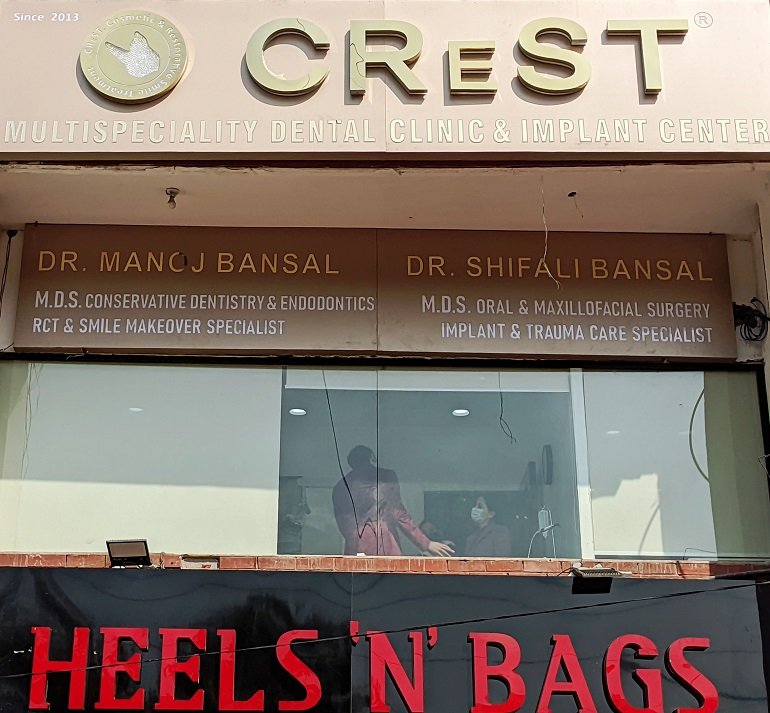 Crest multispeciality dental center has three modern dental chairs placed in three separate cabins. While the Bansals themselves will be providing 90% of all treatments, a visiting orthodontist will complete the services.
All Covid and other hygiene and safety protocols, as mandated by the government and Indian Dental Association, will be followed at the dental practice.
Among the treatment and services offered by the Crest multispeciality dental center are single/two sitting near painless root canal treatment, fiber reinforced and cosmetic composite restorations, metal free porcelain/Zirconia crowns and bridges, and conventional and invisible braces.
The cosmetic dentistry services available include porcelain vaneer/laminates and bridal dentistry and tooth jewellery. The implant dentistry category has full mouth rehabilitation, dental implant surgery, sinus lift surgery and socket preservation with bone graft. Pre prosthetic surgery and jaw fracture management are among the oral surgical facilities on offer.
Among the other facilities at Crest Multispeciality Dental Clinic & Implant Centre are laser dentistry, paediatric and preventive dentistry and digital radiography.
For appointments : 9877098779, 0172-4102709
LifeInChandigarh.com by APR Media House is a socially oriented enjoyable digital reading endeavour, which keeps you abreast of the latest meaningful happenings of interest to large sections of folks in Chandigarh tricity, and expats from the region. It has been promoted by a public spirited senior journalist and media consultant with a view to encourage good quality and healthy journalism, a dire need of the times.
To keep in touch, drop an email or call :
kochhar.apr@gmail.com
9815617676