National Accreditation Board for Hospitals & Healthcare Providers (NABH), a constituent board of the Quality Council of India, lays down stringent standard operating procedures to ensure high level of hygiene and sanitisation for patient safety and prevention of infection.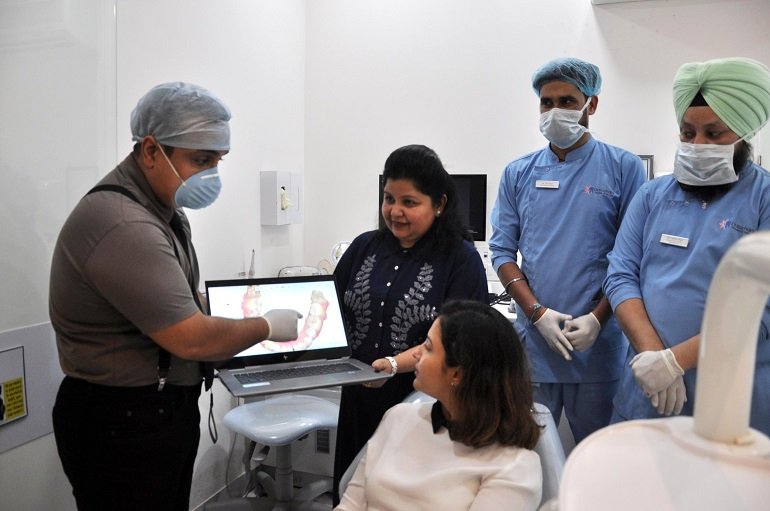 Photos By : Life In Chandigarh
Dr Parag Kochar, CEO & Principal Dentist, and Dr Manisha Kochar, owner of Dr Kochar's House of Smiles, and the top management team of the clinic shared with LifeInChandigarh.com that "despite religiously maintaining very high standards of hygiene and sanitation in the clinic, we had to make several structural changes in infrastructure as well as procedures to meet the stringent parameters set by NABH. The long and arduous task of making necessary rectifications, and the huge amount of paperwork involved, was a real pain, but worth it for an ethical practice like ours."
Dr Manisha Kochar added that "Right from usage of CE-certified materials (CE indicates conformity with health, safety and environmental protection standards), training for various medical and non-medical emergencies, X-ray machine registration with AERB (Atomic Energy Regulatory Board), air and water quality checking before and after every surgical treatment and fumigation of operatories (dental chair systems), to maintenance of 24 hours power backup, we had to ensure that all stations are as per NABH standards.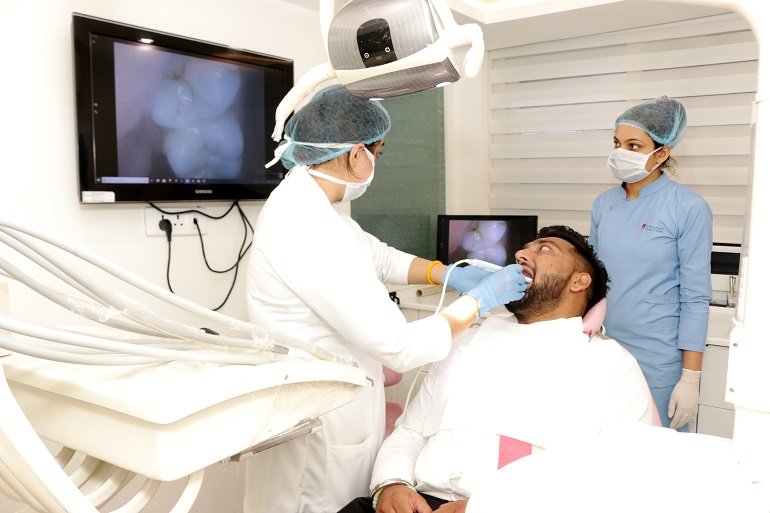 "Besides using only CE certified materials, we have a latest B-class Autoclave for instrument sterilisation. The entire staff (it surprisingly has a big staff strength for a clinic), including house-keeping staff, undergo regular health checkups and vaccinated against Hepatitis. They are also sensitised and trained on standard operating procedures down to minute details."
Detailing the USPs of their two decades old practice, Kochars, who are staunch followers of Brahm Kumaris organisation, claimed that "apart from the highly trained staff and latest equipments, what differentiates our clinic from others is the strong value system of service to the customer we have been able to inculcate in our staff." Dr Manisha asserted, "Our staff is undoubted the best anywhere."
Taking invited news media around the clinic, Kochars showcased their latest equipment and machinery, which included a Mouth Tour (an intra-oral video camera which gives the dentist, and the patient, a good understanding of the patient's oral health), a 3-D Shape Scanner (it records the shape, size and shade of a patient's natural teeth for exact replication at a later stage when requirement arises for a denture or implant) and a J Morito Endometer (a hand-piece with which the dentist can work subtly and sensitively).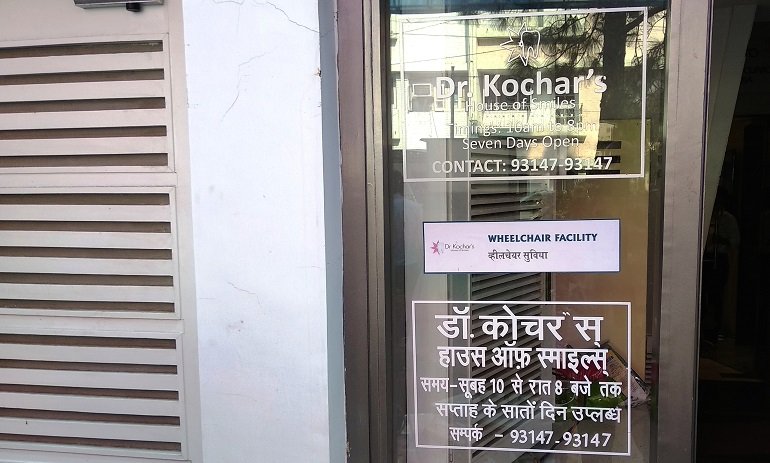 Apart from Dr Parag, a full-scale smile designer reputed for his painless procedures, and Dr Manisha, who is managing the administration and operations, the clinic, which is equipped with three operatories, has seven other specialists. Two of them, an endodontist (root canal specialist) and a prosthodontist (prosthetic dentistry specialist), are on its regular rolls. The others have regular visiting days and timings.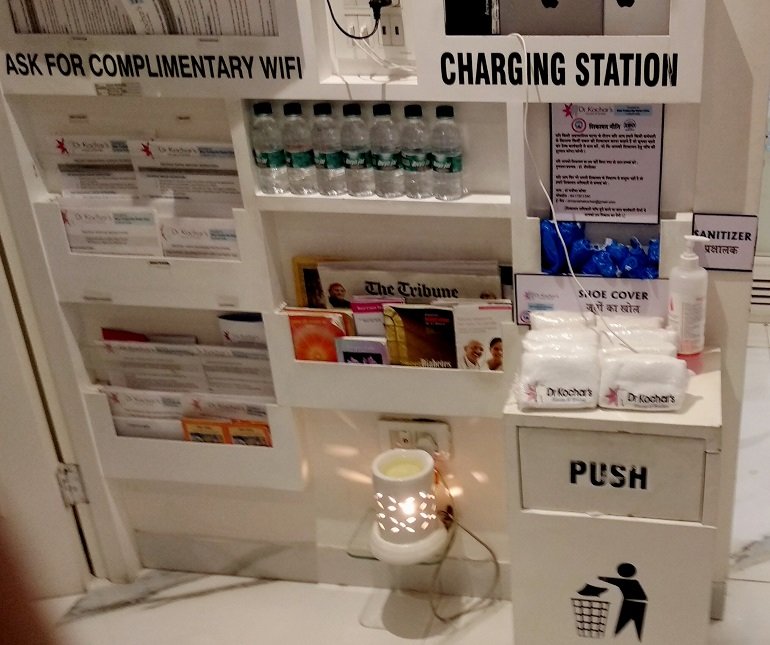 The clinic offers cosmetic dentistry, including lifestyle dental jewellery and invisible braces, besides routine and special fillings and restoration dentistry, root canal treatment, crowning and bridging and extractions, etc.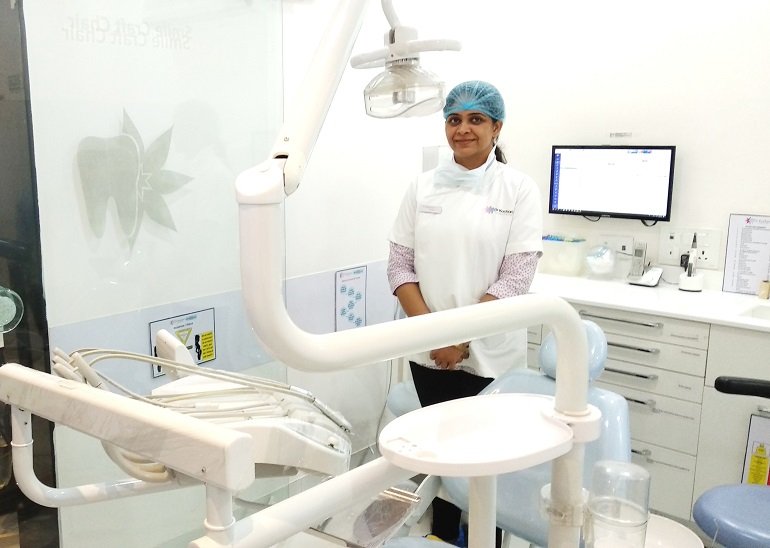 Another focus area of the clinic is the comfort of the customers. From an automatic foot massager to mobile charging stations, iPads, WiFi on demand, the reception area has it all. Refreshing beverages are available. There is also a small meditation room, where patients can de-stress pre and post procedure while watching an assisted meditation video. The white decor of the clinic is in any way soothing to the eyes. A regular front desk manager and a quality control manager ensure that what the clinic promises is professionally delivered.
No wonder, included in the clinic's regular client list are celebrities in various fields, influential people and international clients.
For so much, and more, the charges, of course, can be expected to be commensurate to the quality of facilities and services.
However, to celebrate the NABH accreditation, and the ISO certification, Dr Kochar's House of Smiles is offering its patrons a 25% concession on all its dental treatments for a month, starting September 1.
LifeInChandigarh.com by APR Media House is an enjoyable digital reading startup, which keeps you abreast of the latest meaningful happenings of interest to large sections of folks in Chandigarh tricity, and expats from the region. It has been promoted by a public spirited senior journalist and media consultant with a view to encourage good quality and healthy journalism, a dire need of the times.
To keep in touch, drop an email or call :
Kochhar.apr@gmail.com