Pooja Sood, founding member and Director of Delhi-based Khoj International Artists' Association, and theatre director Zuleikha Chaudhari have collaborated with seasoned legal practitioner Harish Mehla to curate and stage a realistic legal hearing performance of a fictional petition "In the matter Re: Rights of Nature" filed by 'Khoj', Zuleikha and a minor living in Delhi before a fictional 'NGT' (National Green Tribunal).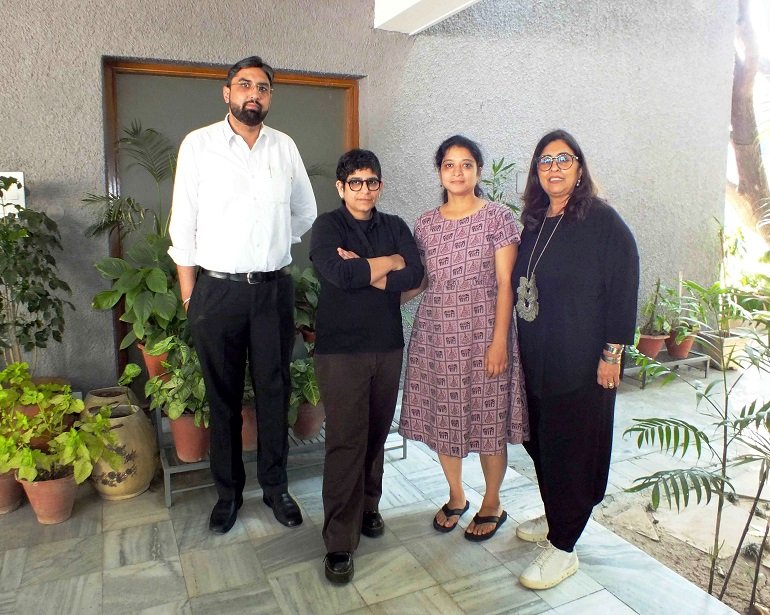 (Left To Right) Harish Mehla, Zuleikha Chaudhari, artist Shweta Bhattad & Pooja Sood
The context is the relationship between the air pollution of Delhi / National Capital Region (NCR) and the stubble burning phenomena which occurs annually in the neighbouring states of Haryana and Punjab.
Retired judges, practicing lawyers, and artists will be part of the performance. A 60-odd page petition, though fictional in status, will have all the elements of a legally sound document with all supporting annexures. The 'NGT bench' will have on it retired judges and the 'case' will be presented and argued in a legally professional manner by practicing lawyers. The 'witnesses' will be stage artists who are also subject experts and stakeholders, including one 'representing' the farming community.
The 'staged hearing' will follow all protocols, procedures and laws of the NGT.
The 'hearing' is grounded in current environmental laws in India which exist within major central legislations. The 'hearing', therefore, will entail opening and closing statements by the lawyers, examination and cross examination of witness testimonies (along with evidence), and the final 'judgement' on the matter. The 'verdict' is unknown as of now, and will be delivered at the end of the 'hearing'.
The 'verdict' will be documented and published for the benefit of the general public. The petition, fictional as of now, will eventually be filed in the NGT in the form of serious public interest litigation.
Sharing their thoughts with select media in Chandigarh on Friday, Pooja, Zuleikha and Harish said the 'staged hearing' foregrounds 'Rights Of Nature' as an expansion of 'Right to Life' as enshrined under Article 21 of the Constitution of India. The idea of 'Rights of Nature' as a legal entity, though it has assumed utmost urgency in the wake of the dangerously recurring adverse environmental episodes worldwide, is largely an unexplored subject in India, with no serious discussion in either Parliament or the Apex court.
Therefore, through the medium of this 'staged hearing' performance, the trio are seeking to sensitise the general population and enlist its active participation in starting a serious nationwide dialogue, leading up to urgent and remedial action.
So, the 'staged hearing' will not be a normal stage performance, with the artists on stage and an audience being distinct entities. It will be all of us together as concerned citizens participating in deliberations on issues involved in securing our future from the disastrous effects of climate change which are staring us in the face.
The setting will be an open court of the 'NGT' and we as stakeholders, will get maybe a once in a lifetime opportunity to witness LIVE the 'proceedings' as these happen in a real court with real participants and real issues.
About Khoj International Artists' Association
Khoj is an autonomous not-for-profit contemporary arts organisation based in New Delhi. Through its programs, Khoj supports and incubates emerging, experimental and transdisciplinary creative practices and pedagogies. Since its inception in 1997, Khoj has been committed towards building global networks and solidarities, especially in the subcontinent. Khoj believes that art is of intrinsic value to society; it is a crucial form of inquiry that provides unique insights and drives change through affect.
Event: Khoj's performative hearing 'In the matter Re: Rights of Nature'
Event Date: March 5. 2023 (Sunday) 6 PM - 9PM
Event Venue: Open Hand Monument, Sector 1, Chandigarh.
Multilingual presentation (Hindi, Punjabi and English)
The event is open for all, with free entry
Event being held in association with Elsewhere, founded by Nagina Bains and Sukant Deepak.


LifeInChandigarh.com by APR Media House is an enjoyable digital reading startup, which keeps you abreast of the latest meaningful happenings of interest to large sections of folks in Chandigarh tricity, and expats from the region. It has been promoted by a public spirited senior journalist and media consultant with a view to encourage good quality and healthy journalism, a dire need of the times.
To keep in touch, drop an email or call :
kochhar.apr@gmail.com
981561767