In an exclusive interaction with Lifeinchandigarh.com, after live demonstration of cooking a couple of dishes, and tastings of some others she has brought on the table, which delighted our taste buds no end, Gunjan said she has been working these past two decades to bring the traditional authentic Indian flavours back into a five-star setting. "We must take pride in our own traditional cuisines," she added.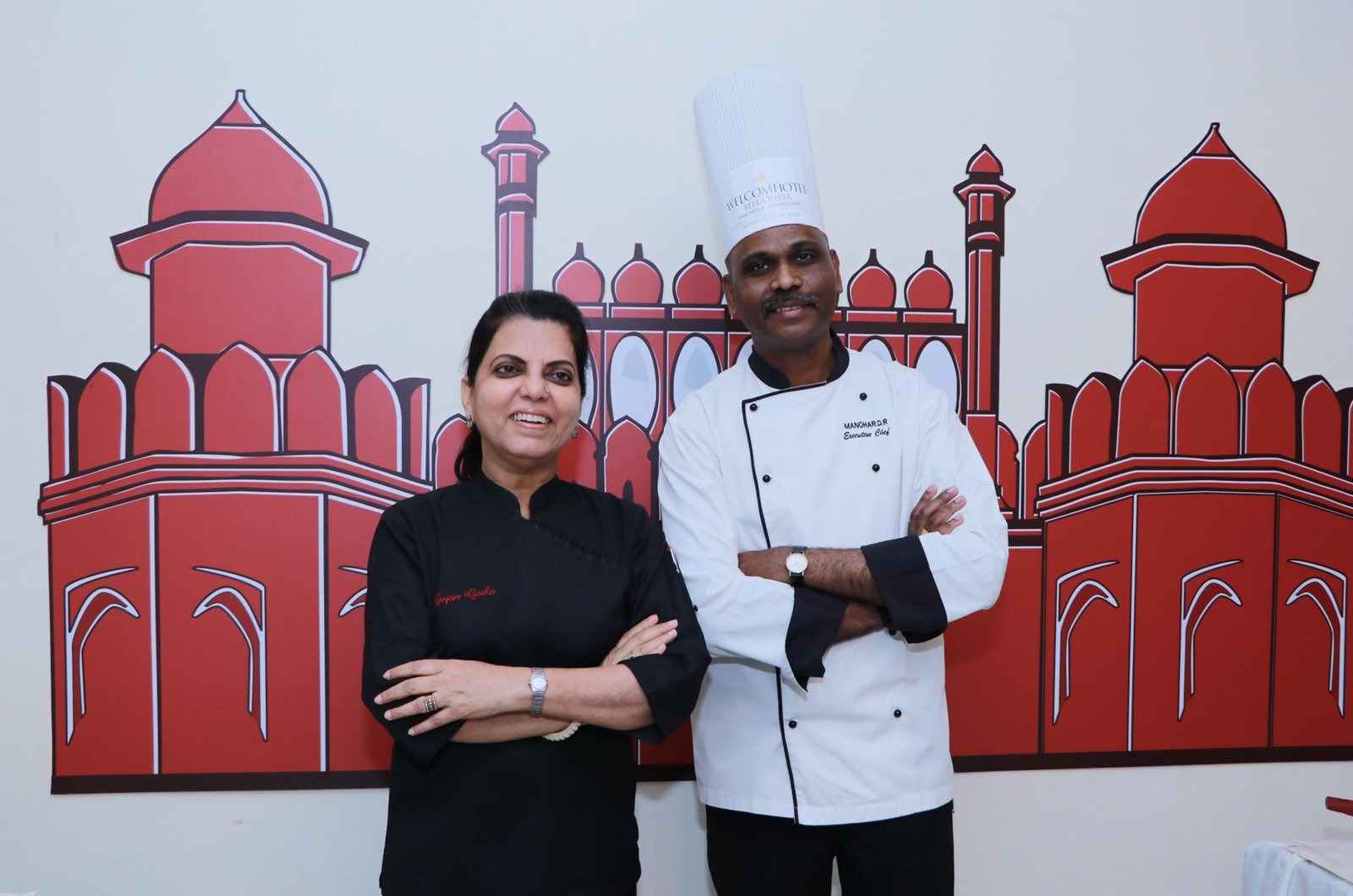 Photos By : Life In Chandigarh
On Thursday, alongwith media persons, wives of defence officers had been invited as special guests on International Women's day to pre-festival tastings. As they departed, the ladies appeared as delighted with the main course dishes and the desserts as the media persons.
If the Amrood (guava) Ki Sabzi turned out to be a dream taste, the other items on the table like Chakundar (beetroot) Ke Pakore, Katthal (jackfruit) Ki Sabzi, Moong Dal Pakori, Saabat Moong Dal cooked in Chhajj (butter milk) with a sprinkling of 'hing' and 'zeera' and Palak Mangodi Kadhi were no less delightful. And an assortment of desserts - the textured Khirni with an unusual grainy feeling on the tongue, unlike the smooth custard-like Khirni of Punjab, the Malpua and the Ghiya Ki Lauj (barfi made out of ghiya) – to round off a sumptuous meal were simply awesome.
Gunjan opined that the recipes for all these dishes are standard but their tempering matters a lot towards enhancing the tastes, textures and flavours. Tracing the history of the original Delhi cuisine, she said Delhi has since ages been traditionally an important trading centre not only within India but for overseas markets as well. And the backbone of this huge wholesale trade, including of spices, have been the traders, most of whom were 'banias', "a community I am proud of belonging to."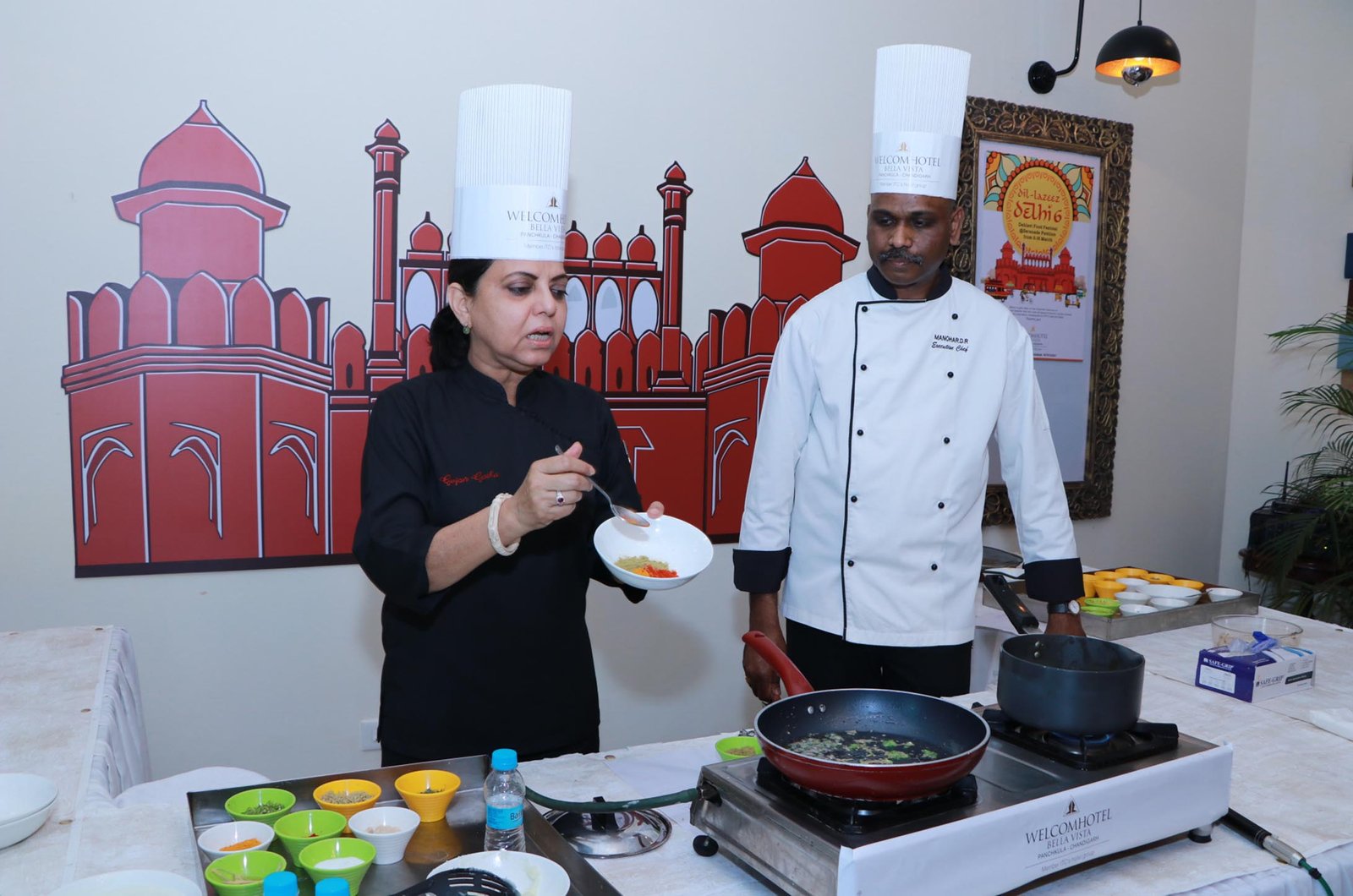 "The 'banias' indulged in pure vegetarian cooking without the use of onion and garlic and the cooking medium invariably remained desi ghee. Though these traders travelled extensively as per the demands of their profession, and hence assimilated varied experiences from far and near, which eventually influenced their eating habits, but they largely retained the original flavours of their food. I am deeply influenced by the richness of this Delhi food and my effort always is to use desi ghee as a medium of cooking, which besides giving the food the depth of taste and flavour is also now being considered among the healthiest cooking mediums by the medical fraternity," Gunjan said.
The celebrity chef during the course of the festival plans to add Tinda, Tori and Ghiya to the menu to telling effect with her expert tempering. Crispy Arbi cooked in curd, Jeemikand Kofta, Aloo cooked in Methi Ki Chhatney, Chandni Chowk Kachori, Bajre Ki Khichhri, Gur Chawal and Urad Dal Ki Kheer are some of the other items on her mind.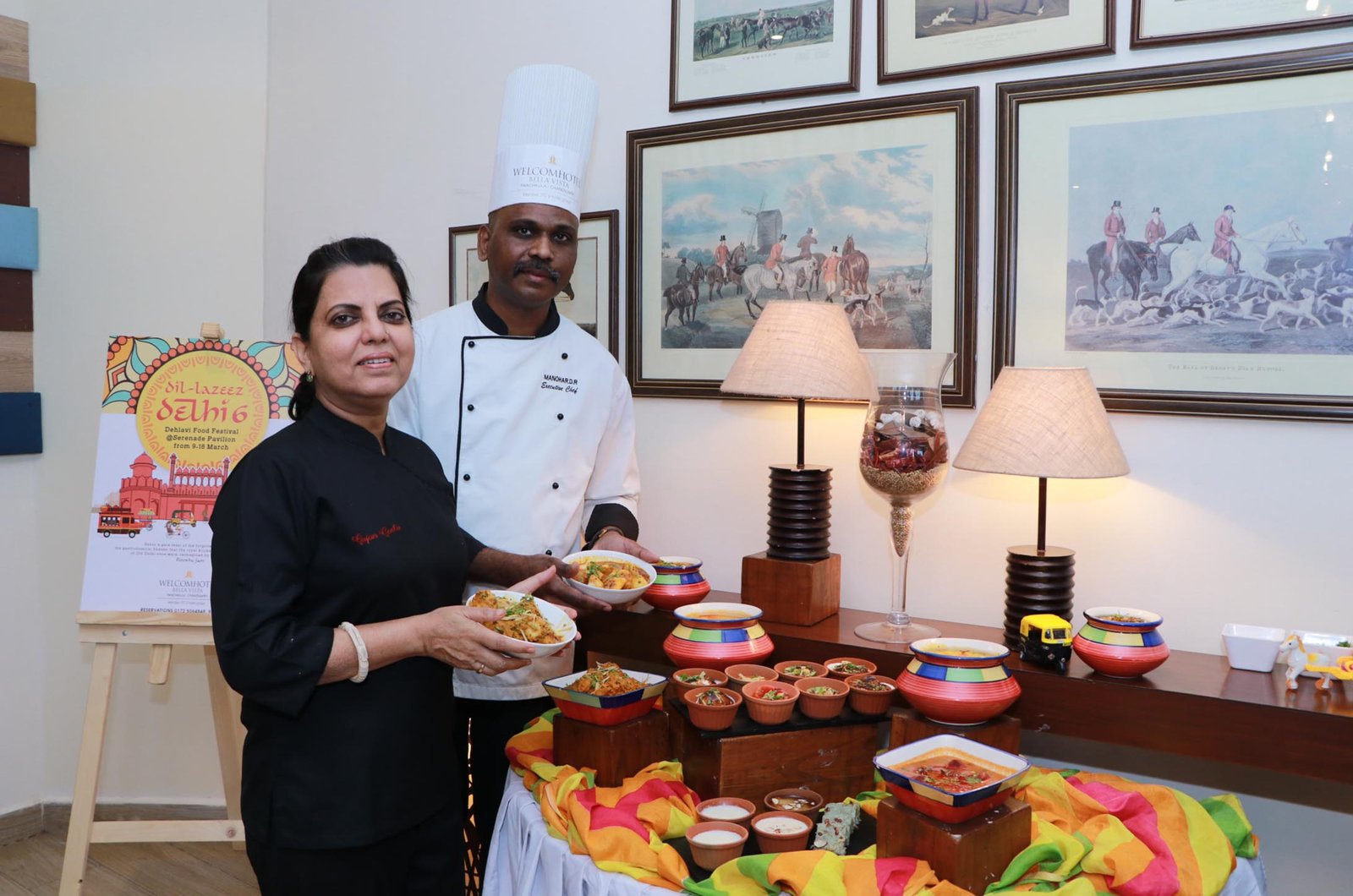 The list of snacky foods includes Aloo Tikkia, Moong Daal Cheela, Dahi Saunth Pappri, Paani Ke Batashe, Mattra Kulcha, Aloo Kachori etc.
The menu for breakfast is quite appetizing and has more delicacies to offer with Aloo Kachori, Mattar Samosa, Daal Samosa and Pakoras. The main course includes numerous dishes with Mangochi, Aloo Dum, Bhuni Arbi, Nimonaey, Dungare Kathal, Dahi Bhindi, Palak Mangodi Kadhi, Sabut Matar Chonkey. The dessert section includes Jave, Phirni (popular rice and milk dish), Moong Daal Halwa, Goand Ke Ladoo, Ghiya Lauj, Urad Kheer and Kesar.
Spelling out the tweaks made to the ambience for the festival, Hotel General Manager Vivek Khanna said, "Adding to the ambience of the festival is a creative decoration which includes a buffet decor and use of hanging umbrellas and kites, symbolic of the kite flying culture in Delhi. Banta bottles have been put on the shelves. The Tea and Golgappa stalls give a feel of road side eating experience, so typical of Delhi."