Interacting with media persons regarding the book published by Jaico Publishing House, Ashoo says a resounding "yes" to queries like "Is it possible for everyone to be creative? Can creativity be a part of everything we do in our daily lives? "All of us are capable of being creative and whenever we have used creativity there has been advancement in the world," she asserts, wondering why creativity, the most important subject, one that will truly help us advance, is left out of school and college curricula.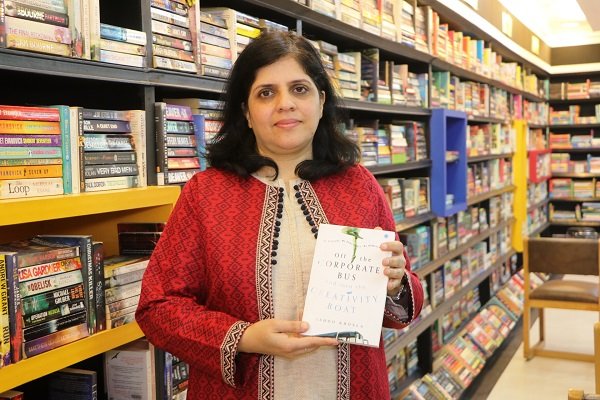 PHOTOS BY: LIFE IN CHANDIGARH
The book, in the self-help genre and written in a gripping story form, explores various techniques utilized by the true masters of creativity – artists and scientists - and makes them available in an easy to use format. It is the story of Aditi Singh, a top-notch product manager. Many covet her job but she wants nothing more than to quit. When she finally takes a much-needed vacation from her seemingly perfect corporate life, she meets Dr. Shiv Prakash, an odd little man who is a master storyteller.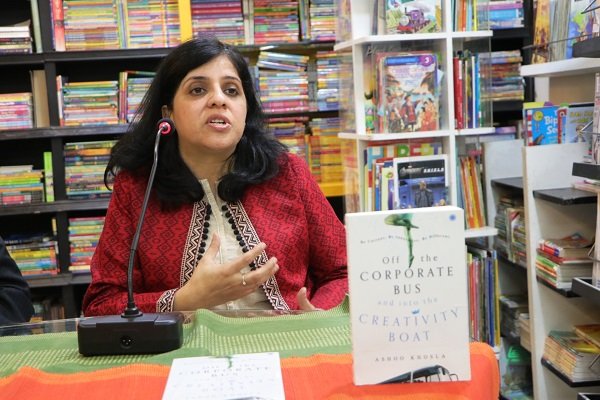 Through his unusual imaginings, he challenges Aditi to find her true passion. As they spend more time together, Aditi uncannily begins to relate to the characters of his stories. Questions are raised and challenges are set. This time, Aditi has to decide what she really wants. Running away is no more an option. It's time to write her own story.
Through its charming characters, 'Off the Corporate Bus and Into the Creativity Boat' offers a glimpse of what you can truly be. It invites you to pursue your passion and strive for true happiness, all while being unique.
The 228-page book, priced Rs 350, was released by spiritual guru and Art of Living supremo Sri Sri Ravi Shakar at annual convocation ceremony of Shoolini University in Solan, on Tuesday. Ashoo is herself a founding member of Shoolini University, where she has launched an innovative online learning platform eUniv and is in the process of integrating a platform for innovation and creativity for all students.

"My larger mission is to reach out to as many people as possible and help them become more creative – in their everyday work and lives." says Ashoo. To start with, the book will be a part of the core teaching philosophy that is being imbibed at Shoolini University to ensure all students explore their potential to be creative and innovative. She also hopes to use the book as a tool for corporate trainings in India as well as in UAE, where she is currently based.

In the writer's own words

How Can You Use This Book?

This book will help you understand how creativity works for the various arts. It covers creativity techniques ranging from writing, drawing, and photography, to music, painting and science.

I suggest that after you understand the basics of these techniques, practice them whenever you can to see how they work for you. Slowly, you will discover that there are some that you are more naturally inclined to, and
which make more sense in the context of your own work and life. Over a period of time, you could have your own special blend of methods that give your creativity the special edge.

At the end of this book, you will find an overall framework for creativity based on the techniques covered in the various chapters, and a summary of these techniques in the form of a 'creativity guide' for your reference

Let us remember that we all have it in us to be creative – to come out with new ideas, to make a difference in our lives as well as of those around us, and in our own special way, to make this world a better place.

Lifeinchandigarh.com wishes Ashoo Khosla a resounding success with her first book, and wishes she pens many more in times to come.