Calling such newly constructed community centres as well constructed top-of-the-line facilities for social gatherings at reasonable rates for the residents with a well lighted large air-conditioned hall, granite flooring, rooms for bride and groom, a bridal room, a family room, senior citizen room, toilets for gents, ladies and differently abled on both floors, a library, gymnasium, pantry, and lift, etc., she made an impassioned appeal to the people to ensure cleanliness and upkeep of these community centres in their own interests.
All the women: Smiles all around (left to right) Kirron Kher, Mayor Sarbjit Kaur Dhillon, Municipal Commissioner Anindita Mitra (behind) and lady councillors at the inauguration.
Photos By : Life In Chandigarh
The creation of more such facilities in the Union Territory should be kept above 'partybaaji', she maintained and appealed to representatives of all parties to work together instead of fighting over such matters in the interests of the public in general.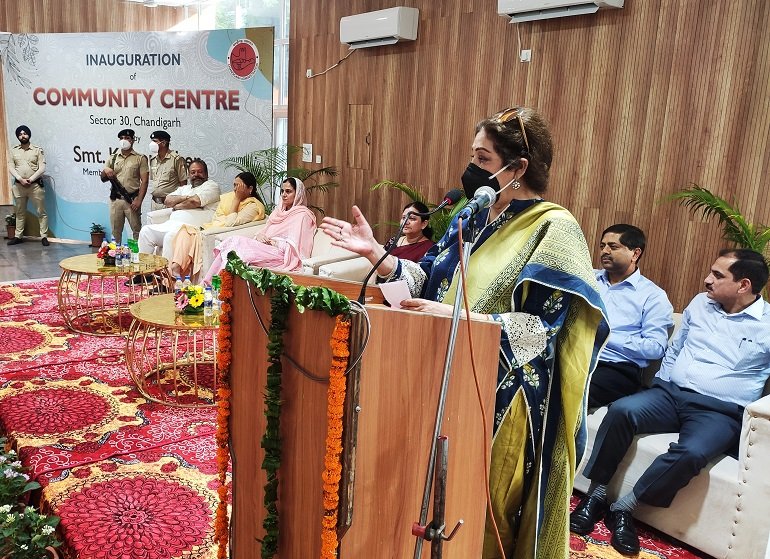 Despite her making such an appeal, it is well known that there is partiality being followed in the construction of such swanky new community centres. Public representatives who have an ear of the powers that be are able to get the newly constructed community centres in their respective areas prioritised over others.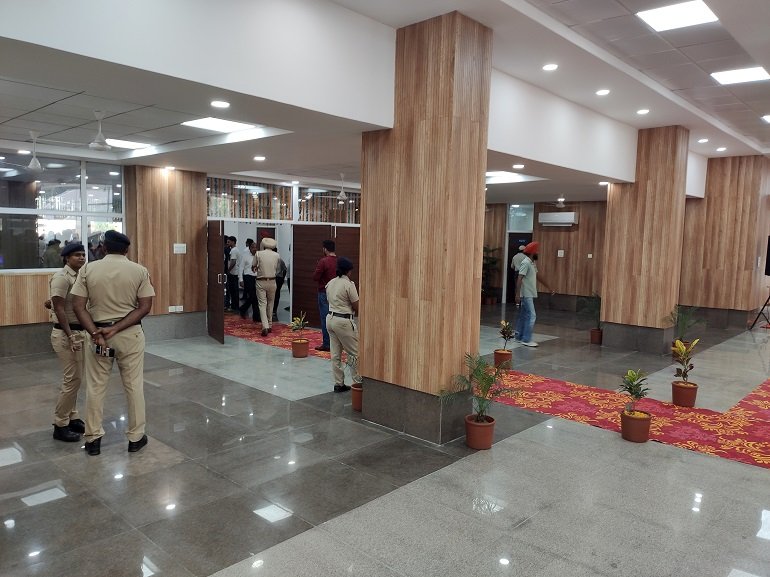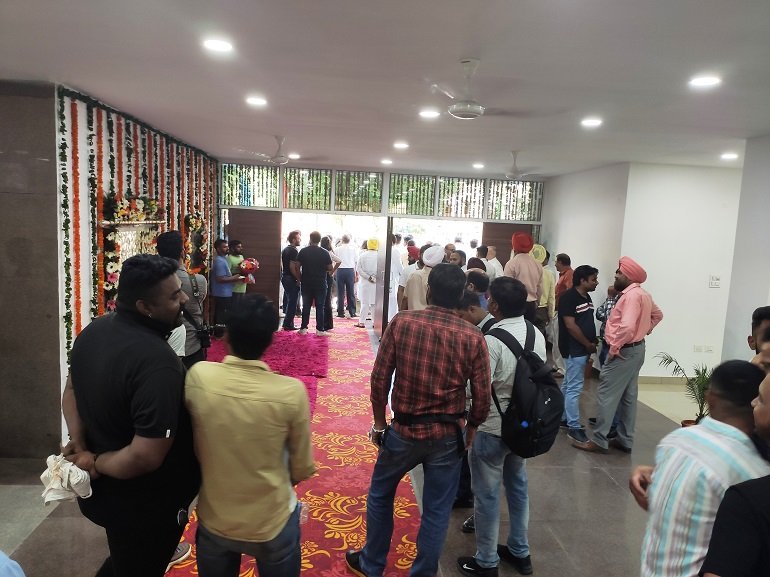 This community centre in Sector 30-B for example was pushed by former Congress councillor, now a BJP leader Devinder Singh Babla, who proudly claimed it as his achievement. Kher acknowledged having got it prioritised on a request made by Babla.
Pantry
In stark contrast community centres like the one in Sector 44-B are too small and in a ramshackle condition. Though the Sector 44 facility is under renovation, the plea of the residents that the space is highly inadequate for large gatherings, and that it needs to be reconstructed, has fallen on deaf ears despite the sector being represented by a ruling party councillor.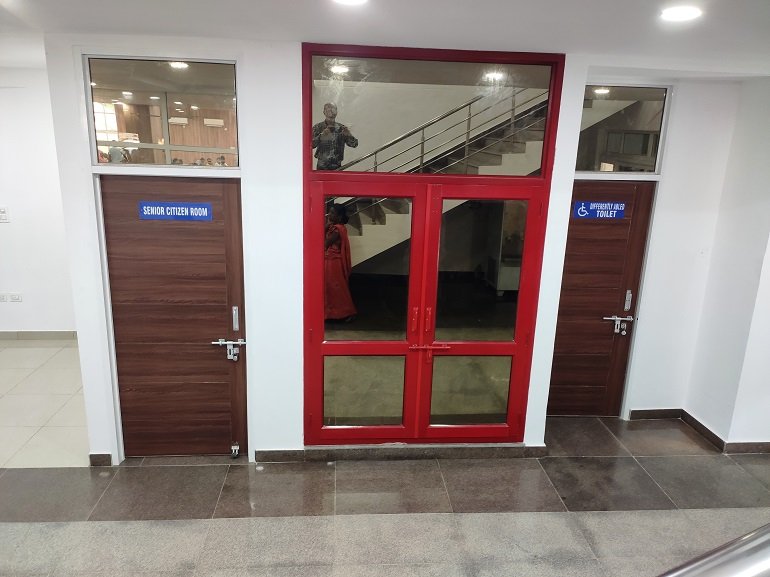 The community centre in Sector 30 has been built on a one acre plot with a covered area of 18,500 square feet. The building, which has cost Rs 4.5 crore, can accommodate an estimated 500 guests at a time. It has been constructed by the Engineering Wing of the UT Administration and handed over to the Municipal Corporation Chandigarh.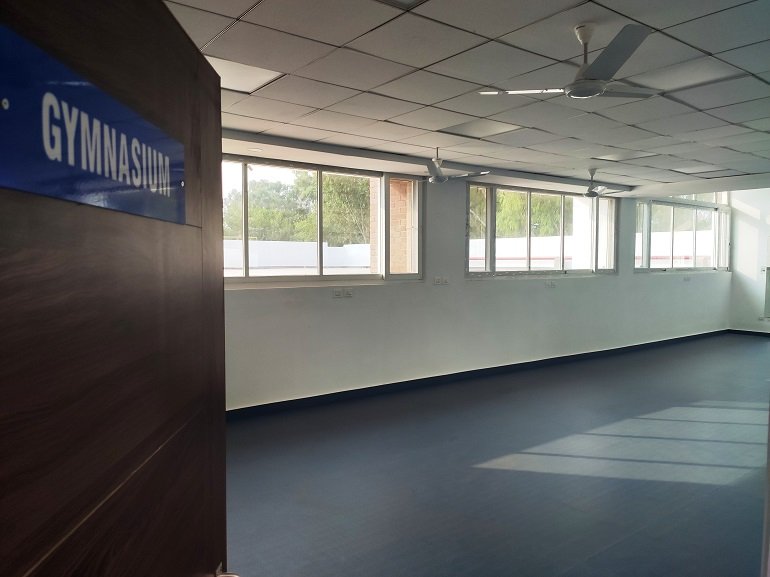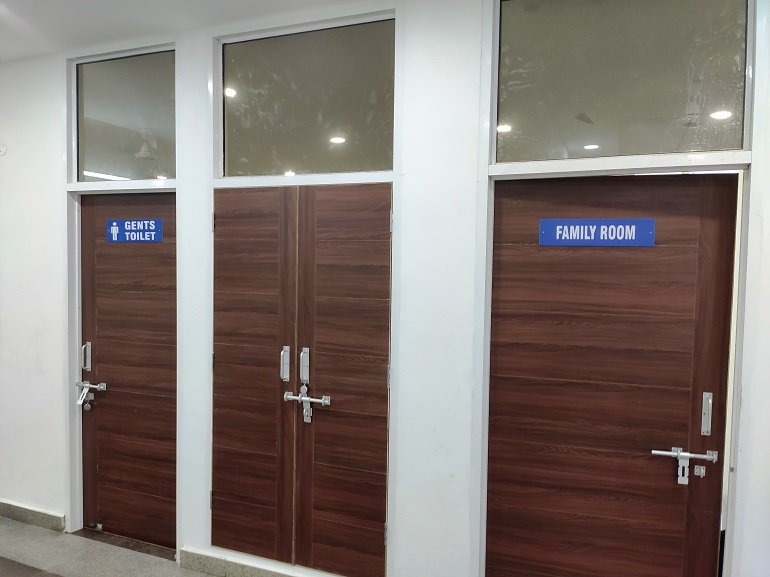 The parking, claimed by authorities to be sufficient, will in practice prove too inadequate in case of a large gathering.
What's a government building without telltale signs of seepage on inauguration
The building already has a few eyesores with rainwater seepage quite visible on the walls in the staircase leading up to the terrace on the 3rd level.
Bookings for the community centre can be made through the Sampark centres.
LifeInChandigarh.com by APR Media House is an enjoyable digital reading startup, which keeps you abreast of the latest meaningful happenings of interest to large sections of folks in Chandigarh tricity, and expats from the region. It has been promoted by a public spirited senior journalist and media consultant with a view to encourage good quality and healthy journalism, a dire need of the times.
To keep in touch, drop an email or call :
kochhar.apr@gmail.com
9815617676