The extended lockdown on account of the Covid-19 pandemic has now thrown Henna Bajaj, who is also an occasional poet, curious candle-making novice and foster parent to street dogs, into the lap of the contemporary form of mandala art, the traditional Tibetan art of painting with coloured sand. Having achieved a certain amount of proficiency in the art, she has found a way of monetising her artworks and at the same time committed herself to further popularising the art, which already has a sizable following worldwide.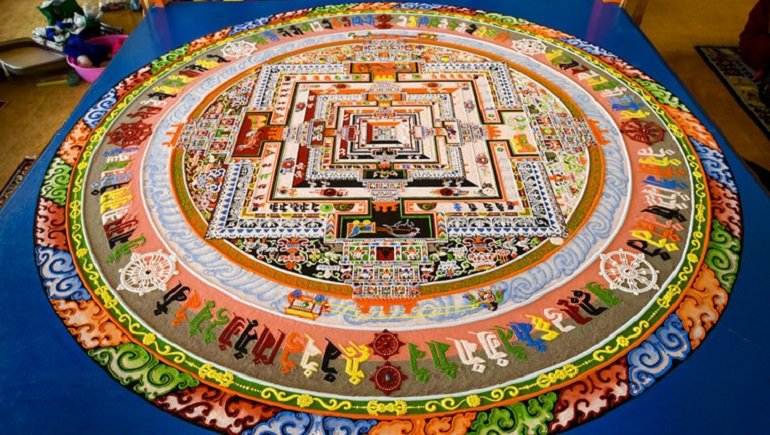 Kalachakra Mandala (Pic Courtesy www.namgyal.org)
Sharing her experience of first exposure to the art form during the course of her graduation in textile designing from the Chheb (Kangra) campus of the National Institute Of Fashion Technology (NIFT) (2009-2013), Henna, who hails from Chandigarh, and is now based out of NCR Delhi, tells LifeInChandigarh.com, "It was during our weekend getaways to nearby Dharamshala and Mcleodganj, that I was exposed to the sand art mandala making practiced at Namgyal Monastery in Exile.
Henna Bajaj With One Of Her Contemporary Mandala Artworks
"It was fascinating to watch millions of grains of sand being painstakingly laid in place on a flat platform over a period of days or weeks before ultimately being dismantled in order to release and disseminate the deity's blessings into the world to benefit all sentient beings. Contemporary mandala art entails a single motif being recreated hundreds of times in a circle. Several of these concentric circles complete a mandala. The intense focus required is almost meditative, as it takes away one's mind from all other thoughts. A state of mindfulness is thus induced, which is indeed therapeutic and soothing."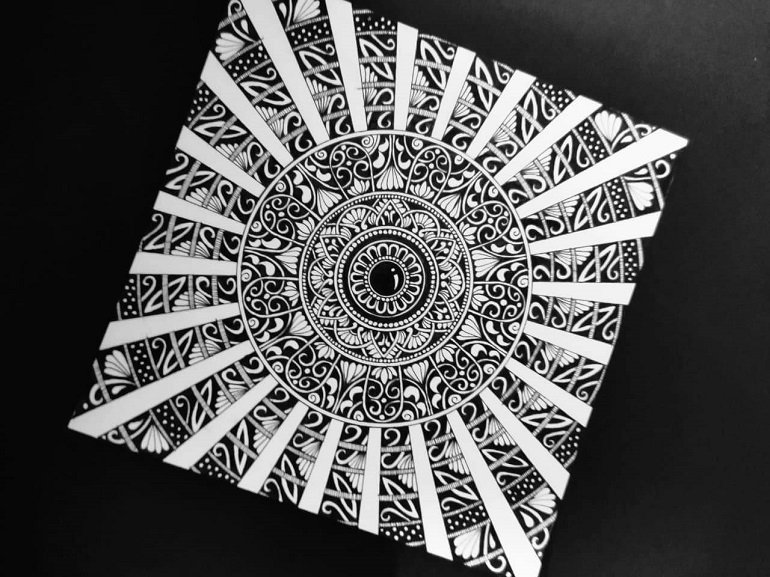 Graduating from NIFT, and after a little over a year's stint as strategic designer with Trident Group at Ludhiana, Henna did her masters in footwear design and CAD/CAM from Noida campus of FDDI (Footwear Design and Development Institute) (2014-2016).
During a brief employment with Bata India she convinced herself that she wanted to be an entrepreneur. So a cloud kitchen called Jarfull (www.jarfull.in/) came into being around mid June 2016 and is running successfully. In the latter half of 2019 she plunged full time into freelance graphic designing through her website www.42dc.in. Her second major enterprise called The Zia Collective (www.thezia.in) followed.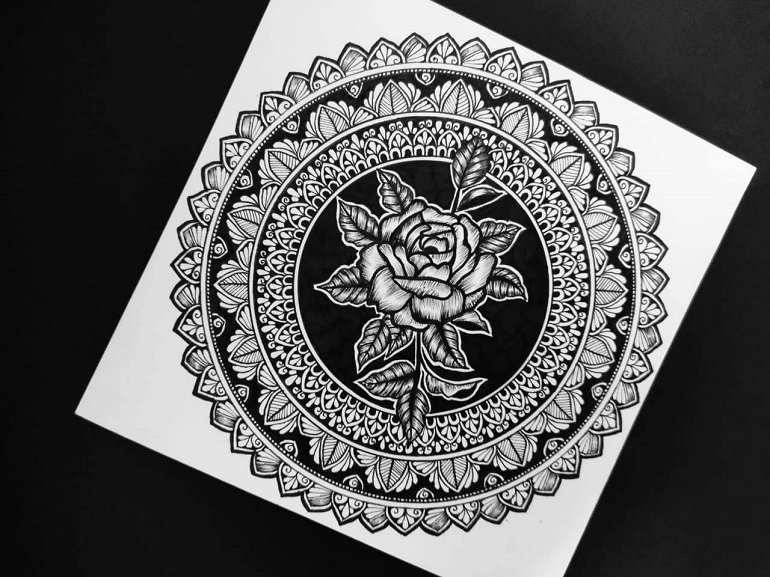 Meanwhile, she had started following some zentangle / mandala art pages. "It was through these pages that I discovered the contemporary mandalas. Being instantly reminded of the beautiful sand art mandalas from Dharamshala, I decided to give it a try. It was such a joy to create one. During the lockdown with everything shut, I had a lot of spare time to myself and found a new hobby in Mandala art. I started making mandalas every other day. Now it's become an essential part of my daily routine," shares Henna.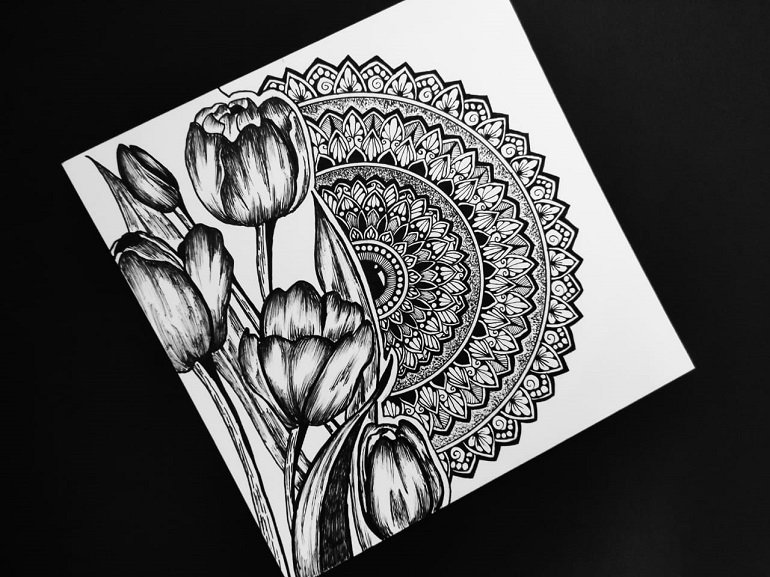 She posted her first mandala artwork on Instagram on April 10 this year. "In the month of June, after posting some 30 odd mandalas, I came across a #7MandalasChallenge (similar to the ice bucket challenge, saree challenge, etc but specifically for mandala artists) hosted by a couple of art influencers on Instagram. I felt that it would be great exposure as many amazing artists across the world were going to pour their creativity on the same themes and it seemed like an amazing way to work on my technique and learn from other people," says Henna.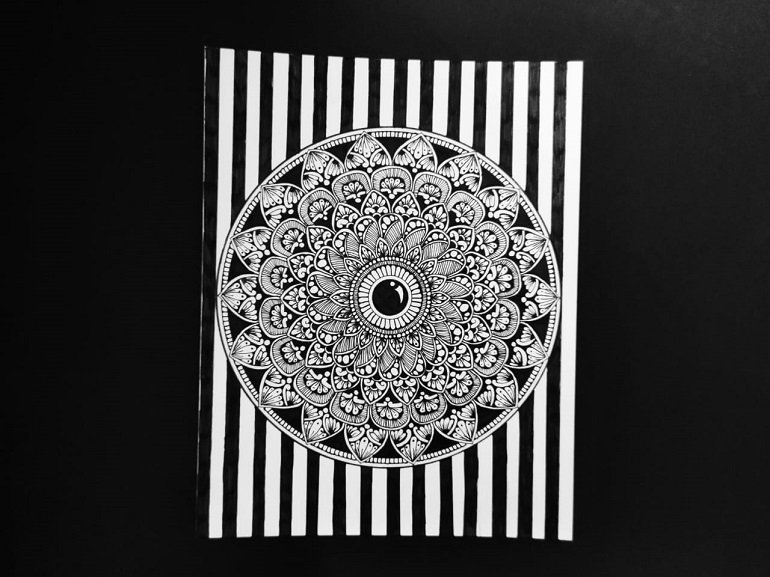 She adds, "Two of those artworks were shared on one of the most influential mandala and zentangle sharing pages (i.love.sharing.mandala -102k followers) that resulted in mandala enthusiasts and beginners following my handle. But a feedback from one of the most sought after mandala artists on Instagram (saudamini.madra), who commented and liked some of my artworks, and another one of the mandala art influencers (leftbraincreations_ambica), that I diligently followed, following me back was just the motivation I could ask for.
"I participated in some more contests and got features and special mentions by other major art sharing pages (such as zenart.features -90k followers and blxckmandalas – 121k followers)."
Henna also started getting queries for creating custom artworks. Starting with a furniture firm for their furniture pieces (mainly kitchen and utility cabinets, cupboards and bedside tables), she did mandala art related custom artworks for a few clients. She also shared some framed artworks on her The Zia Collective page and put them up on retail websites such as Amazon and Redbubble to gain exposure.
"I sold about 10-12 pieces ranging from Rs. 999 for a 5"X5" framed artwork to Rs. 1999 for an A4 one. I have only recently started exploring painted artworks which take up 1-2 days of my time and I plan to explore multiple mediums and create 20"X20" framed artworks for sale," she informs.
Taking inspiration from her learnings of Kangra miniature paintings during her graduation days, Henna has been working towards finer and intricate mandalas. She has also done a series of artworks with an amalgam of flower motifs and mandalas to contemporise the traditional full circle mandalas.
The young artist hopes to conduct mandala and macramé art (the art of knotting string in patterns to make decorative articles) workshops post the pandemic for teenagers and children. She also wishes to work on the "collective" aspect of The Zia Collective by training unemployed and unprivileged women in the macramé making art and making them equal profit sharing partners.
To know more about sand mandala art form visit: https://www.namgyal.org/sand-mandala/
LifeInChandigarh.com by APR Media House is an enjoyable digital reading startup, which keeps you abreast of the latest meaningful happenings of interest to large sections of folks in Chandigarh tricity, and expats from the region. It has been promoted by a public spirited senior journalist and media consultant with a view to encourage good quality and healthy journalism, a dire need of the times.
To keep in touch, drop an email or call :
kochhar.apr@gmail.com
9815617676